Growth stocks have been in a bear market for over a year. The market overall has been bearish in 2022. But as the saying goes, there is always a bull market SOMEWHERE. Defense has been one of the strongest sectors this year, largely due to the conflict in Ukraine. In fact, some defense stocks broke out to new all-time highs in 2022. 
On Monday, live in the Master's club, I ran through my trade idea in Lockheed Martin (LMT) and how I wanted to trade it. And on Tuesday, the stock broke out for a 15-point move, leading to a 50% move in my call spread in just 2 days. Trades don't come much cleaner than that!
Subscribers to Total Alpha have access to Live Educations sessions daily and access to my REAL-MONEY portfolio as I navigate these tough markets! Don't miss my next trade, subscribe NOW!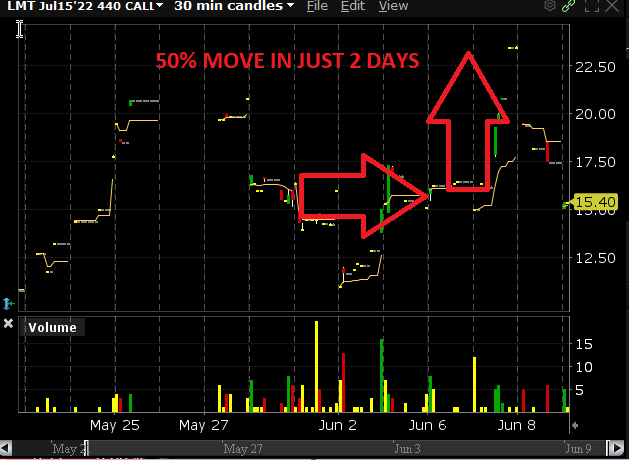 LMT is a stock that I usually watch for a defensive play in the markets when traders are looking to get away from the high-flying tech stocks.
And once I saw the High Octane Crossover signaled on my scanner, I knew I wanted to jump in!
Don't get left behind, the High Octane Scanner is included with every Total Alpha subscription. Don't miss these trading signals.
Lockheed (LMT) and the entire defense industry has been on a run this year, as opposed to most other stocks in the market. One of my favorite setups is when a stock has a big run and then begins to consolidate. So long as the stock doesn't break down, I believe this flagpole setup is likely to continue to the upside. The longer a stock consolidates, the bigger the breakout is likely to be. The old trading adage, the bigger the base, the bigger the space comes to mind. LMT also setup nicely on the squeeze indicator giving me extra confidence! 
Trades like this have had all the time in the world to break down, but LMT didn't, it held! Perhaps there are large buyers here happy to accumulate for a move higher? The fundamentals are great, the technicals are great, this stock is everything I look for in a flagpole setup. Sometimes technicals precede price. We know the U.S govt is spending billions on weapons to arm Ukraine. We know Germany and other European nations are buying more weapons to shore up defenses against a perceived Russian threat. What about Taiwan? Is China getting ready to invade? I don't know but if they do, that's probably a lot more revenue for arms manufacturers on the way that's not yet priced in!
To get access to daily updates,  education, and changes to my portfolio, become a part of the Total Alpha team Today!
I honestly think LMT probably goes to $500, but I'm looking for a short term trade for a breakout through $450 to $460 and higher! 
Here's how I set up the trade, looking longer term to give myself time 1 month out in case the trade consolidates longer than expected. BUT IT TOOK JUST 2 DAYS! 

I bought the $440 calls expiring July 15 for $15 and sold the $470 calls at $7. Thus I paid $8 for the spread, and so long as LMT stays above $448 the trade will work, below that I have $8 of downside. By buying a call spread, I reduce my risk compared to buying outright options or stock but I also give up any potential gains if LMT were to rocket higher above $470.
Although the call was up 50%, given that I only laid out $8 for the spread thats actually a 100% move on the spread!
On Tuesday, the traders ran the stock back towards the pivot high at $450 and broke through it like a hot knife through butter. The stock closed at $456.30, meaning my breakout thesis was on point, and I was already up 50% on the trade in just 2 days!
If You're struggling with your trading, become a part of the Total Alpha community, and receive the education you need! CLICK HERE NOW TO SUBSCRIBE!
There's a 30-day satisfaction guarantee, so if you're not happy, no worries, but I think you'll love what we're doing at Total Alpha! Click HERE to Subscribe!