Natural gas prices are soaring. Due to supply constraints and the beginning of colder weather in Europe, prices for the commodity are scoring. Although it is not as clean as solar, it is less harmful to the environment than coal or oil.  
Burning natural gas for energy results in fewer emissions of nearly all types of air pollutants and carbon dioxide (CO2) than burning coal or petroleum products to produce an equal amount of energy.
The entire sector is running hot, with money flowing into large caps giants and small-cap minnows alike. Today I will run through some stocks in the sector that have already run and are still going and some new names that are laggards that could potentially join the run in the sector.
When a sector runs, it usually goes like this. First, the large-cap companies see buying interest. These are the premium companies that are best in class. Then the medium cap companies begin to move in sympathy.
They are not as good as the primo companies which lead the run but are smaller companies that benefit from the money flow into the sector. Finally, speculative money begins to flow into the small-cap sector.
These stocks may be rubbish companies that might not have great prospects but benefit from being related to the sector. Sometimes they are cash-burning businesses that can become turnaround stories due to tremendous profit increases due to rising prices in the commodity they are involved in.
Let's take a look at some stocks in the booming sector below, as well as my pick for the next possible runner.
Gazprom (GAZP)  is the world's largest natural gas company and is listed on The Russian Stock Exchange with ADR's in London under the symbol OGZD. It is up more than 120% since November 2020 and has a market capitalization of $140 billion.
It is making 52-week highs daily and approaching all-time highs not seen since before the 2008 global financial crisis.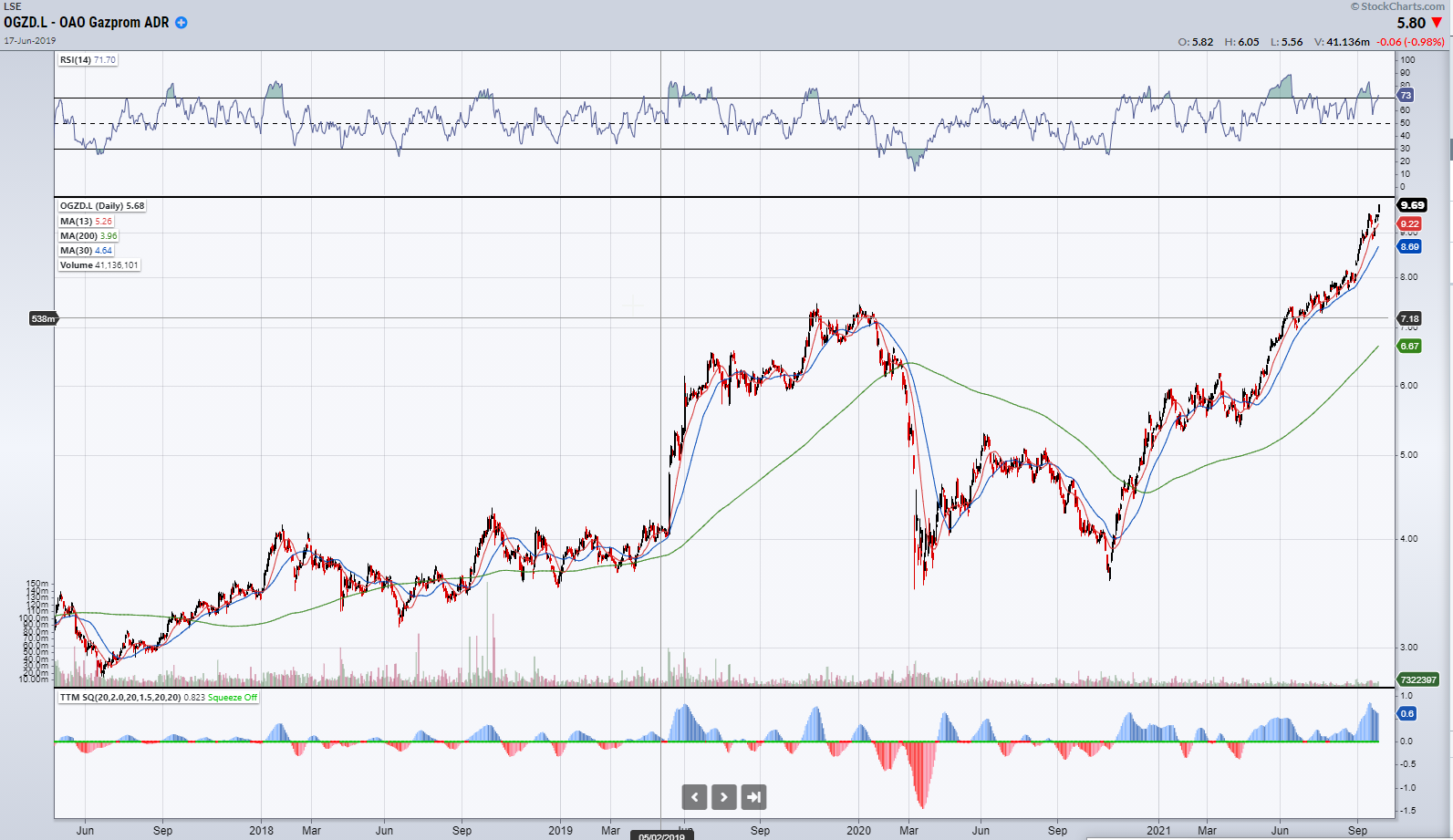 Daily chat of OGZD the Gazprom ADR trading on the London Stock Exchange
Camber Energy, Inc. (CEI) is an independent oil and natural gas company engaged in the acquisition, development, and sale of crude oil, natural gas, and natural gas liquids (NGL) in the Cline shale and upper Wolfberry shale in Glasscock County, Texas.
As of March 31, 2020, its total estimated proved reserves were 133,442 million barrels of oil equivalent comprising 54,850 barrels of crude oil reserves, 43,955 barrels of NGL reserves, and 207,823 million cubic feet of natural gas reserves.
The stock is up more than 500% since August this year. CEI has a major resistance level at $3, but due to the number of people shorting this every day looking for a pullback, there is no telling how high this stock can go.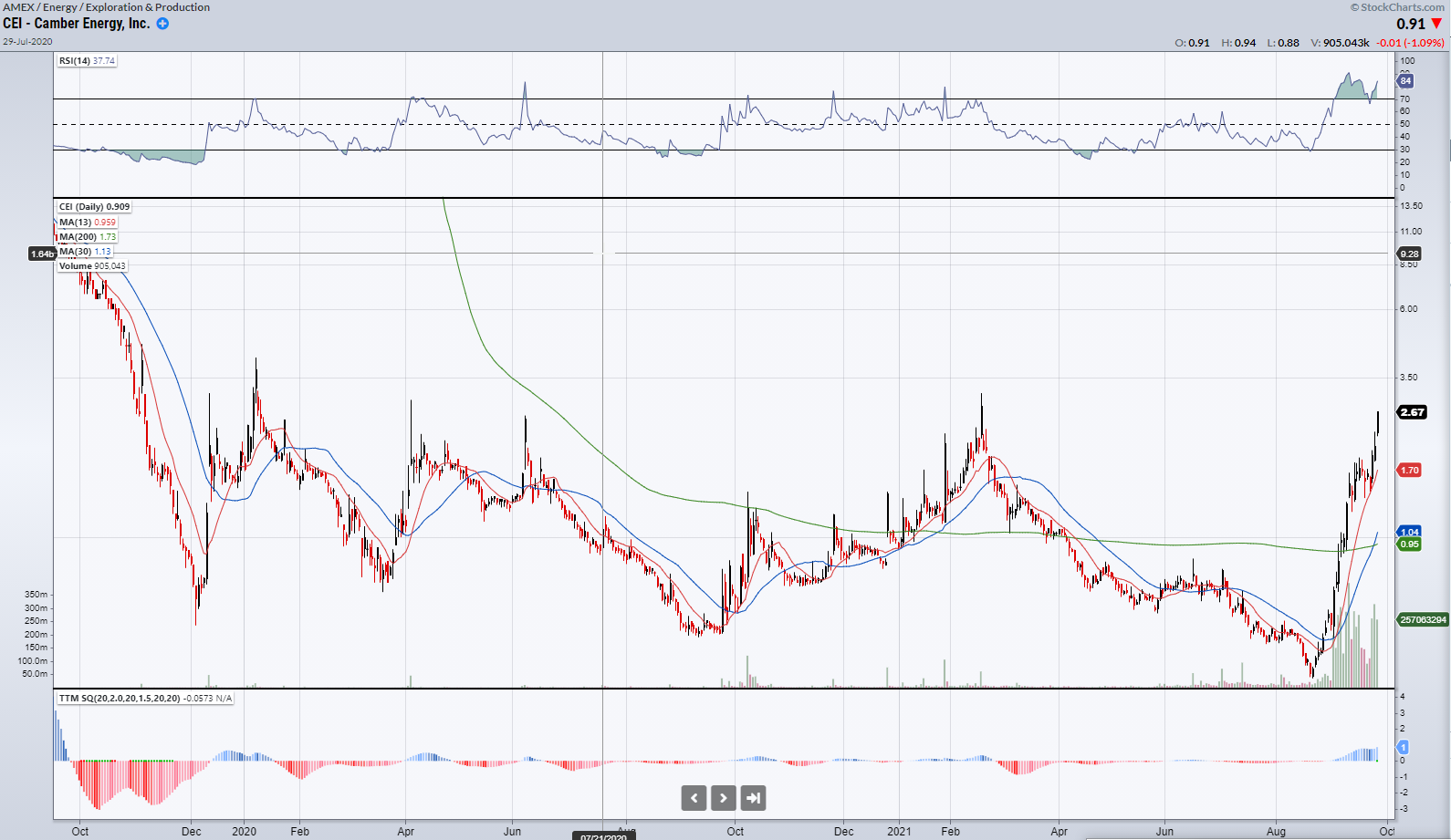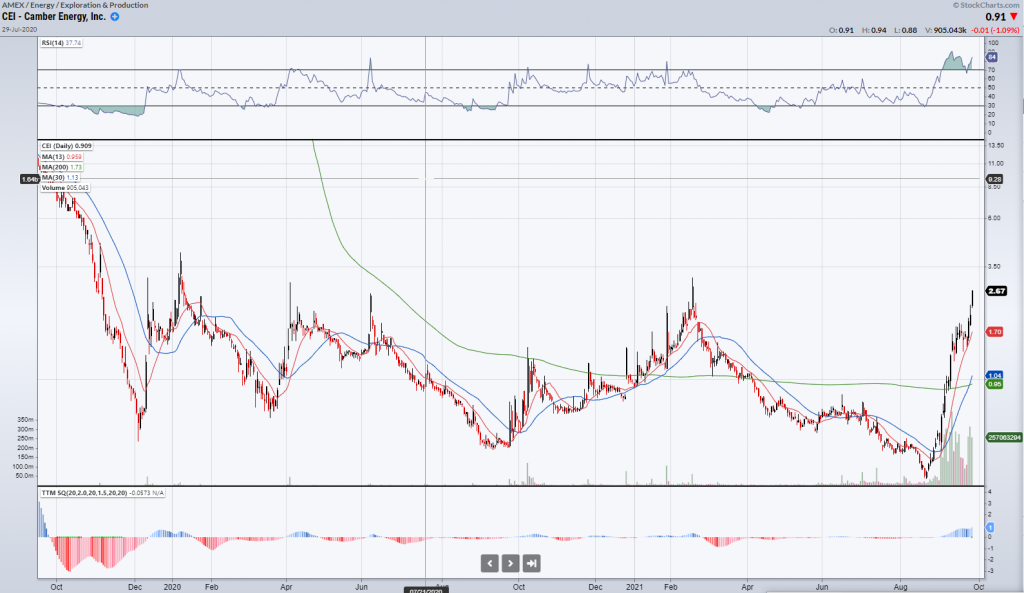 CEI has moved from under 50cents in August to $2.66 on Monday 27th of September
U.S. Energy Corp., (USEG) an independent energy company, focuses on the acquisition, exploration, and development of oil and natural gas properties in the United States. It holds interests in various oil and gas properties in the Williston Basin in North Dakota, the Permian Basin in New Mexico, the Powder River Basin in Wyoming, and in the Gulf Coast of Texas.
As of December 31, 2020, the company had an estimated proved reserves of 1,255,236 barrel of oil equivalent; and 134 gross producing wells. U.S. Energy Corp. was founded in 1966 and is based in Houston, Texas.
US Energy Corp (USEG) is a small-cap that saw some buying interest last week in sympathy with CEI. It exploded today on volume making a 10% move in one day. This is one to keep on your radar when trading this sector.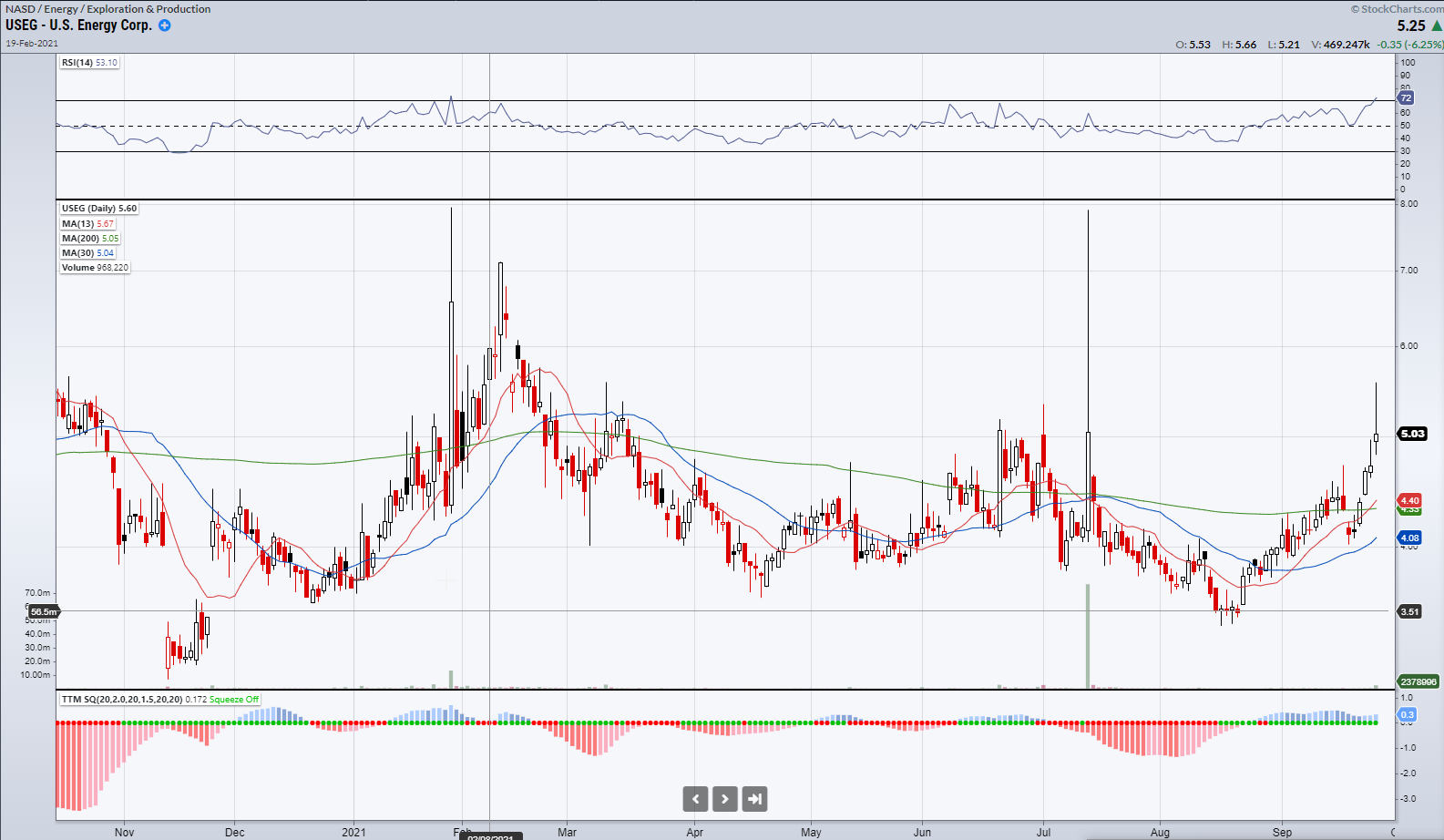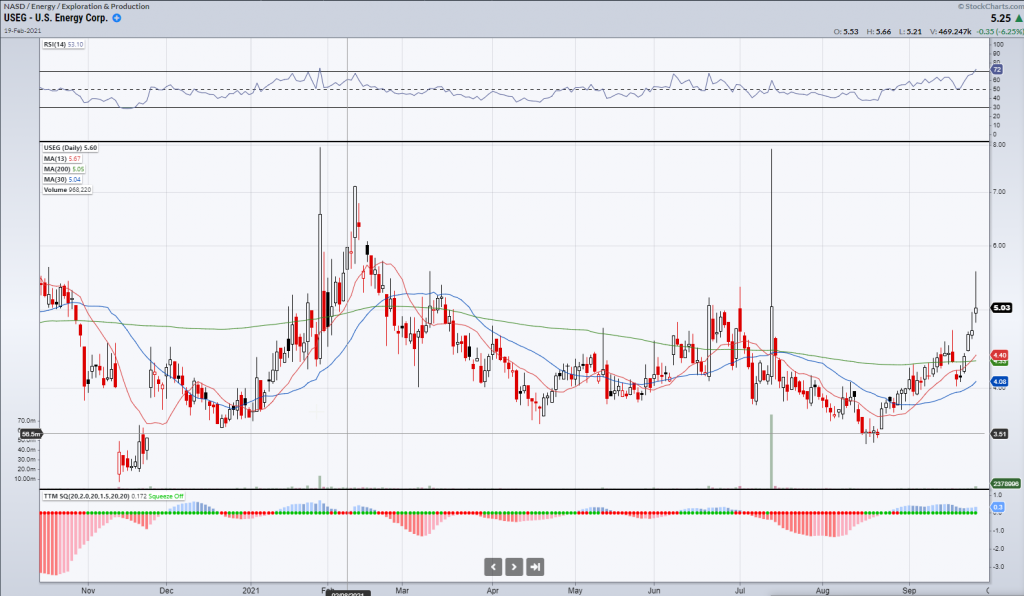 Daily chart of USEG
Naked Brands Group (NAKD) is a former retailer of women's lingerie. It was a cash-burning business on the road to bankruptcy constantly raising money to continue its operations. On Friday, September 24 in a shareholder letter, they announced they were getting into the cleantech industry, here is an extract:
"an expanded balance sheet with a net cash position of $270 million USD for Naked Brand Group.
I am happy to report that after extensive searching and due diligence, we believe we have found a disruptive opportunity in the clean technology sector. Due diligence on both sides is progressing, and we believe the business combination will reward our patient shareholders."
Here is the Daily Chart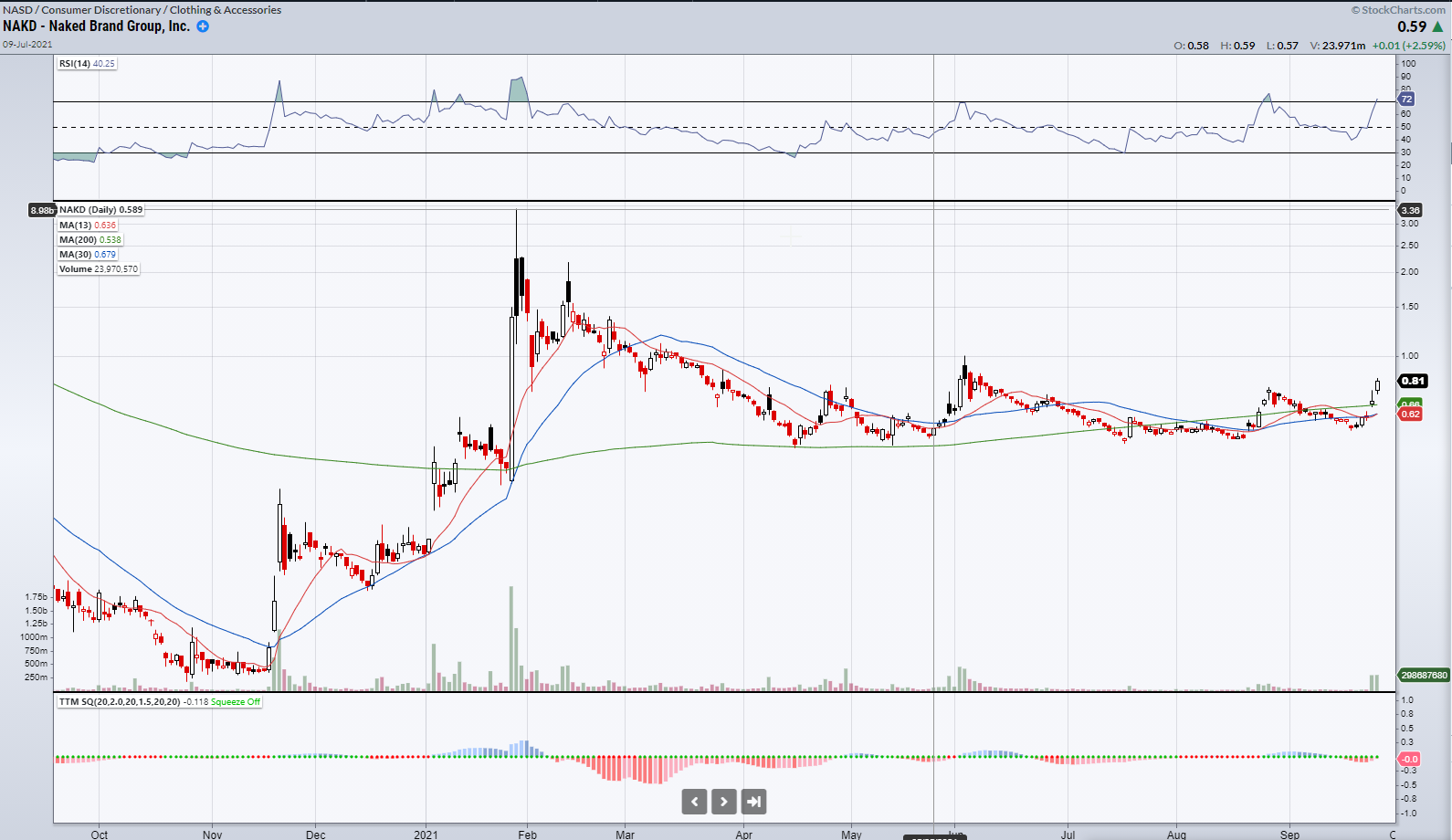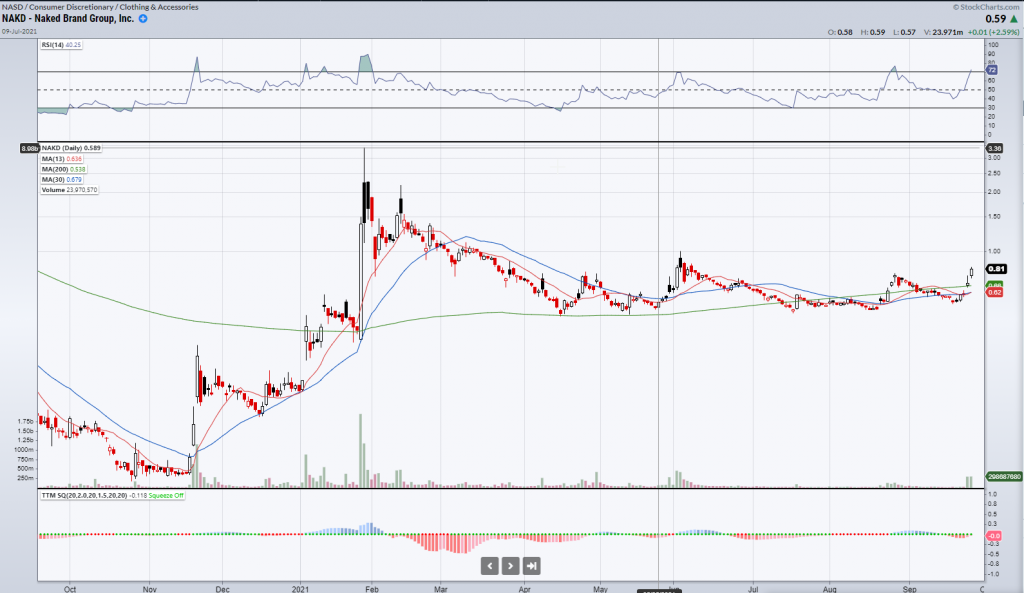 NAKD  daily chart
The stock closed up 10% on Friday. As Natural Gas futures make 7-year highs today it is up 17% intraday Monday as I write this. We could see this stock trading $1+ sometime this week, it is currently trading at 80cents.
Finally, here is my pick as the next stock in the Natural Gas sector that could explode. I sent it out as part of my watchlist on Friday to subscribers of Jeff's Family Portfolio BEFORE it broke out. The stock is called Clean Energy Fuels Corp (CLNE). It is up 12% on the day as I write this breaking out on significant volume. Here was my note to subscribers:
My Watchlist
Clean Energy Fuels Corp.
  (
CLNE
)
Clean Energy Fuels Corp. provides natural gas as an alternative fuel for vehicle fleets and related fueling solutions. CLNE has been a stock I have been watching. The stock has yet to cross the 13/30 moving average nor the 200 hourly.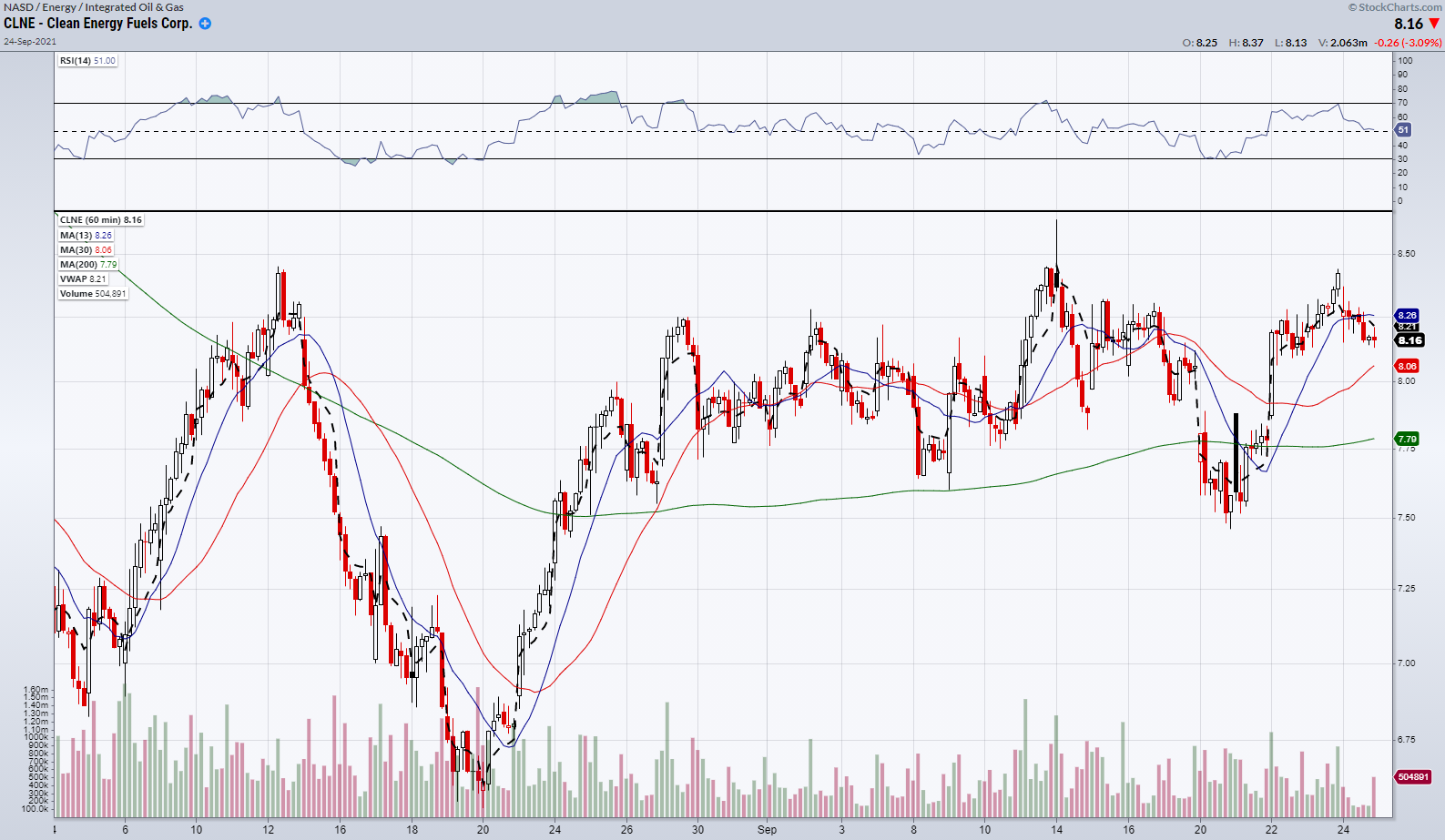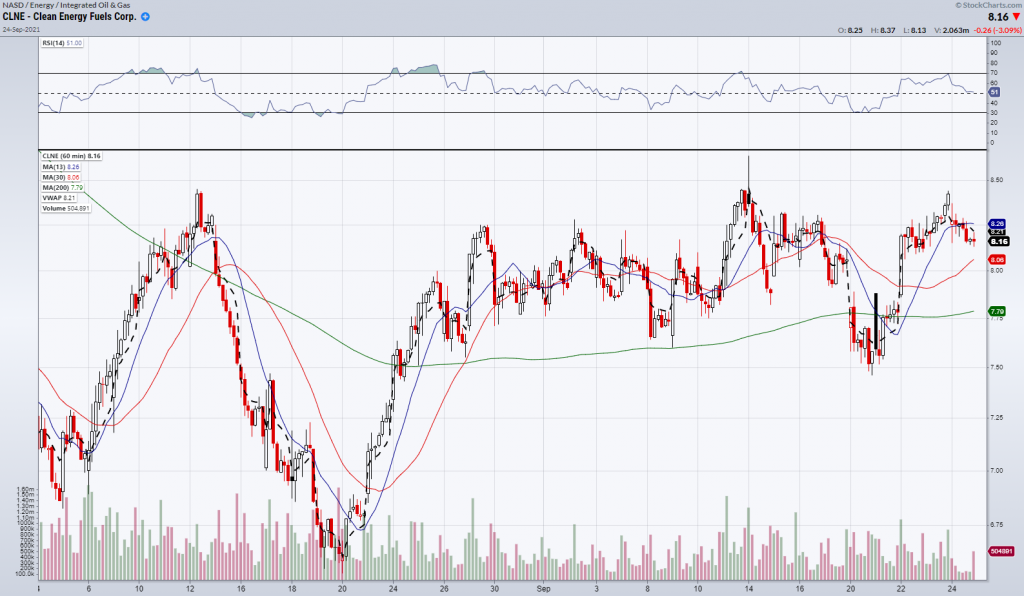 60minute Chart of CLNE on Friday BEFORE the breakout
My first target on CLNE is $10.50 where I would take off at least half of any position, the stock is currently trading at $9.16, and I would put stops below the breakout point of $8.20. It would be prudent to swing some of this position. With Natural Gas making 7-year highs there is no reason CLNE cannot break 52-week highs of $20 in the coming days/weeks if things get wild.
Bottom Line
When a sector gets hot due to changing fundamentals, we see money flow into various stocks in the particular industry. Usually, the best-in-class large caps run first, then the medium-sized companies, and finally, we see rotation into speculative small caps stocks.
This is exactly what we are seeing in the Natural Gas sector as futures make seven-year highs. The small-cap stocks in this sector are lighting up this week, and there is sure to be plenty of trading action in the days to come.
I will be keeping a close eye on all the stocks in this sector, with particular attention to CLNE, my pick from Friday, which is getting some interest today as it breaks out from its base.