This is one of the filthiest, nastiest markets I've seen in a long time, AND I LOVE IT!
My Bullseye Trade idea from this past week was yet ANOTHER opportunity for me to help members manage a trade that moved in the desired direction.
As you can see, my members are LOVING it, too:

What's concerning me, however, is that you're about to start another hectic week of trading without help from a master trader who has seen 20+ years of boom and bust cycles.
I can't force you to take advantage of this IRONCLAD satisfaction guarantee, but I can tell you this…
THIS BEAR MARKET IS HERE TO STAY FOR A WHILE…
So things are NOT going to get easier anytime soon.
It's tough times like these that motivate me even more.
Heck, I've even got Joe Theismann by my side.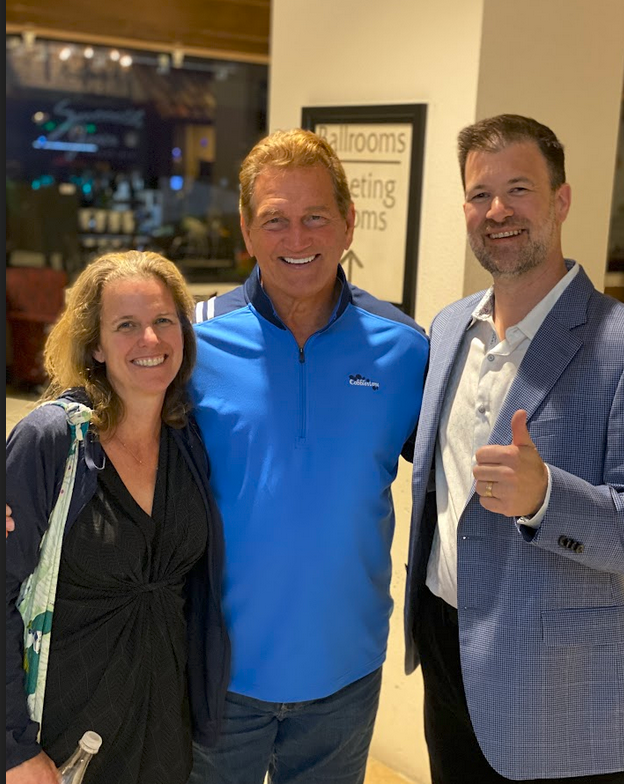 This week's Bullseye Trade was a bearish trade in CAT.
Here are the details I shared with members at the start of the week:

Closed out CAT into the downmove after the FED meeting yesterday. Here's the result!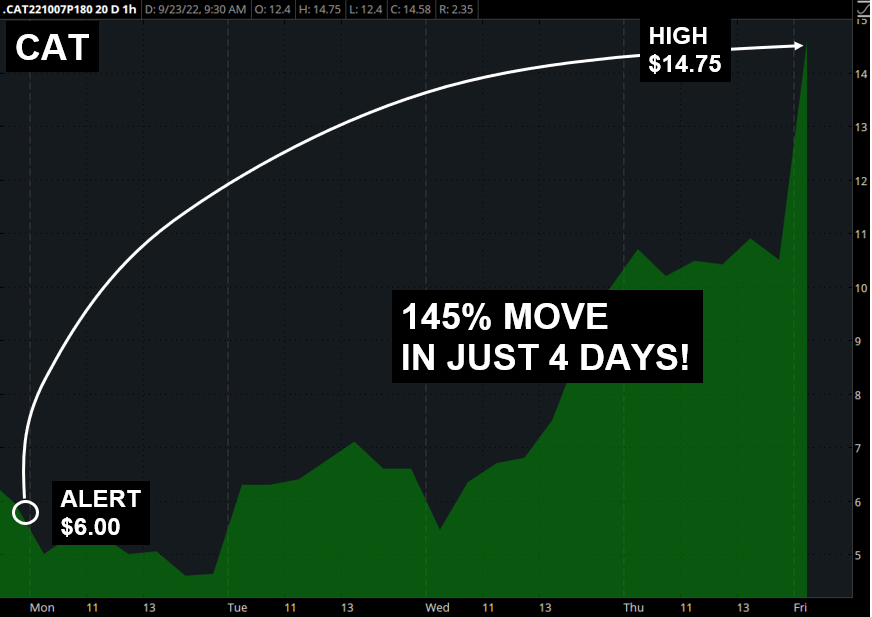 So what did I see that caused me to choose this trade idea?
CAT has been heading lower for the past month, but it hasn't had enough of a breakdown to cause traders to capitulate.
Teachable Moment: 
In trading, capitulation occurs when a group of traders panic sell shares near extreme lows. 
This causes the weak shareholders to leave the stock, essentially eliminating any further selling pressure and allowing a bottom to form.
Now, my NEW Bullseye Unlimited service utilizes an optimized version of candlestick charts called Heiken-Ashi.
This form of candlestick charting averages price data to smooth out the sometimes choppy, noisy market signals that often come with traditional candlestick charting.
Heikin-Ashi charts use a modified formula based on two-period averages, instead of using the open, high, low, and close like standard candlestick charts. 
The end result is  a smoother appearance, making it easier to identify trends and reversals.
You can see how this form of charting, when combined with my CUSTOM Keltner overlay, made this bearish opportunity stand right out for me to jump on!
Folks, this service has become so popular that I am now offering multiple Bullseye Trade ideas PER WEEK as part of my NEW and IMPROVED Bullseye Unlimited service!
Quite simply, since we're starting you off at $99/month, it's a RIDICULOUS value for ALL of this:
My Interactive,

UNLIMITED High Octane Scanner

My Daily

Top Target's Watchlist

Alerts via the

RagingBull App

My Complete Collection of

Options Video Training

The

Shooting Gallery live trading chat room

, where I set up my own real-money trades.  I send an instant app alert to members whenever I get ready to go

live in the

'Gallery'!
So if you'd like to learn more about our payment plan before the market opens without you having my next trade idea in your hands in less than 24 hours, CALL OUR TEAM NOW: (800) 585-4488!
Or email: support@ragingbull.com
To YOUR Success!