How much thought do you give to watching interest and currency rates when it comes to your trading?
Most people would just shrug their shoulders and say, "Not much!" 🤷
These are two key things that are very important right now.  Even if you aren't closely watching them like I am… don't worry, I got you covered!
The bull market for the US dollar has been going on for almost 2 years. But finally, it has started to pull back some. Perhaps this means that the FED will ease up on its policy of rate hikes moving forward. 
As traders, we need to ask, "What does this mean for stocks and which sectors will benefit? What trade ideas could a weak dollar produce?"
These are the types of questions I ask myself as a professional trader. These patterns play themselves out over and over again, and I've seen most of them during my 20-year career. 
These are the kind of things I want to help you with and improve your trading.  Passing on this knowledge will help you improve your learning curve as you can learn to focus on what is truly important.
I noticed this dollar weakness the last few weeks and broke it down live in my weekly session to subscribers.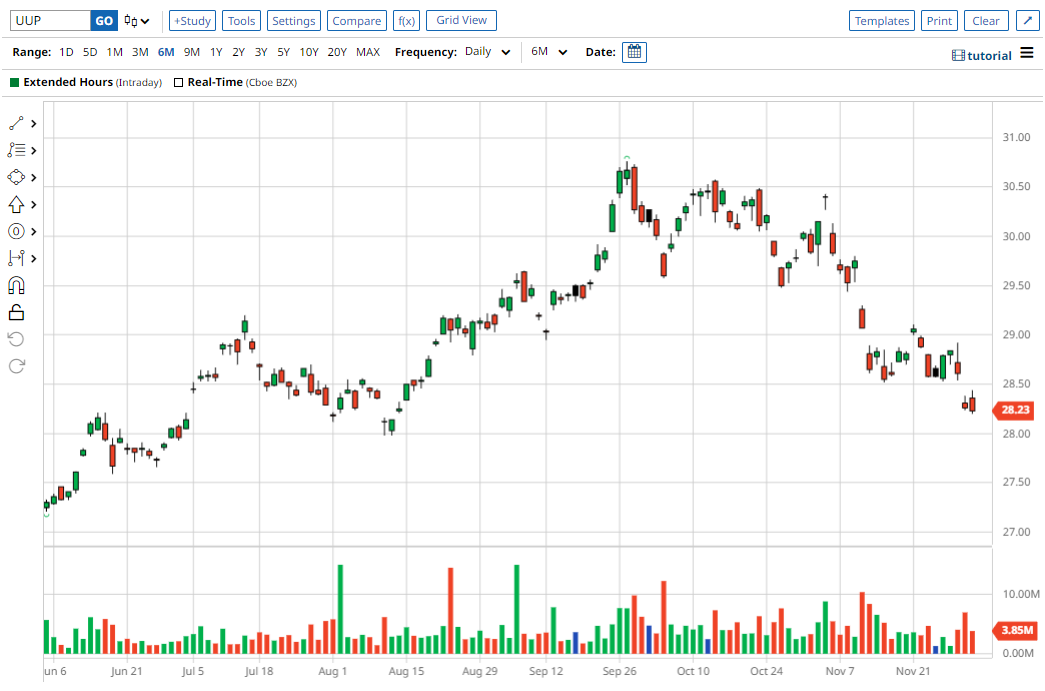 I have thousands and thousands of them, and I gave them my best trade idea on US dollar weakness. It was pretty simple – buy gold miners!
Here's what happened: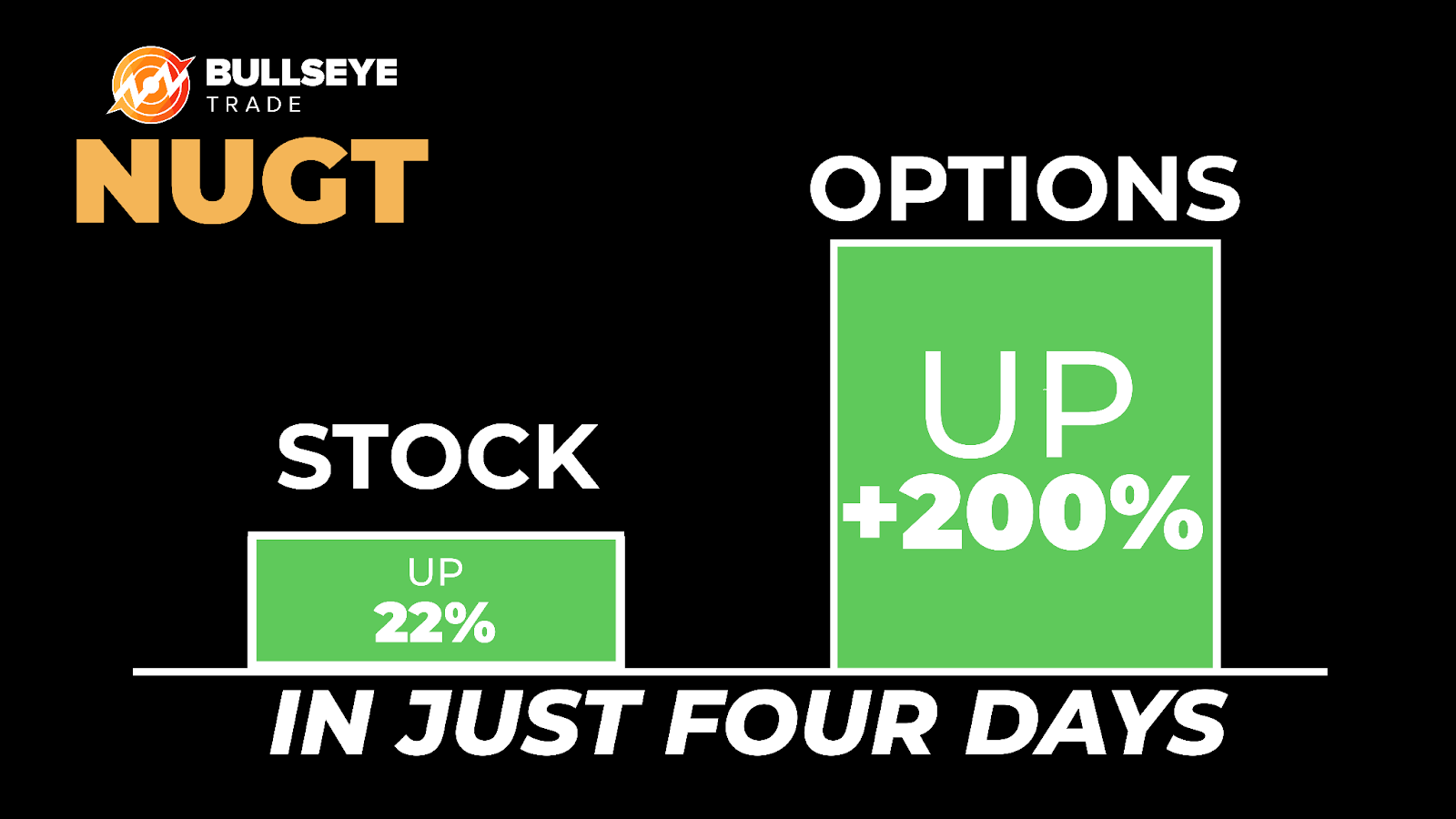 Now not all my trades work this well, (check out these trades from the last few months here, I'm proud of them!) but I can help you think like a pro and help you develop your own trading plans and playbook. 
Now that I'm out of my gold trade (and put a few of those "cheap dollars" in my pocket in the process!), here are a few other trades I'm looking at with the weakening dollar.
CAT: Caterpillar
Now when the U.S dollar was strong, I got short Caterpillar a few months back. Here's what happened: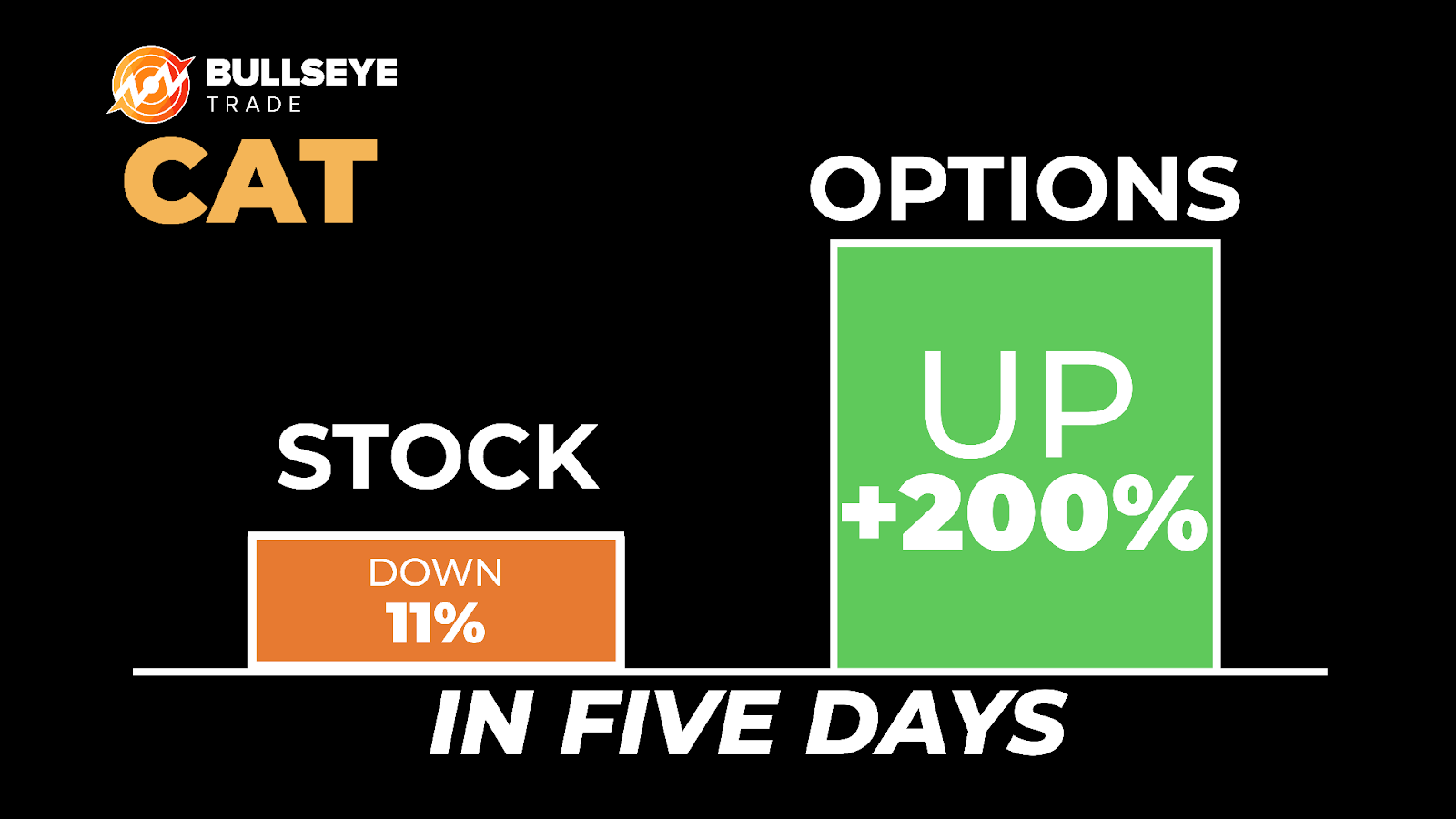 Not bad huh? Now that the dollar is pulling back, I'm looking at CAT from the longside: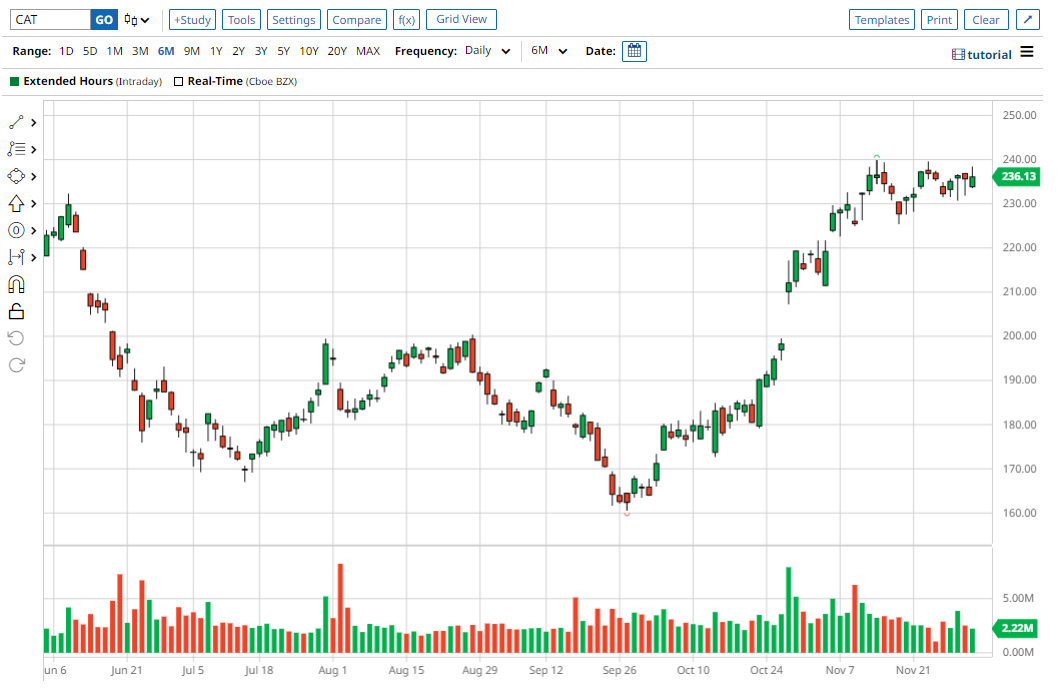 As you can see from the chart above, as UUP (US dollar index ETF) went down, CAT went higher. The reason is that as the USD weakens, big companies from overseas, whose currencies are now stronger, take this opportunity to buy the heavy machinery that CAT provides. And given the high commodity prices at the moment, they buy a lot of them to get as much minerals as they can out of the ground. That's why right now I am stalking CAT for a long.
As soon as I see the right trading setup, that I believe increases the odds of a great trade for me, I'll let my subscribers know! Also check out DE, its in the same sector as CAT and looks just as strong: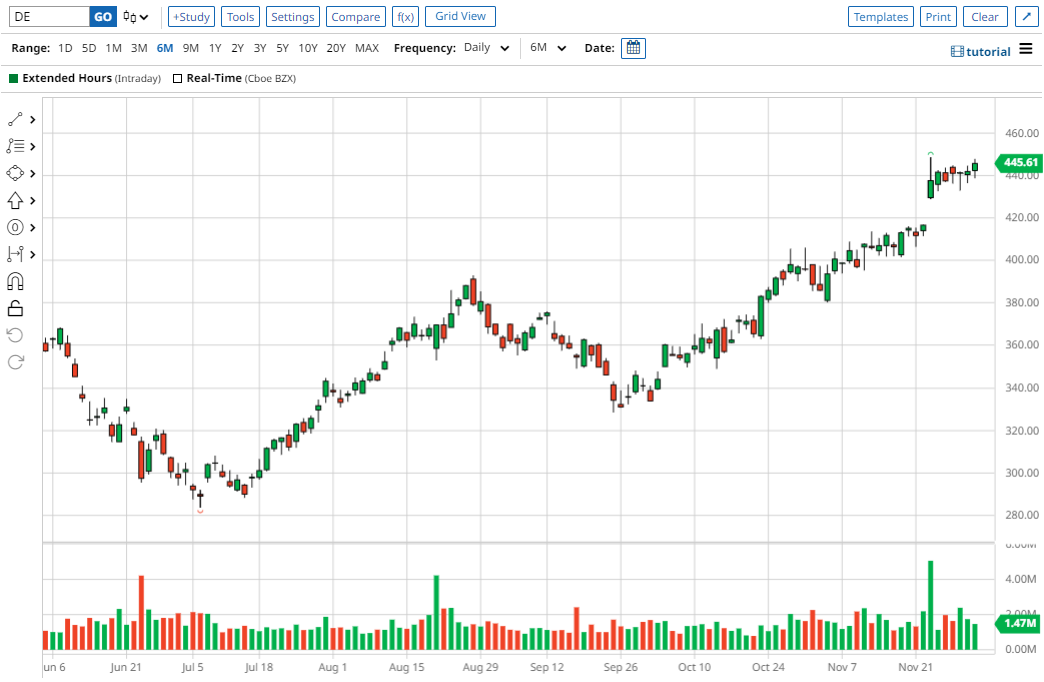 The final play I'm looking at is Boeing (BA). These guys make not only planes but also defense and weapons systems. With what's going on over Ukraine, not only do they have more demand for their defense products during wartime, but like CAT have higher demand from overseas customers due to their currency being stronger.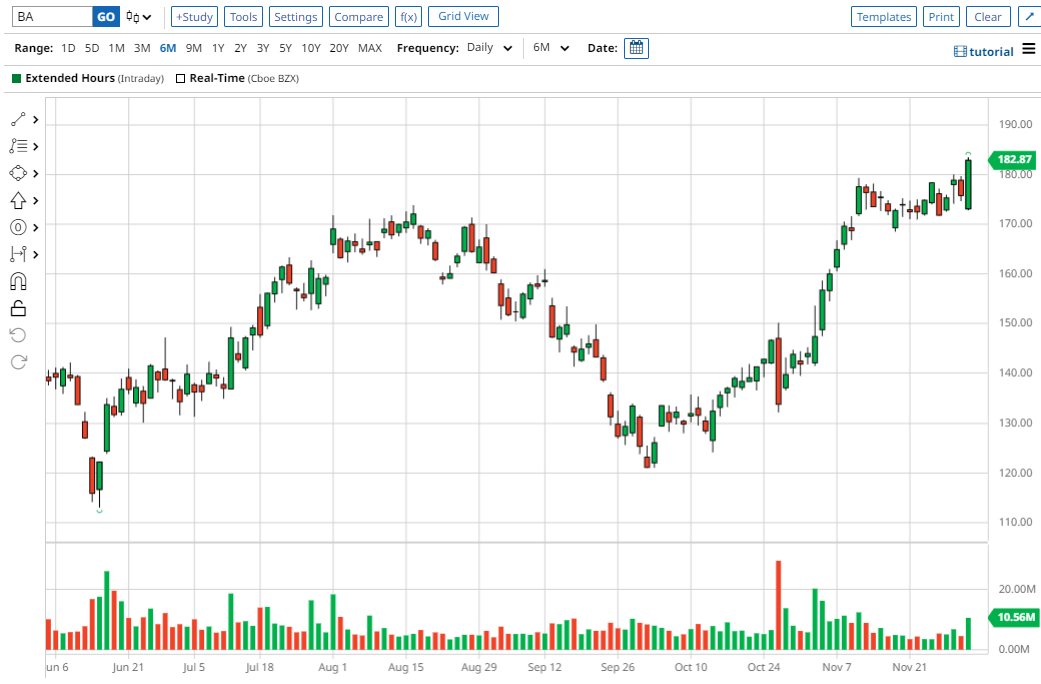 Now I love this flag chart pattern. I think BA could head MUCH higher from here. 
It is pretty simple actually.  Find strong catalysts, wait for great trading setups, and stick to a well-thought-out gameplan.
This is what I am focused on doing every single week with my members.
As soon as I'm ready to pull the trigger on any of the trades above, I'll let my subscribers know the exact options contract I'm looking to trade, my stop and my target.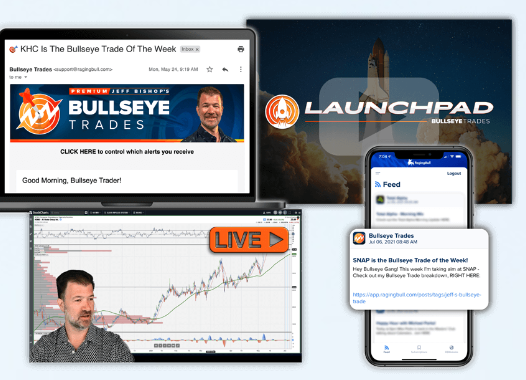 Don't miss my next great trade idea. I just sent it out this morning, before the market opens as I always do.
But I think there is still plenty of time to get in! 
I am not actually in the trade yet with my own real-money trading account, but when I do, you can be sure that I will send out an app alert to all of my members and let them know (of course, I already told everyone my exact plan in the email this morning too).
Make sure you are on the alert list as well!
Did you also know that I'm also offering a 30-day money-back guarantee, so really what do you have to lose?
See what thousands and thousands of people are raving about!