Just three more days left of the trading year!
As I said yesterday, there are no signs of this market slowing down or letting up on opportunities.
I am as zoned in as ever before as my watch lists are packed with promising setups.
Over the last two days, the XBI, which tracks small-cap biotechs, has pulled back slightly after putting in a higher high on the daily chart.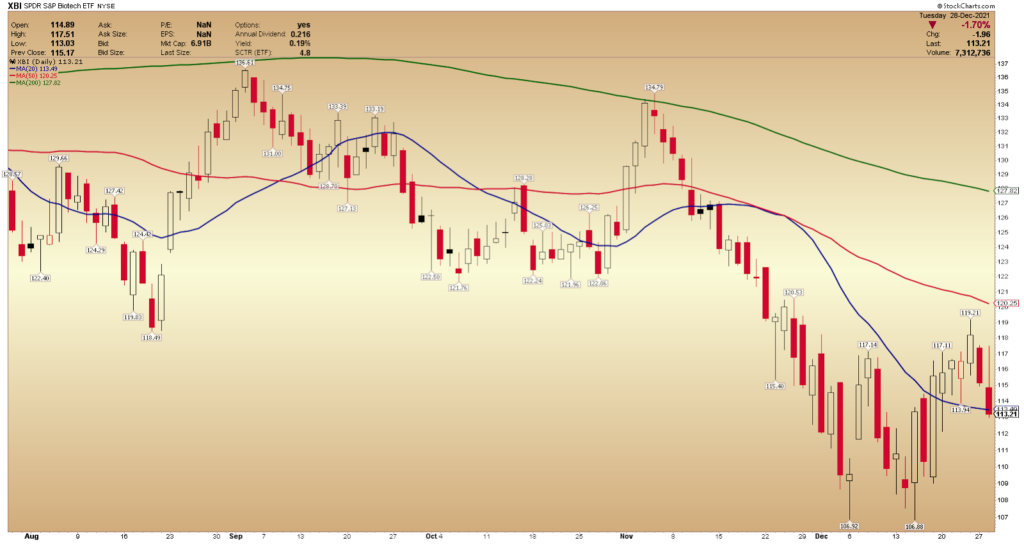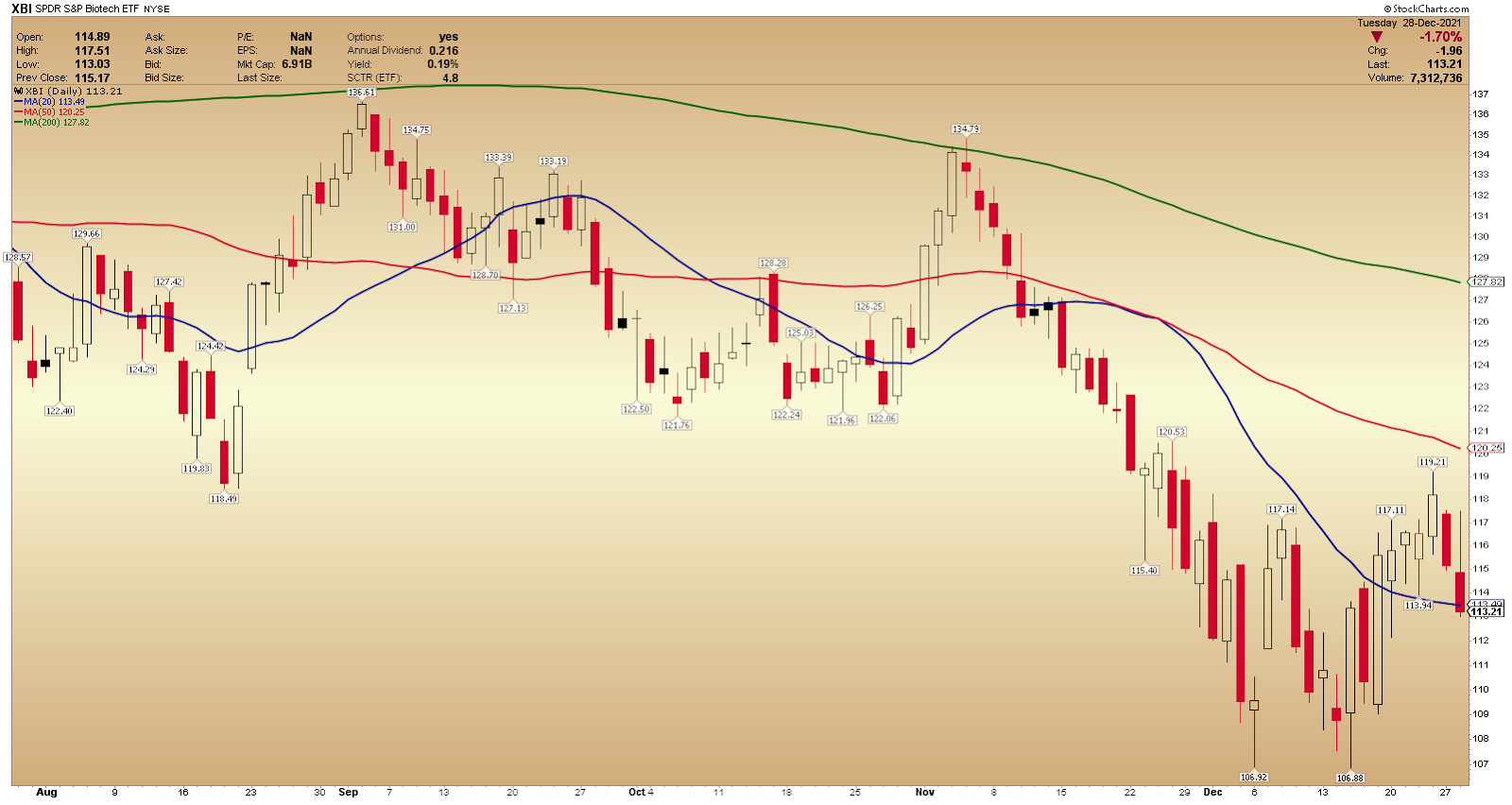 Yesterday the XBI closed down 1.7%. Going into year-end, I will be looking for the XBI to put in a higher low in the area of yesterday's close to $110, which could further confirm a reversal on the daily chart.
Even with the slight selloff and pullback in the XBI yesterday, I still noticed relative strength in two biotech stocks on my watch list and that I have been paying close attention to lately.
According to Yahoo, PTPI focuses on men's health therapeutics. The company engages in the commercialization and development of Stendra, an approved PDE-5 inhibitor prescription medication for the treatment of erectile dysfunction (ED).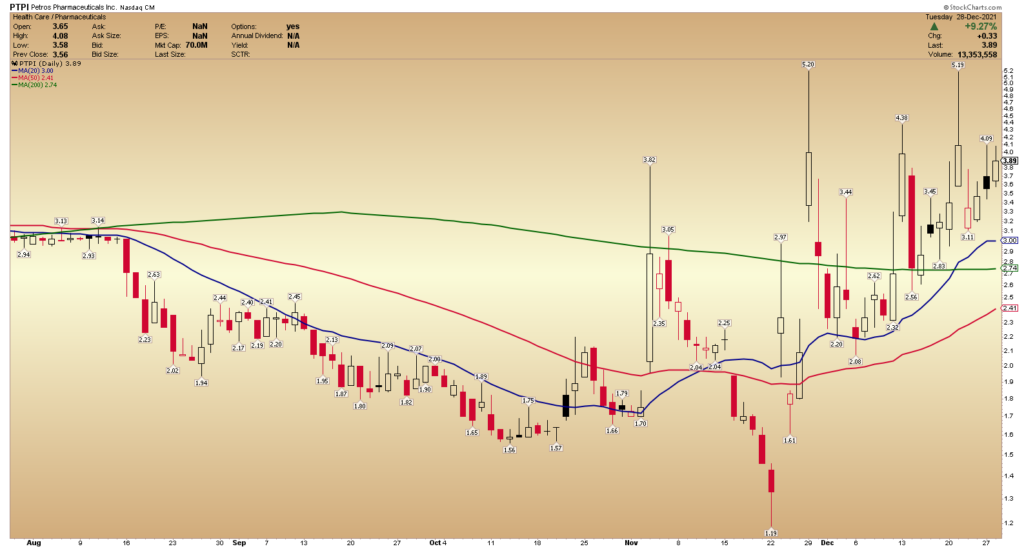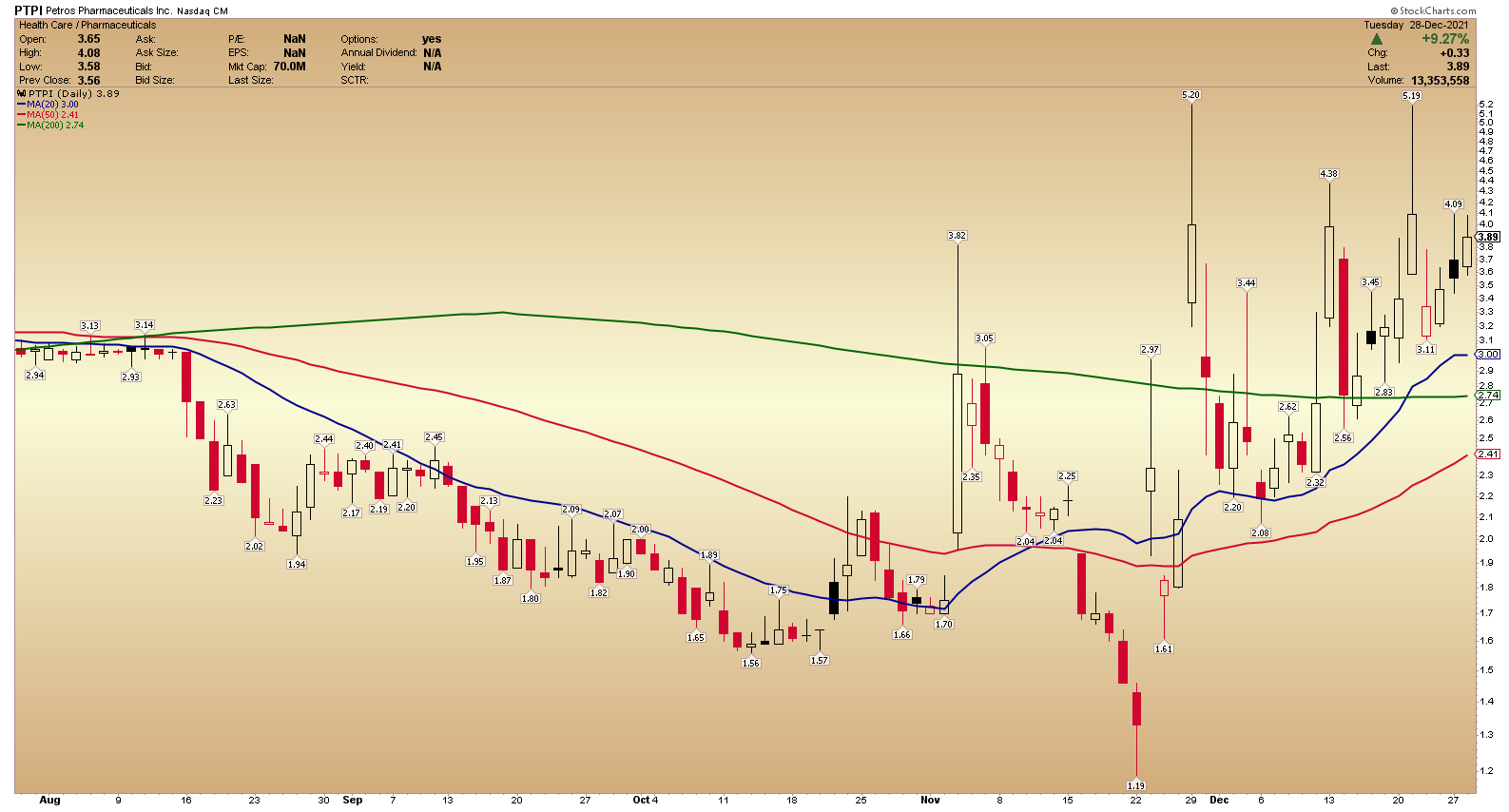 PTPI is a story of two halves this year. The stock is up 23.89% over half the year but down 11.59% year to date.
More recently, the stock is up 86.12% on the month and 14.41% on the week.
Market Cap: 61.54M
Shares Outstanding: 9.83M
Short Ratio: 0.17
Recent News: PTPI announces closing of $7.5M offering
PTPI, as I mentioned yesterday in the chatroom and on my video recap, has a classic higher high higher low pattern on the daily chart.
The stock also has a double top on the daily chart, at $5.20.
I am watching PTPI for a possible trade on the long side if the stock can break above $4.09 and hold above.
If the stock can break above $4.09, confirm the higher high and hold, I would be targeting mid to high $5s.
OPKO Health (OPK)
According to Yahoo, OPK engages in the diagnostics and pharmaceuticals businesses in the United States, Ireland, Chile, Spain, Israel, Mexico, and internationally.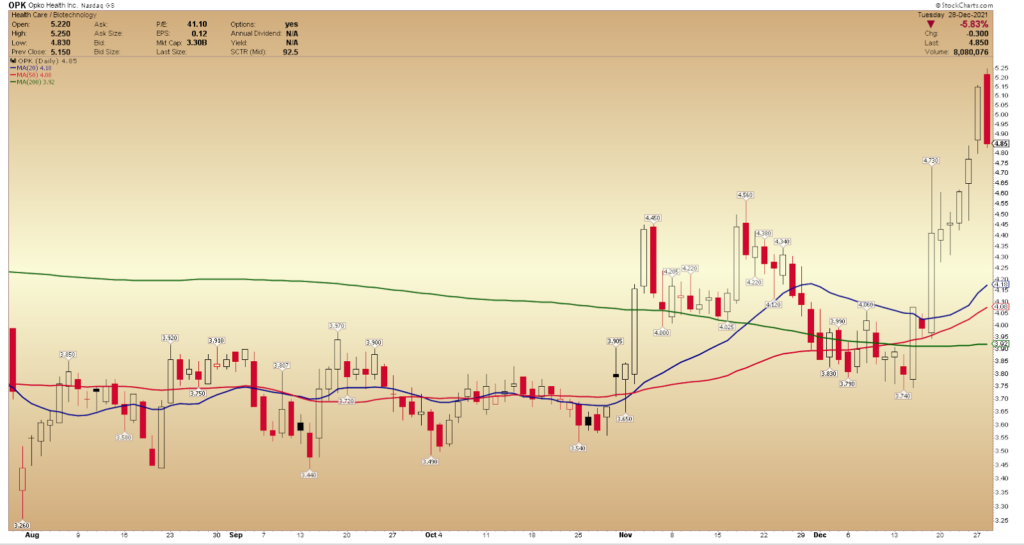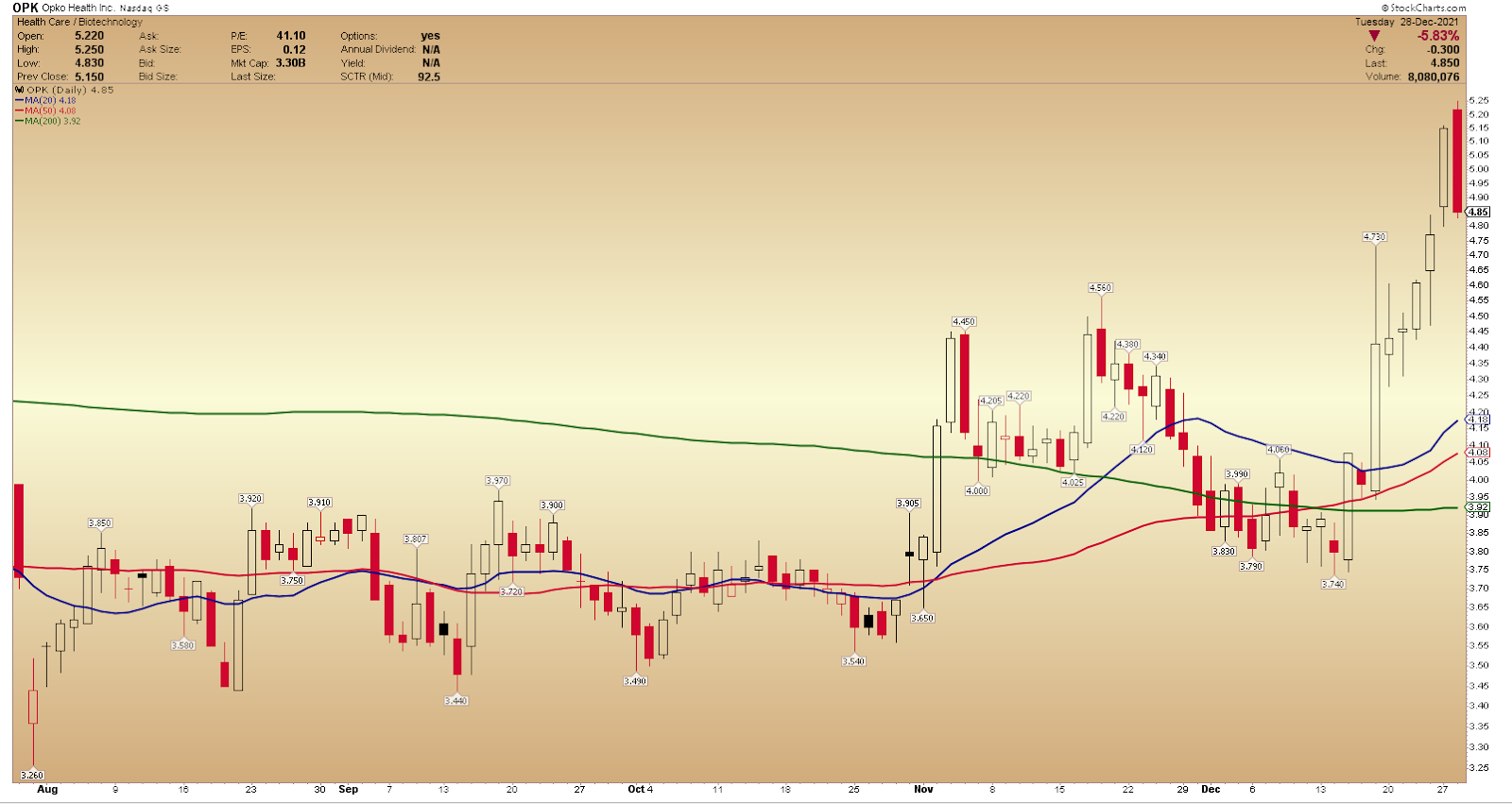 OPK is a stock that I have covered recently and written about.
Now that the stock has traded over $5 and reached my target levels, the opportunity going forward becomes different, as the setup has changed.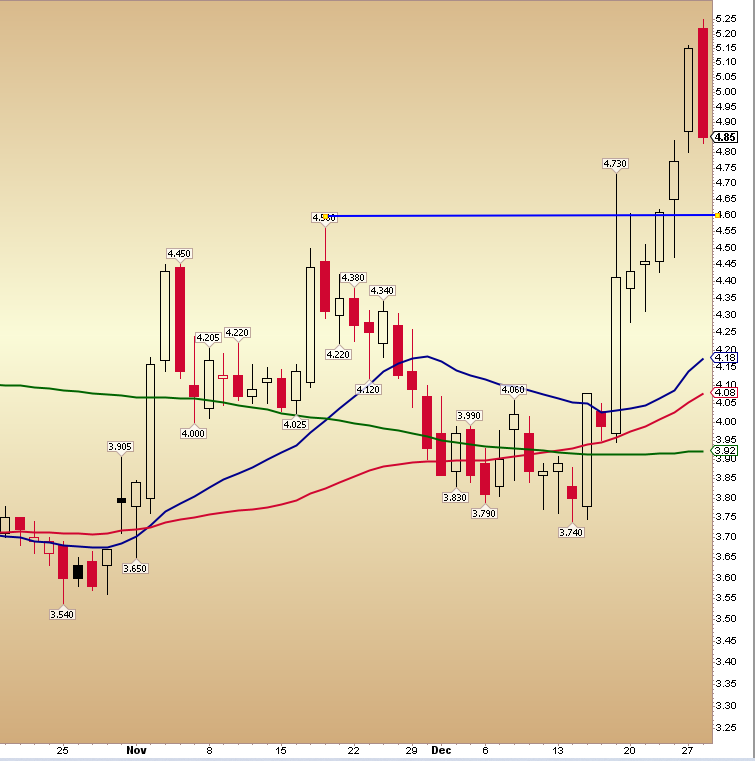 Going forward with OPK, I will look for the higher high, higher low setup to form.
The stock previously consolidated near resistance and broke out above the $4.60 area.
As the stock pulls back, I will be looking for support and a higher low to be placed near this level.
If the stock can find support and continue to uptrend, I might look for a long entry and target low $5s. Therefore, waiting for confirmation and having the necessary patience will be critical as I wait for this setup to form.