I've been teaching trading for over a decade now. Prior to that I was an elementary school teacher for a decade as well. I have a Masters in Education and a true passion for teaching. 
Here's 6 ways I believe I can help you become a better trader:
Discern Which Stories Move Stock Prices First
Be the first to discover the stocks Jason believes will soar in price with his Lightning Alerts market-moving news scanner. From drug trial results to M&A deals, if the market is about to price in amazing news on a small-cap, Jason's scanner picks it up.
Understand the News That Matters Most
Save time and energy understanding the most important up-to-the-minute news of the day, without missing a beat. Since Jason is in the trenches with you, monitoring small-caps, when news hits he'll explain out loud, whether it's likely to move the stock price or fluff, so no matter what you're doing or what screen you're on, you'll never miss the most important information affecting your trades.
Speed Up Your Analysis
One of the biggest risks when trading low float small-caps is dilution through stock offerings. Gone are the days of scouring Edgar for shelf offerings that, once priced, will result in a sudden price drop. With every penny stock Jason alerts subscribers he'll breakdown the companies cash needs, assigning an 'overall risk' score of low, medium, or high, to increase the odds of avoiding these momentum busting filings. All to help you become a better trader.
Never Trade Alone Again
Be part of a vibrant, professional, and  intelligent trading community, live and on chat every day, helping each other put on the best possible trades in the market.
You can ask questions to help further your education so you can make the best possible trades. We regularly hold live events where we get together and talk about what's working now and why. Watch Jason Bond as he trades in real-time. You'll hear his rationale for entering and exiting trades, so you can gain valuable insights into how a professional trader thinks. This is as close as you can get to being in Jason's office with him as he trades in real-time with real-money!
Learn to Time Your Trades With Precision
Jason's Lightning Alerts scanner helps you find the biggest potential winners and losers, by finding real-time volume related stock events, including price spikes, block trades, flow and more. Additionally, each morning Jason will narrow down the penny stock field, emailing you his top 3-5 trade ideas for that day shortly before the market opens, along with a market overview. But here's where it gets really exciting. You'll receive a flurry of Jason's real-time Lighting Alerts via the chat room, RagingBull app, and email. Every alert includes the desired entry price, target, and stop loss. Members can expect to get INSTANT app alerts during the week, whenever Jason sees new exciting opportunities pop up on the scanner that he likes and wants to tell members about. Jason will use every communication mode at his disposal to get you his real-money Lightning Alerts on hot penny stocks.
Use Critical Skills To Reduce Guess Work When You Trade 
To help you time your trade entry and exit points with impeccable accuracy, on average, Jason sends out 3-5 new video lessons each week where he shares his insights on the market. If you want to learn to trade well, then you'll need to learn how to apply what you're learning to what's happening now in the market. And they're all housed in his education value so you have 24/7 access to this powerful collection of video training sessions to speed up your learning curve. Get lessons jam-packed with ideas that can directly improve your trading skill and confidence, available on demand to watch when you want.
And lastly → how about big savings on Lightning Alerts? Save $3,697 on Lightning Alerts when you join today. 
Now over the last month I've warned everyone small caps are likely to erupt as markets transition from bear to bull. Friday was a good example of that. Not only did we see a stock I alerted at $.57 run 1000% on the day, there were a myriad of momentum stocks smacking down short sellers. 
HTGM closed up 118%, CRDL 38%, IMMX 31%, INVO 30%, RKLY 40%, AHI 36%, CJJD 51%, ACER 36% and MOMO 32% just to name a few. The best part? I believe most were first day movers on heavy volume meaning – in my experience – many may have more in the tank. 
See, during the bear market of 2022 short sellers had their way in the market and honestly, after a 10-year bull market, they were due to have their day in the sun. However, it's very clear the tide is shifting and stubborn shorts are getting destroyed on multi-day moves like PHVS and SMMT, both of which I alerted last week to Lighting Alerts subscribers. 
And while the past isn't a guarantee of the future, it's a pretty damn good predictor. Check out how small caps did as they came out of the bear market in 2009-2010. They crushed the S&P.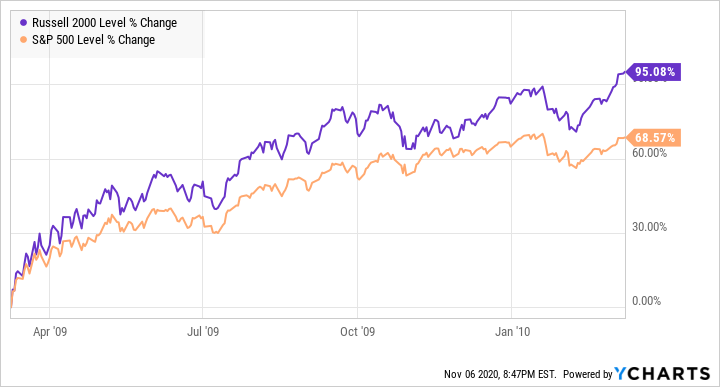 And again in 2020, not even close.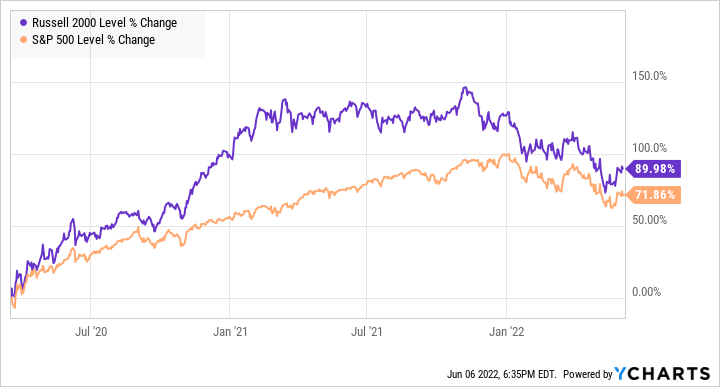 This is why I keep telling you small caps are back and Lightning Alerts, the nonstop momentum trading powerhouse, is the place to be. 
When they work well, Small cap stocks tend to outperform large cap stocks due to their higher volatility. And in young bull markets when all stocks are moving higher quickly, small caps really rip. 
And if you need proof, just watch me alert AMAM at $.56, just 4-minutes into the move, long before any other guru noticed a huge move was coming. The stock finished up 1000% on Friday. 
Yoh T
Good morning JB, I will like to say Thank you, Thank you so much PHVS
Mitch
loving you!
Kat
So happy to have you back Jason!
There's a big difference in an alert going out at $.56, before it goes to the $4's, compared to $2's, on the way to $4's. Listen, I don't call it Lighting Alerts for nothing! 
Here's how I think Lightning Alerts can help you be a better trader.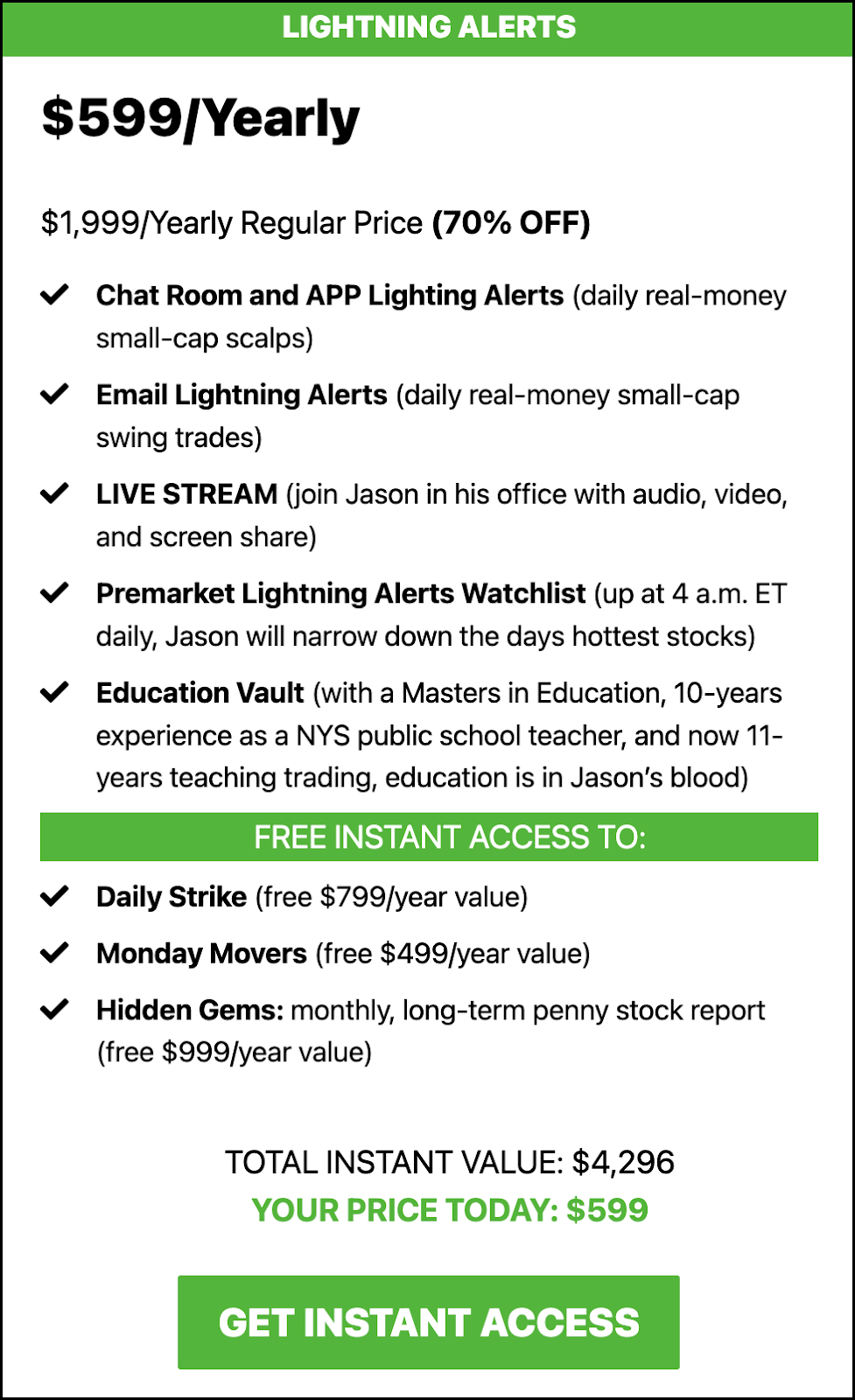 So to start the week let's look for fibonacci retracements on PHVS, SMMT, AMAM, HTGM, CLRO as well as bull flag / pennants on CRDL, IMMX, INVO, RKLY, AHI, CJJD, ACER, MOMO.
A fibonacci retracement shows me where to enter rest phases or continuation patterns on stocks up 100% or more in a short period of time, especially if they've separated from all reasonable price action on the chart, normally used to determine supply and demand. 
For stocks up a lot but less than 100%, bull flag / pennant continuation patterns are my favorite for entries, from there exits should be 10-20% whether it's a scalp (day trade) or swing trade (1-4 day hold). 
Get the stories that move stock prices first!
Hear the news that matters most!
Speed up your analysis! 
Never trade alone again!
Time your trades with precision!
Reduce guess work when you trade!