Investment in China really took off when technology made it easier to invest overseas with the advent of online brokerages and American Depository Receipts (ADR)…certificates representing shares in foreign companies, traded on the U.S. exchanges.
And as China became an economic powerhouse, there was a surge of Chinese companies issuing ADRs to take advantage of the massive amount of capital on the U.S. stock exchanges.
Not only that, but the government allowed capitalism to grow mostly untouched.
After all, it was good for the people and country as a whole.
All of that has come into question recently with a major crackdown on tech companies coming out of China.
It started small, but has turned into a massive coup with ramifications way beyond the walls of China.
ANT group
The Chinese government started a crackdown on its big tech giants last year, forcing Jack Ma's Ant Group to pull its IPO.
Highly anticipated to be the biggest IPO ever… it was stopped in its tracks by Chinese regulators.
Why? It's not totally understood. At the time, Jack Ma made some derogatory comments about the Chinese government…maybe it was a coincidence…
But Ma himself disappeared for months without a word. Kind of like a kid sent to their room without dinner.
To this day ANT Group still isn't publicly traded.
China TechEdu
Then in February this year, reports of Chinese authorities conducting snap inspections of after-school tutoring institutions led to the beginning of a rout in the private education sector in China.
Next up, in March there was talk of banning the use of online education for students below seven years of age along with a potential ban of online education companies from advertising in Chinese state-owned media.
It didn't stop there though, in May China issued the maximum penalties to two of the country's fastest-growing tutoring apps for violating competition and pricing laws.
And Friday, news broke of China considering having companies that offer tutoring on the school curriculum to go non-profit…which could not only decimate the country's $100 billion education tech industry, it could undermine foreign investors' faith in China.
If this actually happens, nothing is safe.
Just look at the charts for two of the biggest names in Chinese internet education with big gap downs Friday and opening even lower this morning…the charts speak for themselves.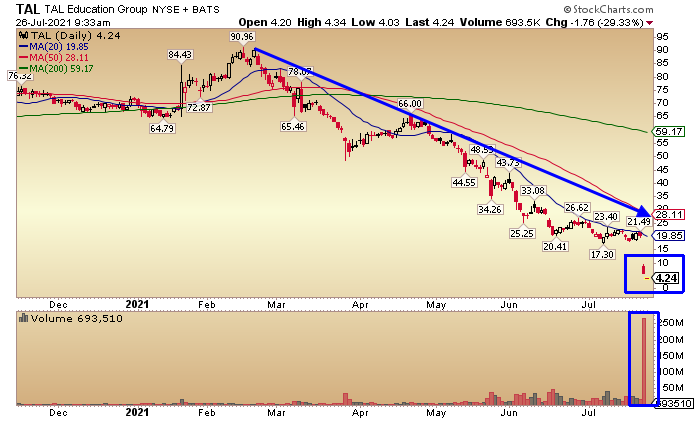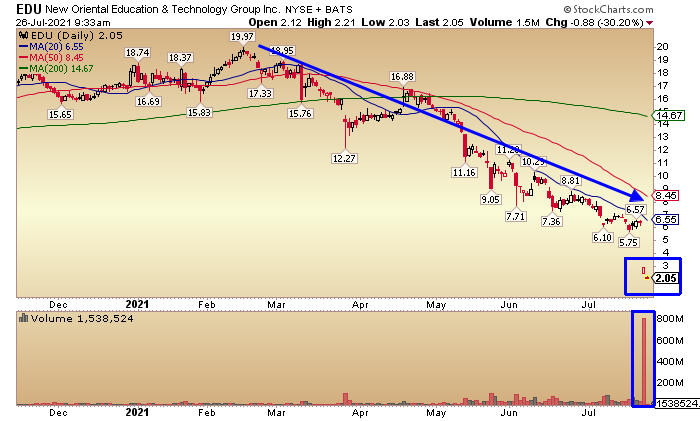 DIDI IPO
It really started to unravel a couple of weeks ago when Didi Global (DIDI) IPO'd on the NYSE.
Apparently Chinese authorities had questions for Didi before going public…and DIDI pushed forward without their blessing.
Shares hit $18.01 that day but never recovered after China's response…removing the ride-hailing app from stores, and launching an investigation…and talk of serious penalties.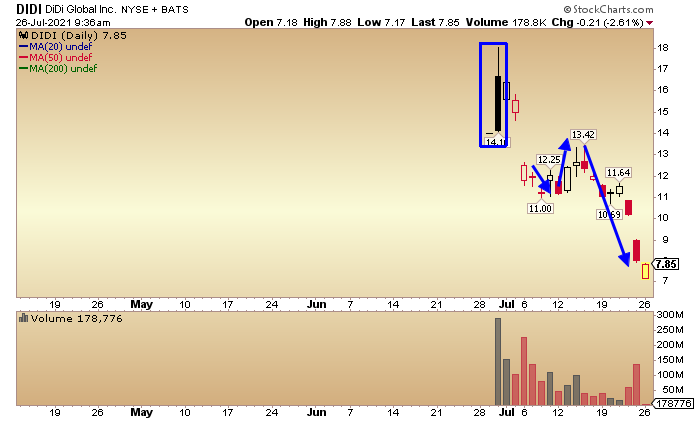 The penalties under consideration include a fine, suspension of some operations or the introduction of a state-owned investor, and DIDI may even be forced to delist its U.S. shares.
If they follow through with the threats, this is yet another recent move that will wreck investors' confidence in China.
Investors now have to wonder if any U.S.-listed Chinese stock is safe?
Keep an eye on BABA, NIO, LI, XPEV JD, TAL, EDU, BILI, BIDU