As we quickly approach the end of summer, I am beginning to see volume and speculation pick up in small caps, low floats, and low-priced stocks.
This is music to my ears! I mean, who enjoys the summer lull period in the market, right?
Over the last week, the volume has begun to surge in some low-priced names. With people returning home from vacation, going back to the office, and online attention growing around potential short squeeze plays, it looks like we are in for an exciting final third of the year.
One stock I have been watching over the last week is GSAT.
GSAT, per Yahoo, provides mobile satellite services worldwide. The company offers duplex two-way voice and data products. This includes mobile voice and data satellite communications services and equipment for remote business continuity, recreational usage, safety, emergency preparedness and response, and other applications.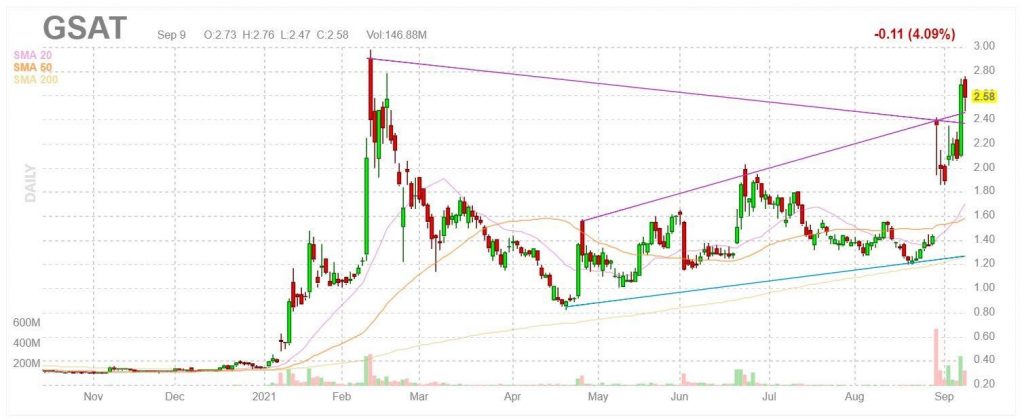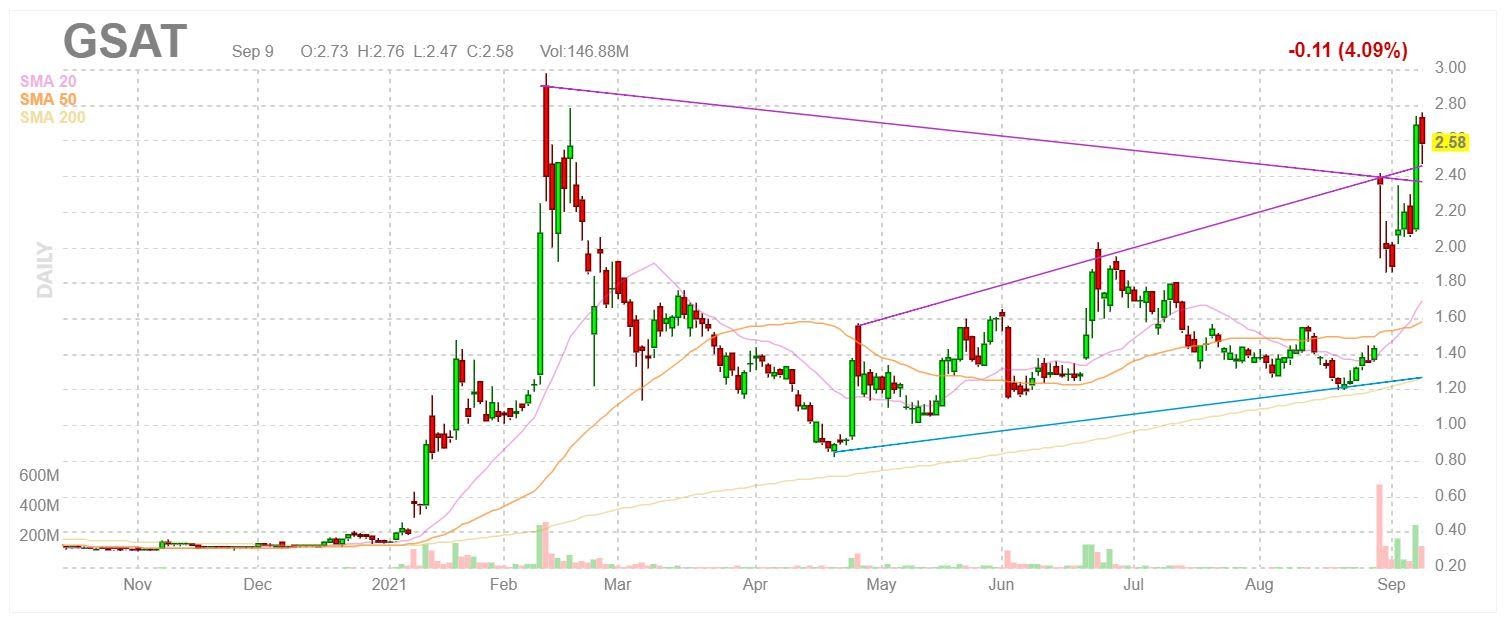 Market Cap: 2.84B
ATR: 0.24
Float: 728.04M
Short Interest: 8.55%
Average Volume: 39.81M
Shares of GSAT have soared this month, up 81.69% and 36.51% on the week! Volume in the stock has been sensational, with the stock trading almost 1.5B shares in the last eight trading sessions! Compared with the stock's average daily volume of 39.81M, this figure puts into perspective just how impressive the volume has been.
The average target price set by analysts covering the stock is $2.35, which is below where the stock closed on Thursday ($2.58).
Shares of GSAT have almost doubled since gapping up eight days ago.
What is the catalyst driving the stock higher?
Initially, the stock gapped up and surged higher following a report that mentioned Apple, the tech giant, could add satellite capabilities to iPhones for usage in emergencies.
GSAT then soared higher again after the company disclosed in a regulatory filing that it received a second $37.5M payment from an unnamed customer.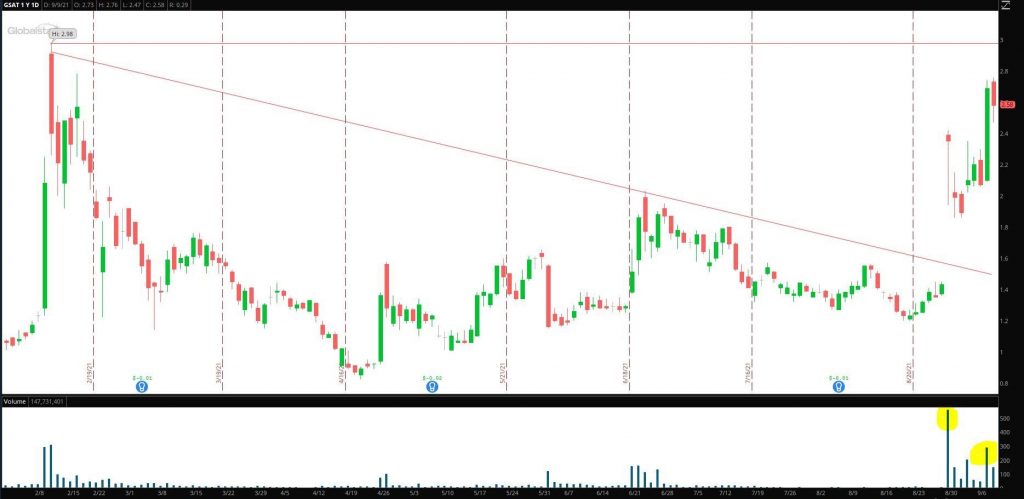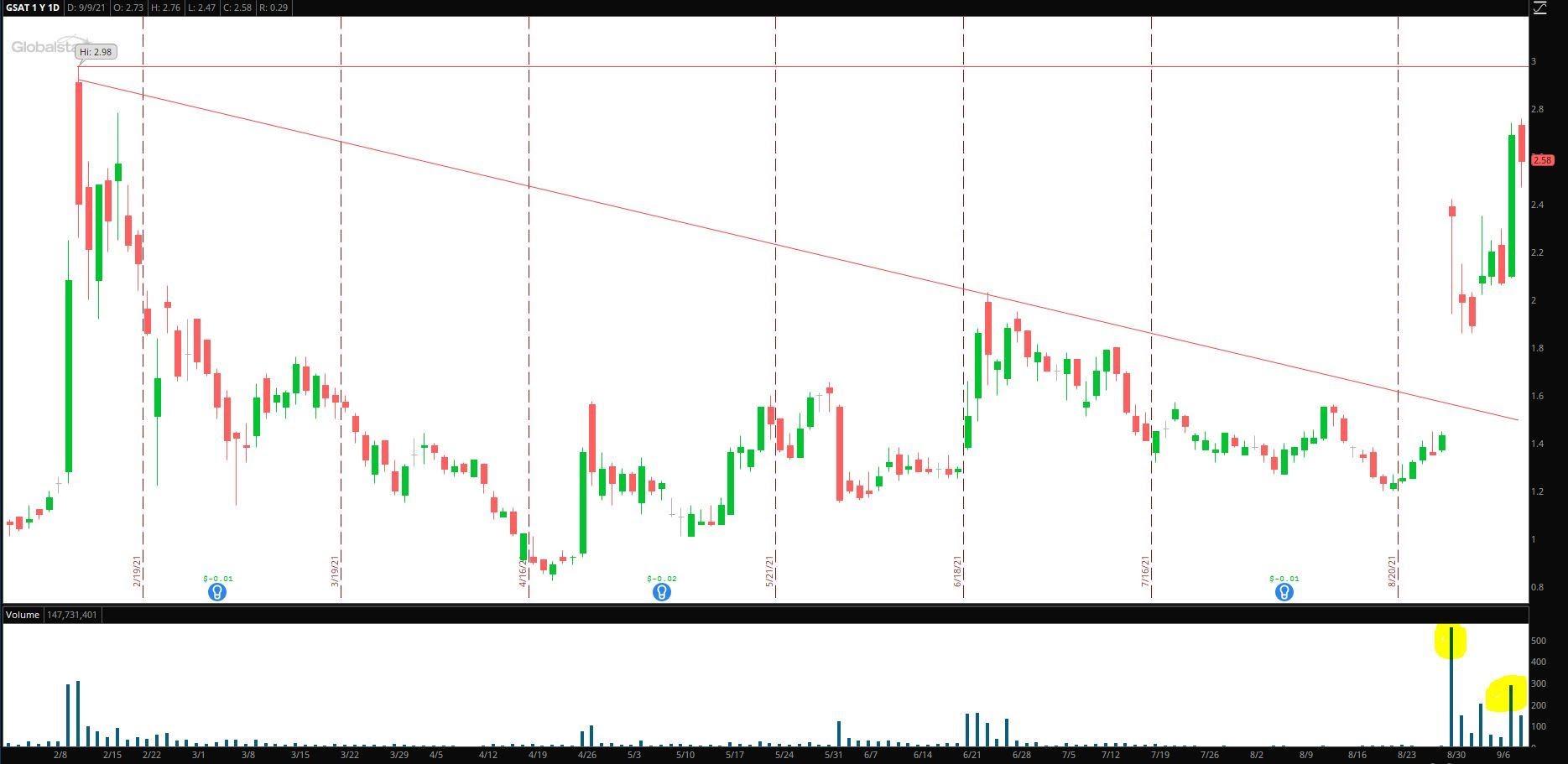 Since the news flow began, the stock broke out of the daily downtrend on massive volume and has continued to hold above support.
This stock has so far respected critical levels of resistance and support and provided some significant risk: reward opportunities.
I don't want to dwell on the past opportunities, though. Instead, I want to point out some key interest levels and game plan for a potential move higher.
What's next for the stock?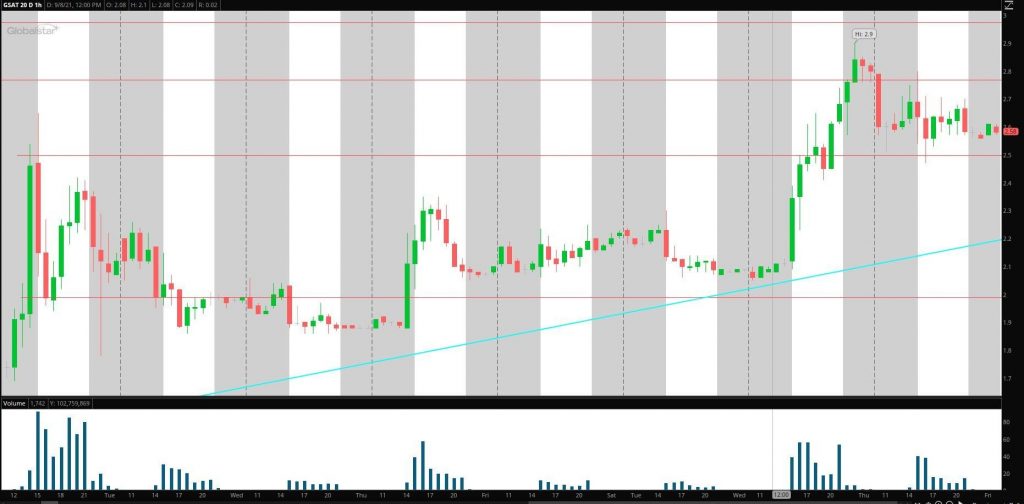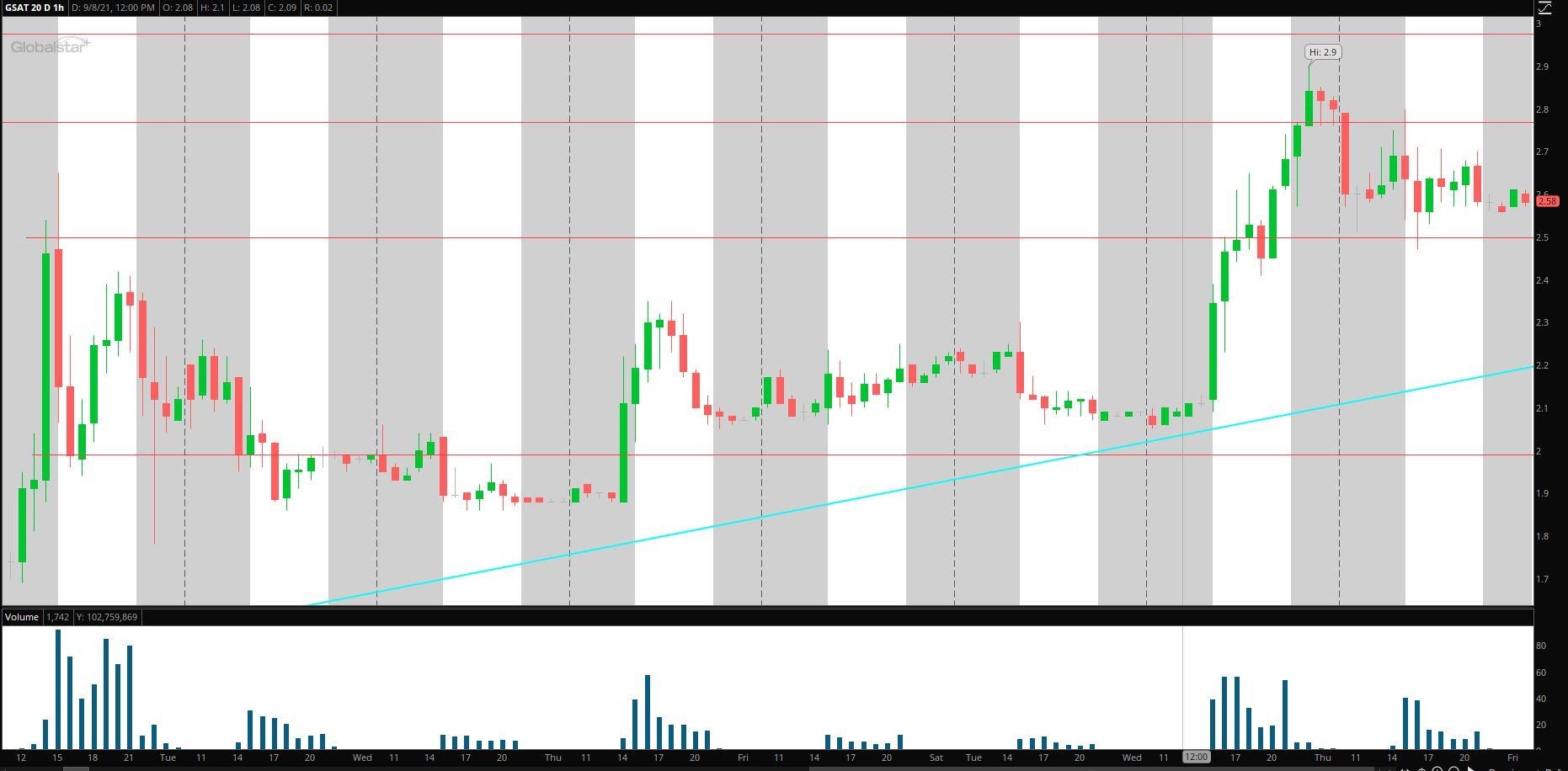 The action in the stock today will be telling. I say this because there are many vital levels close to where the stock closed on Thursday.
The first two levels I am watching are the resistance of $2.80 and support at $2.50.
If the stock can break above resistance and establish newfound support, a move above $3 could happen. $3 has stood as a high for almost five years, so this level is significant resistance.
Below $2.50, all hope is not lost for bulls because support can still be found at $2.20, which is the current price of the upward trend.
If the stock fails to hold above the trend, I will lose confidence in the bull thesis. The final line in the sand will be at $2.
In many cases, where there's smoke, there is fire, and therefore it is important to keep an eye and ear out for news relating to the rumored partnership between GSAT and Apple. I suspect if a positive headline were to be released, shares of GSAT could rocket higher.
In the future, if this stock continues to remain above key support levels, with a growing short interest and sustained abnormal volume, it could have another impressive leg higher.