Quick reminder here…Stocks do go down.
I know it's been a while since we've seen any sort of panic in the markets, but I've been doing this a long time and when it comes to trading…this is nothing new.
And there's no reason to get caught up in it.
With renewed fears of an economic slowdown stemming from the spread of the Delta variant, the markets are in full sell off mode this morning…continuing the selling pressure from Friday.
And while I'm staring at a big selloff, the one thing I'm not doing right now is panicking.
I'll let everyone else do that while I stick to what I do best.
I'm going to start with the most obvious solution to a selloff…looking for my setups.
Wait, what?
Just because the markets are selling off doesn't mean every single stock is ripping down.
Especially in penny stock land. These stocks tend to move based on stock specific news.
So while the Dow, S&P, and Nasdaq are falling off a cliff…I've got my eye on a number of stocks that are moving up.
Here's a few I've been eyeing off my scanners this morning:
GLG, CELU, LCLP, AHPI, MTSL, IGEX, PETZ, NSAV
For instance, MTSL was making a nice move up off support in the upper 3's this morning.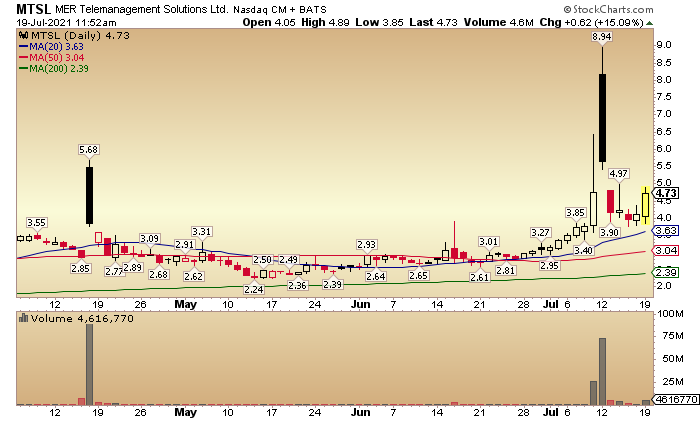 Sure the Dow is down over 700 points at the moment, but that doesn't change the setups/ patterns I'm looking to trade.
Maybe I won't find as many, but that doesn't mean I won't find any.
And if I don't find any…guess what? I simply don't take a trade...common sense, but often we need a reminder of that.
The one thing I don't want to do is force a trade.
So for me…I just focus on strong stocks. I look for the same things I always look for.
In the end, it's just another day and that's how I treat it.
Take a Break from Emotions
Now let's say I was feeling a sort of panic…what would I do in that case?
First thing is to just sit on my hands. Literally, just put my hands under my butt so I can't make any trades. The last thing I want to do is make a trade with any type of emotion involved.
Second…take a break. If I still feel off, I would simply leave the screen for a bit or even the rest of the day. Again, the point is to not take any trades while in an emotional state.
One thing I know for sure is that letting emotions into trading does not end well. So whatever it takes to keep them out is a good move.
For me personally, I've been doing this a long time and been through it all before, so I'm usually just treating today like any other day and looking for my setups…as mentioned earlier.
But there are a few other ways to handle a sell off…
Moving on a Market Selloff
Sell short – I don't personally follow this plan of action as it's not part of my trading plan, but for those that trade both ways…these are the times that shorting comes into focus.

Long term buying – When it comes to longer term investing…I like to watch my favorite stocks that have been a little too high to justify. I would never buy just to buy, but if I have price levels that I am interested in on pullbacks…this is a time to make notes and have some alerts set. Granted this "selloff" probably wouldn't be big enough to put me there today alone, but it would get me perking up if things continued down for a while.

And lastly, simply observe and take notes. If nothing sets up, I don't force it…I simply watch and learn.
I've seen it many times throughout the years and one thing I've learned, there's no reason to panic when the markets take a hit.
I simply treat it like any other day by sticking to my trade stops, setups, and plans. And if I get emotional, I walk away.