One of the most important jobs of an active trader is to gauge market sentiment. The markets go through phases and cycles over the short, medium, and long term based on various macro factors. In the short term, it can be crucial to determine whether we are in a risk-on or risk-off environment. 
For example, last week Thursday was a major risk-off day as the QQQ's were down around 3% on a larger than usual down day. Then on Friday as we came into the market on a red open with the QQQ's down around 1% pre-market there was a nice bounce as investors came in and bought the fear!
Right now, in this market environment, I've Identified 3 tickers that could be driving sentiment over the next couple of weeks. They are TLT, ARKK, and GTBC.
QQQ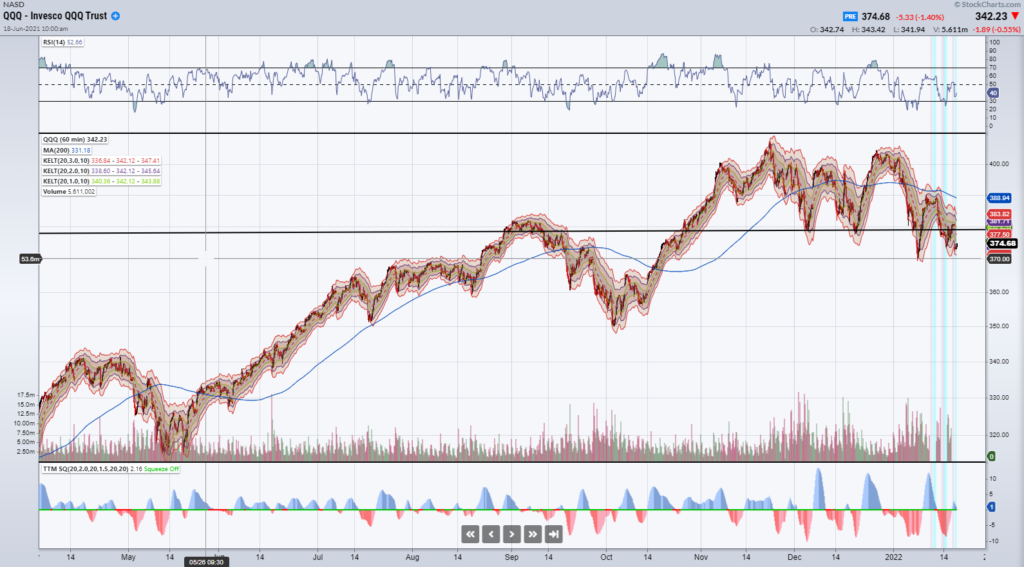 QQQ hourly chart
Looking at the QQQ's along with TLT, ARKK, and GBTC I'm thinking that the markets are going to continue their downward trend even if there is a slight rally.
These three ETF's are key indicators of the markets, and right now, they are all in a downward trend and trading below all of their major moving averages.
ARKK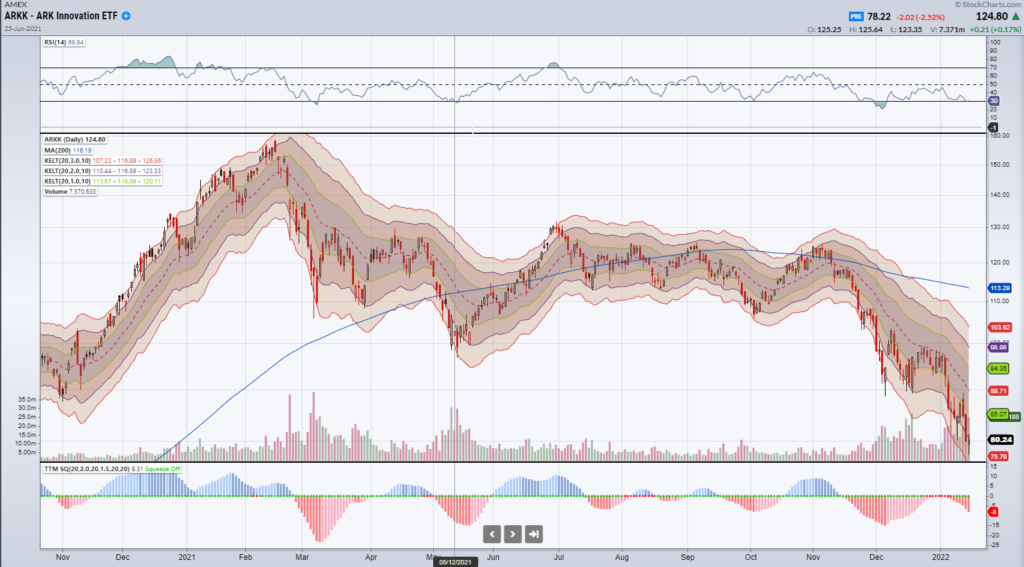 ARKK Daily Chart
Ark Innovation ETF (ARKK) is Cathie Wood's flagship fund. She was behind TSLA's $3000 (pre-split) target when it was trading below $300 (pre-split), and most on the Street were still skeptical. Her 10x call came to fruition, and she was hailed as the next big thing.
Throughout 2020 and 2021, her funds received massive inflows and were up over 300%. However, since February 2021, the ARKK fund is down over 48%, and many of her high growth, money-losing companies are down 60% or more. Besides TSLA, ARKK's main holdings include ROKU, TDOC, SQ, ZM, SHOP, SPOT, TWLO, and COIN.
I believe ARKK will be a major barometer of Risk-on/Risk-off sentiment over the next few weeks. When it has approached new 52-week lows, it has coincided with some heavy down days in the market in recent days. I will be watching what ARKK is doing closely and use it as my Risk-on/ Risk-off sentiment indicator. 
TLT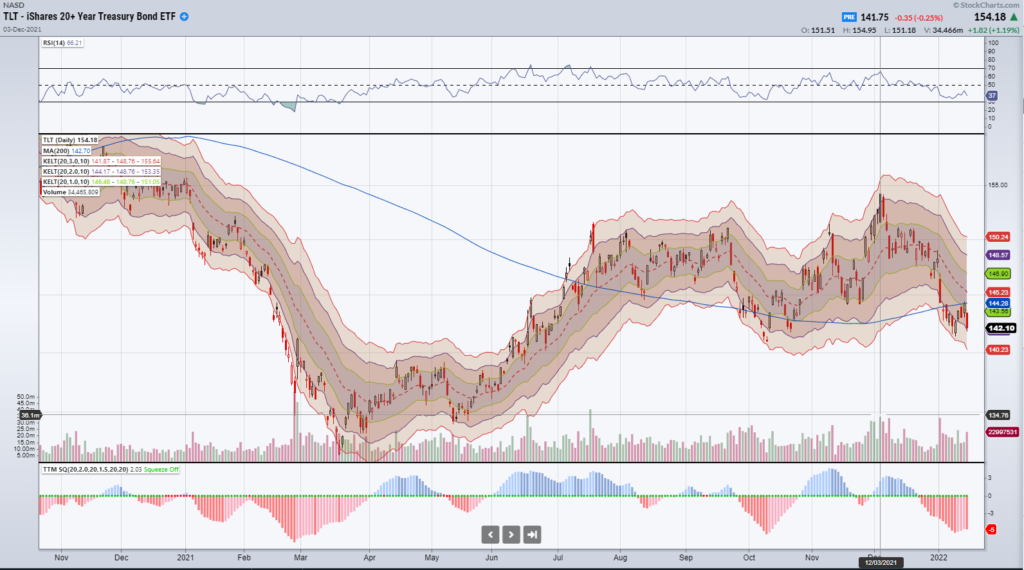 TLT Daily Chart
TLT is the 20 Year Treasury ETF. It can usually be used as a substitute for 20 year Bond prices. Bond prices and thus TLT, are inversely related to Bonds Yields and interest rates. Higher Interest rates or expected interest rates are usually bad for tech stocks. Thus if TLT continues lower, we could expect to see further weakness in high growth tech names.
TLT is another indicator I will be watching closely to help guide me as to the sentiment of the market. So long as TLT is weak, I would be wary of getting long tech names. If TLT can stabilize however and find some support, this could be indicative of a short-term bottom in some of these heavily sold tech companies.
GBTC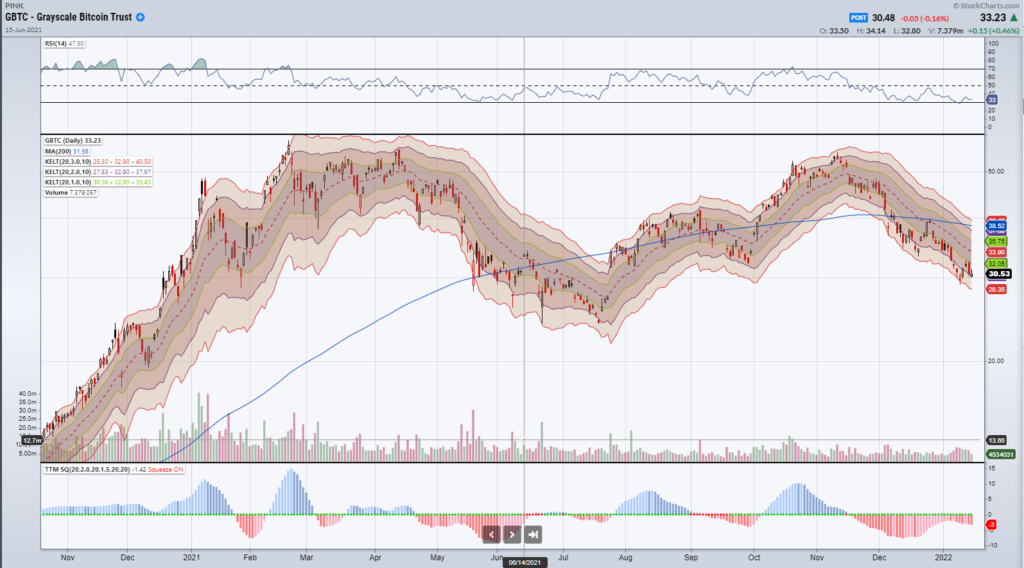 GBTC Daily Chart
GBTC is the Grayscale Bitcoin Trust. It is an ETF that buys and holds bitcoin. Thus its value and price usually moves in the same direction as bitcoin. Bitcoin is a Risk-On asset. It has been a great indicator to judge the market sentiment of Investors. I've noticed recently that when bitcoin has not been performing well, that is a sign of fear for tech stocks as well.
When Bitcoin has been sold off, I've noticed, for the most part, speculative high-growth tech names have also taken a beating as well. When bitcoin dives, that is a sign that investors are in risk-off mode and taking chips off the table. I expect this trend to continue, and thus despite not being a crypto trader myself, I am also watching the price of bitcoin by watching GBTC to get a feel for investor sentiment. For anyone interested in trading and finding more about Digital Assets, Jake McCarthy, our resident Crypto expert, is a great resource to use. 
Bottom Line
Understanding general market sentiment as well as how big traders, investors, and funds are likely to react is very important to be able to get on the right side of a trade. 
3 ETFs I will be watching very closely to gauge market sentiment are TLT, ARKK, and GBTC. TLT is the 20-year bond ETF, and when Bond prices are falling, that means that interest rates are likely going higher, which is usually bad for high-growth tech names. ARKK is a technology ETF full of high growth names and thus is a barometer of what high growth names are doing. Finally, GBTC is a Bitcoin ETF which is also a great Risk-off indicator when the price of Bitcoin is falling. 
I am watching the action of these 3 ETFs closely to guide me in making trade decisions in this highly volatile market environment!