One of my investments of the last few years was backing a startup before it went public. That company was Volcon Inc, now trading on Nasdaq as VLCN. 
I am really proud of this investment for 2 main reasons:
I worked hard to find a company that was in the right space at the right time and was at the right spot in their growth where it made sense for me. A year ago, VLCN checked all of these boxes for me.

We were so confident in the company that we made it our

largest

single private company investment last year with $250,000 invested between RagingBull, Jason Bond, and myself. 
Fast forward to today and anyone can invest in Volcon, as it is a public company.  Go ahead and look it up, VLCN! 
That initial investment was under $3 per share when the company was private.  If you look at the stock today, however, you will likely see it trading somewhere around $14.
Which is one of the reasons I get so excited about investing. Being able to invest in private companies before they are taken public is a strategy not many people have access to. Even some of the most seasoned investors are unaware of these special opportunities.
Let me share more about this with you…
VLCN is a company based in the emerging EV tech hub, Austin Texas where Tesla, Hyliion, and Ayro are located. Volcon also has a partnership with pioneering electric motor developer and manufacture, Linear Labs.
Volcon is an innovator in the powersports industry introducing advanced frame materials, a powerful, all-weather, electric drive train, and leading lithium battery chemistry to deliver on our commitment to quiet enjoyment of the outdoors.
What I loved about this company were the people behind it. CEO Andy Leisner is a former world championship, a motorcycle-racing competitor with 25 years of executive experience in the powersports industry. He was previously Senior Vice President, and Managing Director of Bonnier Motorcycle Group, the world's largest powersports media company. He has also been a three-term industry-elected Board Member for the Motorcycle Industry Council, the industry trade association group for all powersports in America.
Investing in startups is extremely risky, and given Andy's previous track record gave me extreme confidence that Volcon would be able to execute on their plan.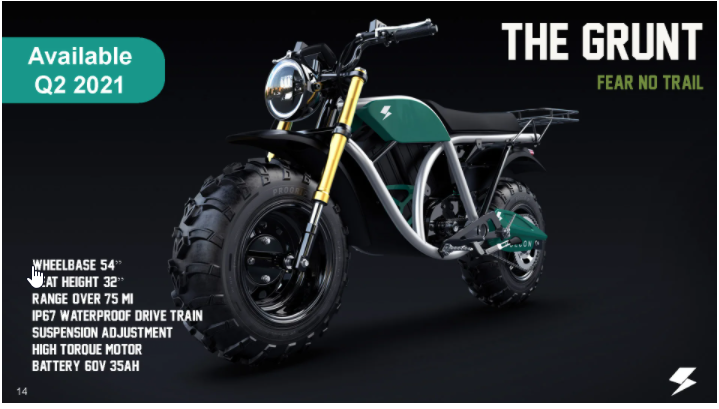 Launched to the public in early November, Volcon's first electrified vehicle, a family-friendly off-road motorcycle named the "Grunt," was to be delivered to customers beginning in Spring of 2021.
In addition, VLCN announced 2 offroad vehicles called the Stag and the Beast. With production to follow in late 2021 into 2022, pricing for the Stag model will start at an MSRP of $14,995 and the Beast will be available for a starting MSRP of $24,995.

Volcon is following through on its game plan superbly. After extensive due diligence by yours truly and the raging bull team, we were confident that Volcon would be able to execute, and they are doing just that. The IPO in October gave me an opportunity to exit in less than a year, and since its IPO the stock is going from strength to strength.
Just today VLCN announced the signing of 10 influential powersports dealers to bring its products to market across the United States. 
I have been doing more research recently and will be looking to angel invest in some more Pre-IPO's shortly.
Bottom Line
Angel investing and getting into a company pre-ipo is something not many people know how to do, even experienced traders. Moreover, angel Investing is extremely risky, which is why I have a team help me do the required due diligence to be able to spot great opportunities. 
One of my investments was pre-ipo in VLCN in the fall of 2020. VLCN went public 1 year later on the Nasdaq. The stock had an IPO price of $5, opened its first day of trading at $9.01, and is currently trading above $14. . I am getting very close to making another Angel Investment which I hope can be in a solid company like VLCN.