TSLA has been one of the strongest large-cap stocks in the market over the last few weeks. In fact, it has been up over 40% in under a month, taking early shorts to the woodshed. 
I've been watching it closely and saw major call activity at the $1100 and $1200 levels. When there is that much call activity, this can lead to a Gamma Squeeze as market makers are forced to buy stock to hedge the calls that they sold. 
I don't drink the kool-aid…..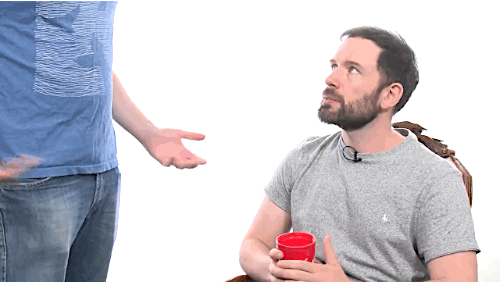 …….I study the markets and understand where the big players are positioned. TSLA is now a trillion-dollar company, and in my opinion, the price action in the stock was unsustainable in the short term. That's why I began building a short position last week. Today TSLA finally showed some weakness and made a 10% correction.
Here's how I traded it: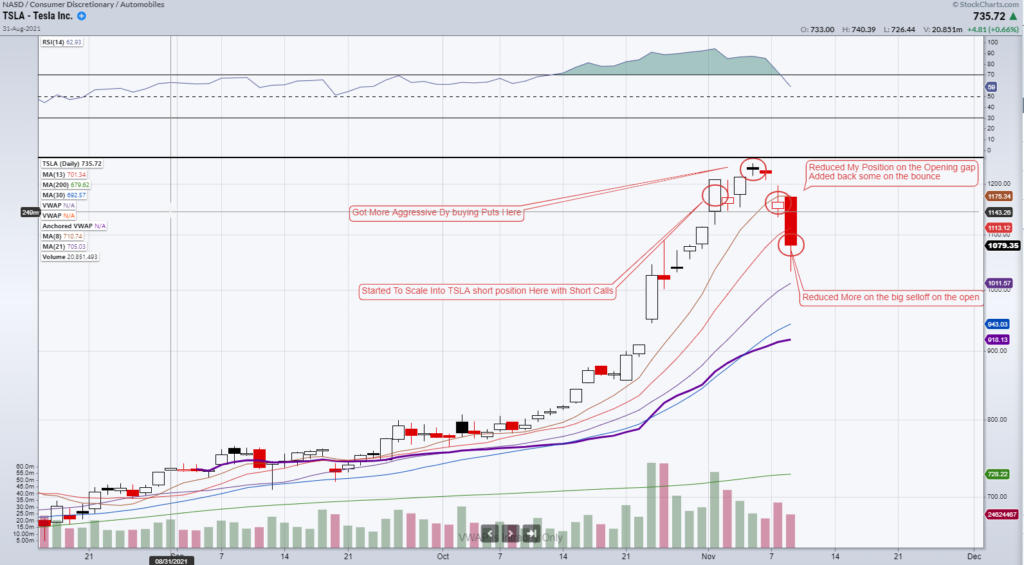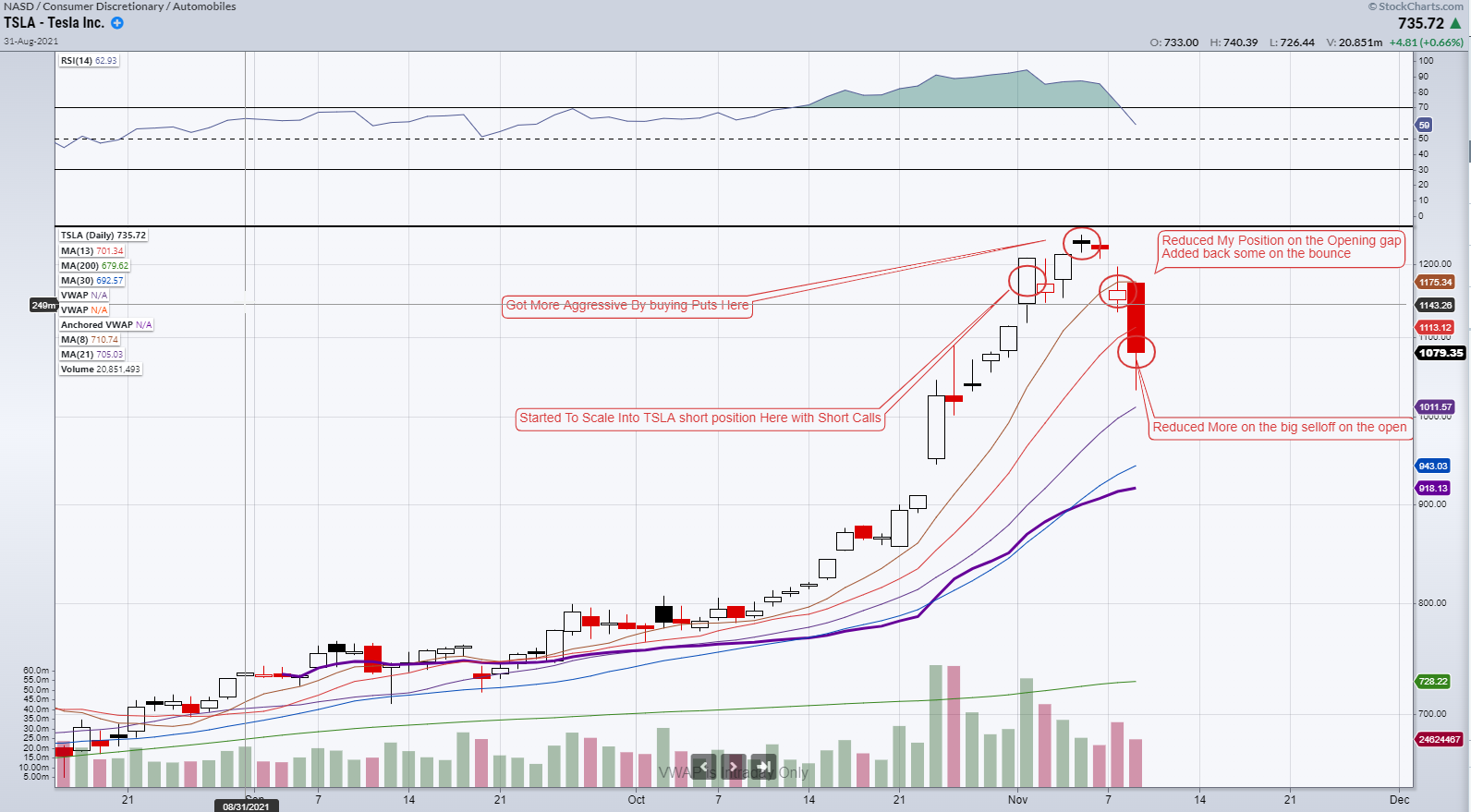 Now let me explain the reasoning behind the trade:
A few weeks back, TSLA beat on earnings and closed the week strongly, closing on the highs for the week at 909.68 and making new all-time highs. Below are the reported earnings:
Earnings per share (adjusted): $1.86 vs $1.59 expected per Refinitiv

Revenue: $13.76 billion vs $13.63 billion expected per Refinitiv
The following Monday, there was a news catalyst, which sent the stock even higher, leading to a gap up of over 3% to open at 950.53. The news was an order from Hertz for 100,000 EV's from TSLA representing the single-largest purchase ever for electric vehicles representing $4.2 billion of revenue for TSLA.
It was also announced that Tom Brady would showcase the TSLA vehicles in new Hertz ads. Furthermore, Morgan Stanley analyst Adam Jonas raised the price target on TSLA to $1,200 from $900.
All of this positive news sent TSLA rocketing through $1000, to close the day at 1024.86. It was what had happened next that really fueled the TSLA move.
Options Activity
By studying the options chain, I noticed that there was huge options activity. I saw Millions and millions of call buying going off at the 1100 and 1200 levels. This continued for several days. In my opinion, this fueled a large part of the rally. When there is that much call activity, this can lead to a Gamma Squeeze as market makers are forced to buy stock to hedge the calls that they sold. 
Also, as we've seen in short squeezes in the past like GME and AMC these types of moves can be unsustainable. TSLA is not a low float stock, it is a trillion-dollar company so I understood that at some point it should give back some of its gains.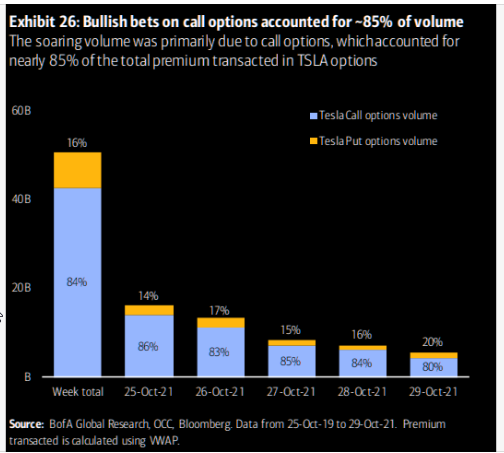 I felt that anything over 1100 was a squeeze i.e. an artificial move to punish the shorts. When the mania eventually subsided, I expected TSLA to trade back below this price, probably around 1050. So when we broke out above 1150, I began to scale into my short position.
The Trade
Now in these cases, I don't want to jump the trade and get in too early.
Remember… Scaling into a position is a difficult thing for many traders to understand. You are essentially adding to a trade that is going against you. This trading technique is difficult to master, but once you do, it can be a great tool to help achieve some of the most optimal risk-to-reward ratios.  
I understood by looking at the options chain that TSLA could rip through 1200, but I wasn't sure. So I sold a call spread on Monday as TSLA busted through 1150. I was waiting to add to my position. Then on Thursday, as TSLA broke through 1200, I got more aggressive, buying some 1250 puts. This is where I wanted to increase my position. Again, I thought that anything above 1100 was a squeeze, and thus at some point that TSLA should give back most of this move. By scaling in above 1200, I was able to get some really good prices. I even sold another call spread on Friday!
The Catalyst
My short position was on! Then over the weekend, there was some news that helped my position! Elon decided to make a Twitter poll asking if he should sell 10% of his stock. The majority voted yes and TSLA opened down 5% at 1149.79, and I covered some of my position on the open. However TSLA bounced to a high of 1197, given that my target was below 1100, I sold another call spread!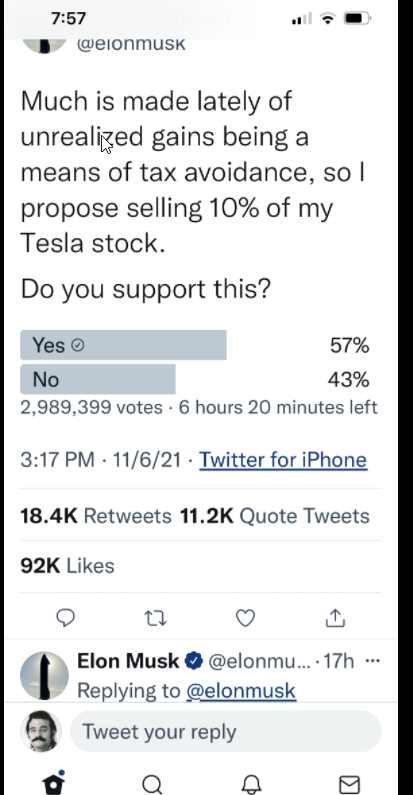 Then today it was announced on the open that China-made vehicle sales reportedly fell 3% month over month in October. This was enough to send TSLA crashing over 10% and $130 from 1170 to 1035 by 10 am. I covered most of the trade as the stock fell on the open. I didn't totally stick to my plan, I made some emotional mistakes by selling too early, but it worked out very well overall! My targets below 1100 were hit, and now I just have some call spreads left, which I hope will expire worthless.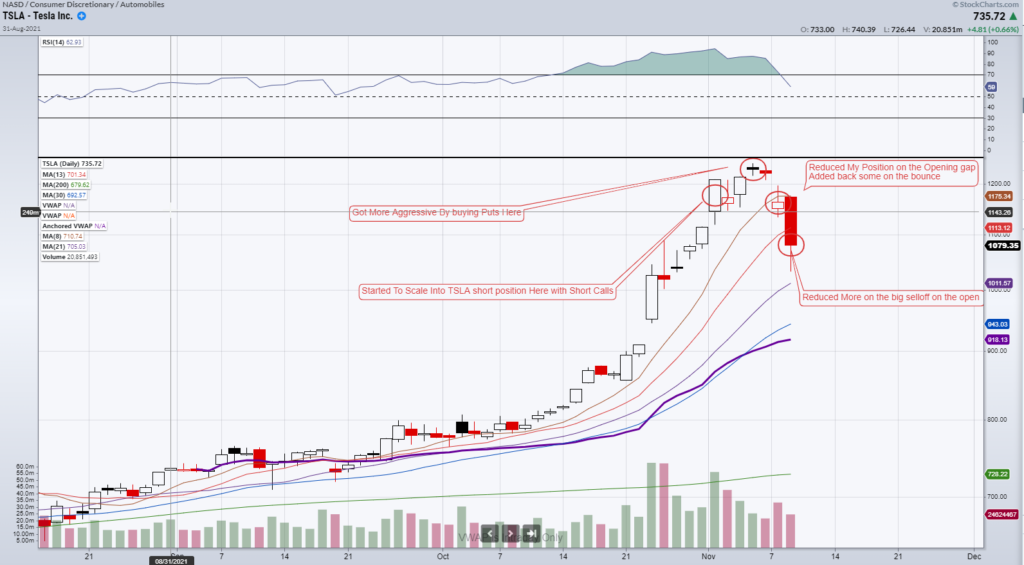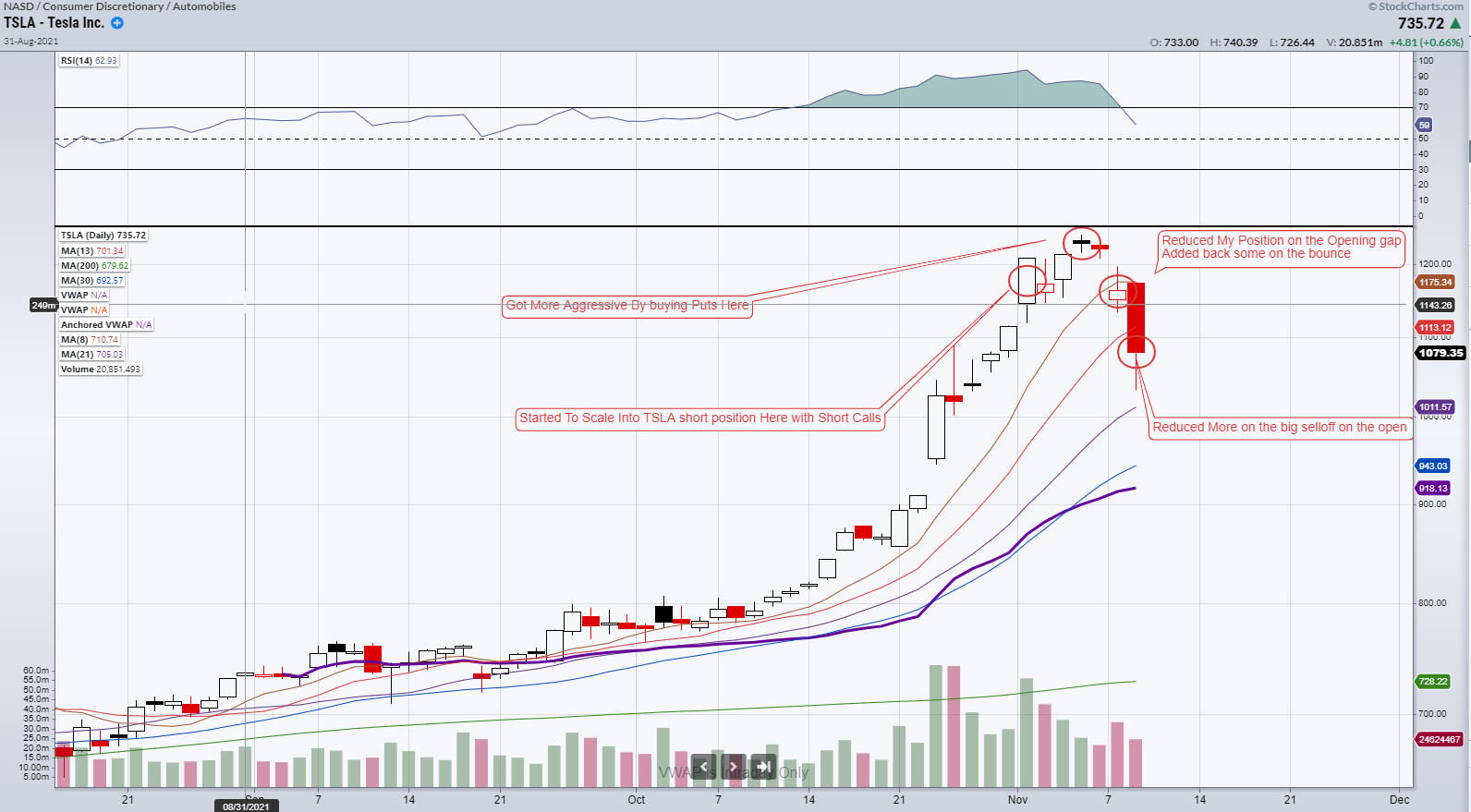 Bottom Line
Shorting is really hard, especially on a strong momentum stock like TSLA. That's why I stay patient and scale into my trade at levels I think are unsustainable to get the best risk-reward ratio. I let all the early shorters get punished and waited for some market makers to hedge the calls they sold at 1100 and 1200. Once the big money call buyers did what they needed to do above 1200, I added to my short position. Some timely news helped TSLA crash over 10% this week, and I got the pullback I was looking for.