Coming into last Monday, there was a whole lot of fear in the market. The SPY was gapping down 2%, and everything on my screen was red. After doing my weekend reading, everyone was so freaking bearish! When market sentiment gets overwhelming one way, I like to fade it. We discussed that last week here.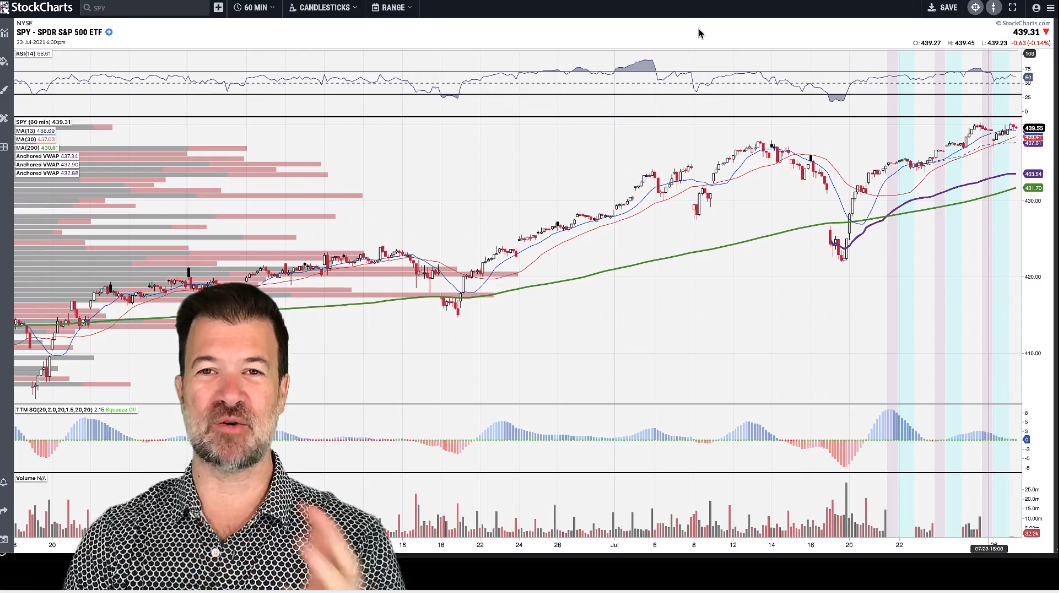 I want to trade with the smart money, the algo's. Now the algo's are terminators, have no feelings, and are not scared to execute their trades. So while everyone in the Twitterverse is panicking, I get out my buy the dip (BTFD) playbook.
The SPY was gapping down due to renewed fears about the Covid-19 Delta variant and new cases of Monkey Pox. We mentioned that the market might not have been pricing in the Delta Variant a few weeks here . Well, we got that re-pricing on Monday with a gap down, and this presented us with an opportunity!
You see, the algo's, the BTFD algo's they don't care about Monkey Pox. They care about the trend. And so far, every time the market corrects, it continues to go up. It corrects, it goes up. I understand that there are large funds on the sidelines ready to invest on days like this and I want to be able to participate in these opportunities with them.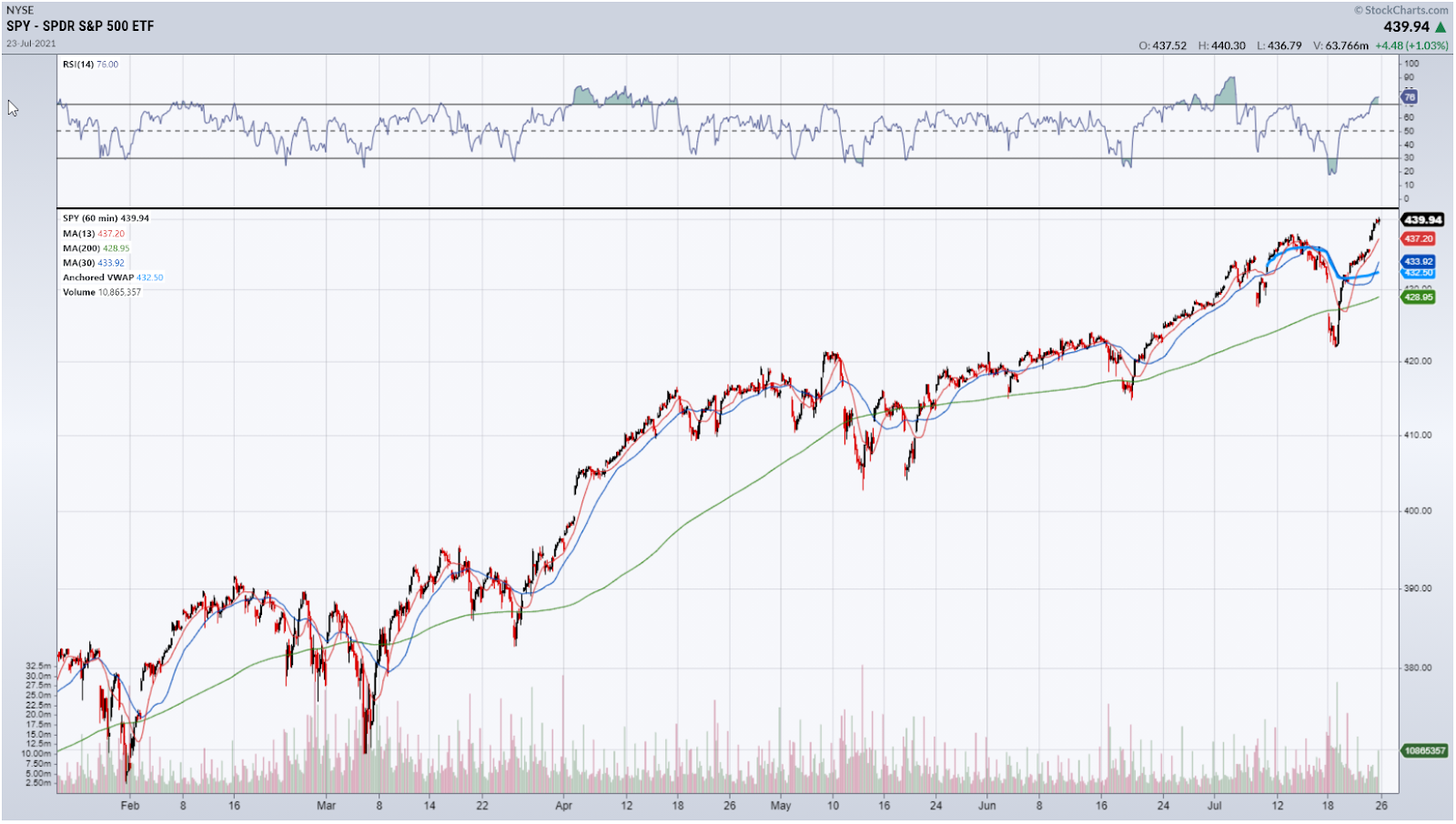 Chart Analysis
If we look at the Chart of the SPY, we can see it opened at 426.19 and hit a low of 421.97. The 423 level was previously a significant area of resistance. Basic technical analysis tells us that this level, when tested, may become a potential area of support, which is what ended up happening.
Another way to look at the market when there is a major selloff or gap down is to ask yourself how many days' work is this move erasing? Stocks go down much faster than they go up, and the more days of work a move erases, the higher the likelihood that the market will find buyers coming in from the sidelines.
Historically anything that undoes ten days of work or more is a place where buyers may appear. In this case, the gap down undid 17 days of work (almost a month). That is, we were at the same place now, as 17 days ago. This is a significant move and gave me added conviction to put in some buy orders for the BTFD trade.
Structuring The Trade
So coming into Monday, I knew I wanted to get long the market. But how would I structure such a trade? Here are my notes from Monday's Total Alpha e-mail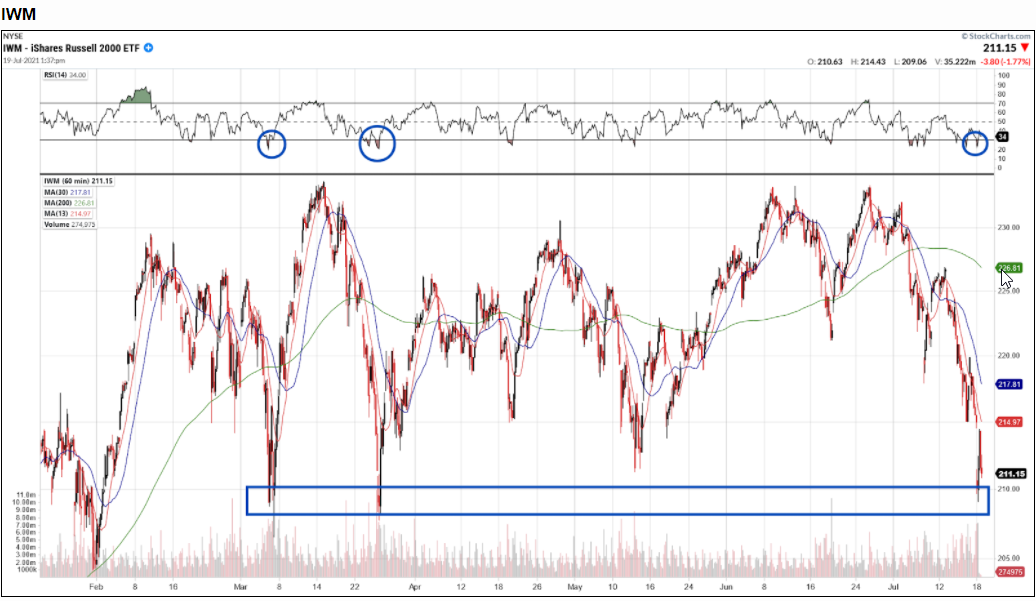 This morning the iShares Russell 2000 ETF (IWM) traded down into a major support level with an oversold RSI value.
This pattern has set up only twice in the past going back to March and April, and I was expecting similar results for a short term bounce this morning.
In the blue highlighted sections, you can see that today the RSI was oversold and that IWM traded back into the support area.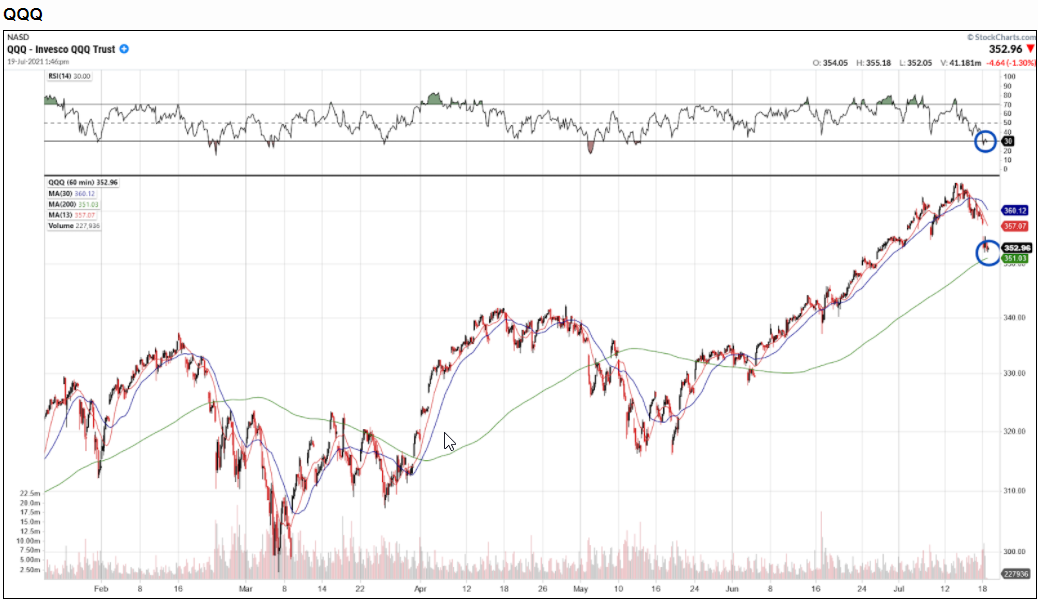 The Invesco QQQ Trust (QQQ) is setting up for a different, but similar trade as the IWM above.
Like the IWM trade, I am looking for buyers to start to step into the stock around the 200 hourly support average with an oversold RSI value starting to appear.
Here was my trade plan:
As a trader, if you identified the place to buy on the dip near the 200 hourly moving average with an RSI reading under 30, you've only identified one out of three things needed for a trading plan.
You need to also identify a place for your stop-out in case the trade does not work, along with a place to exit your position.
In my case, I was going to allow the stock to trade to, but not below the 200 hourly moving average. Then for the target price, I was going to target the 13 hourly moving average, and then the 30 hourly moving average for places to exit my trade.
Here is an example trade plan that you could have used for this trade.
Enter near moving average with oversold RSI reading.

Stop below 200 hourly moving average

Target exit 1 : 13 hourly moving average

Target exit 2 : 30 hourly moving average
As it turns out, I was proven correct in my analysis. The SPY's and the QQQ's made a bottom on Monday and rocketed higher to make new highs by the end of the week. IWM, although it didn't make new highs, also had a nice 12 point bounce.
The market agreed with my analysis and I had great trades in IWM and QQQ. The Bullseye trade of the week in LOW also worked to a T.
After a tough week the week before, I didn't let fear get in the way of my trading and had some nice trades play out this week.
Bottom Line
I like to fade overwhelming market sentiment. When there is immense fear in the market that
quickly erases weeks of work, I am ready for the potential of a BTFD trade. I understand that there are large funds on the sidelines ready to invest on days like this and I want to be on the side of the smart money algo's. I set up a trade plan and execute it without hesitation when the trade sets up. Days with extreme fear provide the potential for significant bounces in a bull market.