The EV sector is hot right now. TSLA made a 40% move in less than 2 weeks before Elon decided to sell some stock for "tax reasons". Rivian (RIVN) is up more than 100% from its IPO listing price and trading 50% higher in 4 days to what might be seen by some as an unreasonable valuation. 
Last week I dabbled in shorting TSLA and if you want to read about that EV trade using Elon tweet as a catalyst I got it right here.
Now I am actively looking to take a short position in EV stocks as I believe that once the party is over and enough shorts get blown out, we will see a similar pullback as TSLA in some of these other EV names.
Here's how I traded TSLA last week: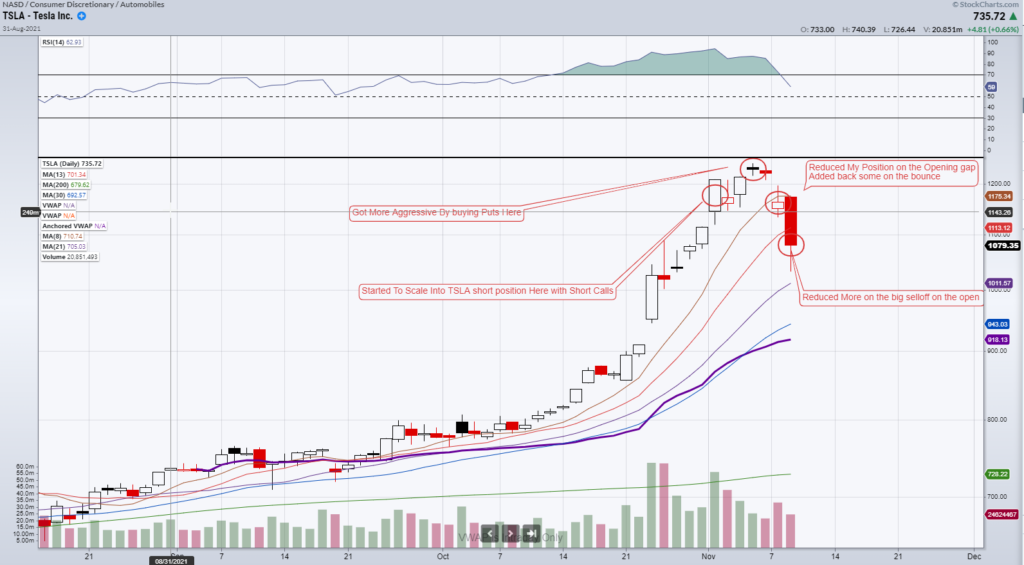 Now Let's discuss some of the other EV names I'll be stalking for a short entry in the coming days:
When a sector is hot, usually the biggest and best names will run the first, and then slowly, money will filter into the smaller names. This is what has happened over the past 2 weeks. It appears money has come out of TSLA and gone into stocks like RIVN and LCID.
Rivian (RIVN) Fundamentals
Rivian (RIVN) is up almost 100% from its IPO price of $78 as I write this Tuesday pre-market. Given that its valuation was $66.5 billion at its IPO price, it now has a market cap of over $130 billion. For a company that has little to no revenues at the moment and lost $994 million in the first half of this year, that is quite the price tag. 
The market is a forward-looking mechanism, so what happened in the past only matters as it portends to the future. In its prospectus, RIVN stated that it has a backlog of 55,400 pre-orders for its R1T and R1S electric vehicles. The R1T is a truck that starts at $67,500, and the R1S is an SUV starting at $70,000, according to Rivian's website.
The company said it expects to fill those orders by the end of 2023. That would put its projected revenue in 2023 of around $3.7 billion. Thus it is trading right now at over 40 times sales that are 2 years away. To put that in perspective, TSLA is trading at 21 times last year's sales, according to Finviz.
Additionally, Amazon has ordered 100,000 vehicles to be delivered by Rivian by 2030, and the companies plan to have 10,000 new Rivian-Amazon delivery vehicles on the road as early as next year.
Furthermore, Rivian says its factory in Illinois has the capacity to produce up to 150,000 vehicles per year. This maximum output would give it revenue of $10 billion and a Price Sales ratio of 13 at these prices. Based on this, there is no reason RIVN can't run another 50% or more in the short term. 
Amazon, which invested more than $1.3 billion into Rivian, owned 22.4% of the company's Class A shares prior to the IPO.
Technicals
At the moment, there is no telling how high RIVN can go in the short term. The old adage "the market can remain irrational longer than I can remain solvent comes to mind. However, I believe that there are some trapped shorts and that this will snowball if RIVN continues higher. I am patiently waiting for a short entry signal.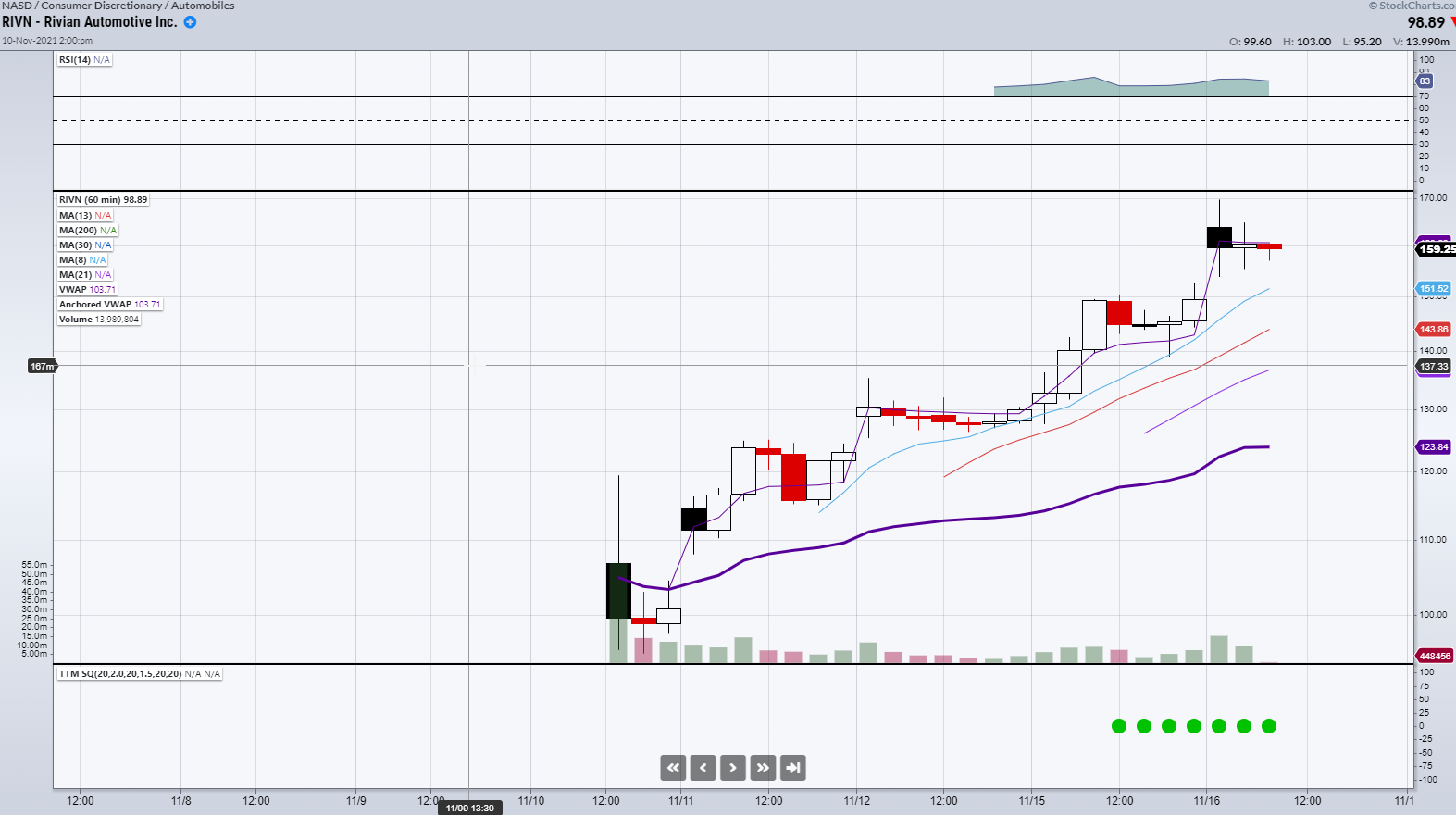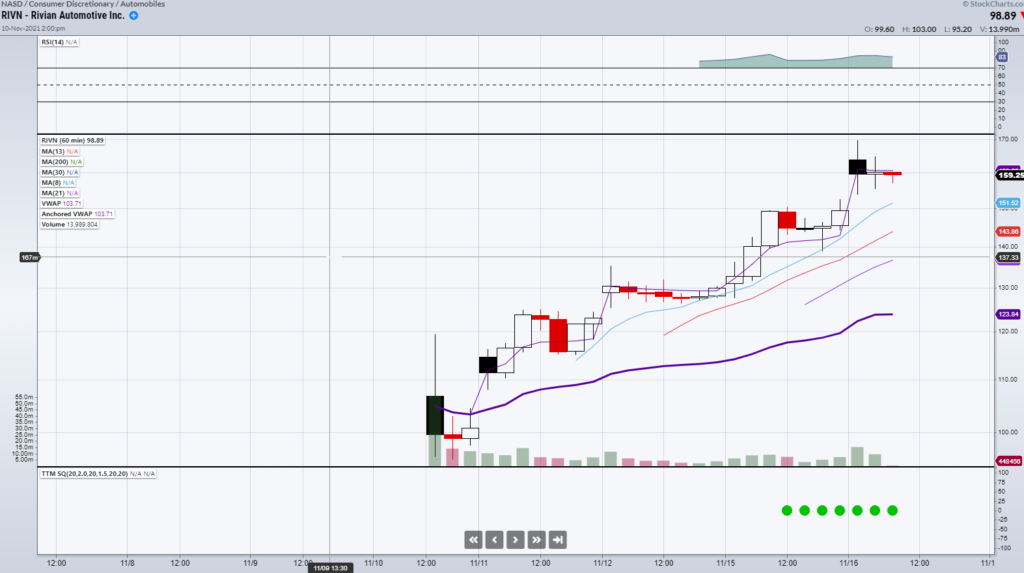 Usually, the investment banks behind the IPO are given an option to buy shares at the IPO price. Once they are allowed to exercise these options, indiscriminate selling can take place. This is what happened with Beyond Meat (BYND) after its initial run-up. This might prove the catalyst for a selloff. Otherwise, I will wait for a spot with good risk/reward to take a short trade. 
Lucid Motors (LCID) Fundamentals
Lucid Motors (LCID) is valued at over $70 billion at current prices. The company has only just begun the production of its first cars. Today Citi increased its price target from $28 to $57. Yesterday, in its earnings report, Lucid Announced Q3 Highlights; Saying Customer Reservations Rose To 13,000 In Q3. Lucid said it remained confident in its ability to achieve 20,000 units in 2022. At an average price of $95,000, that's $2 billion in revenue for 2022, giving LCID a P/S ratio of approximately 35 times next year's sales. Note they might beat on revenue and produce more cars than expected.
Furthermore, it was announced yesterday that the Lucid Air won the 2022 car of the year from Motortrend. 
Technicals
While RIVN has been ripping the last 4 days LCID has been consolidating. This could mean one of 2 things. Either LCID is relatively weak and means a selloff in LCID is likely once RIVN turns. Or LCID has been waiting for the earnings report before it makes its own significant breakout.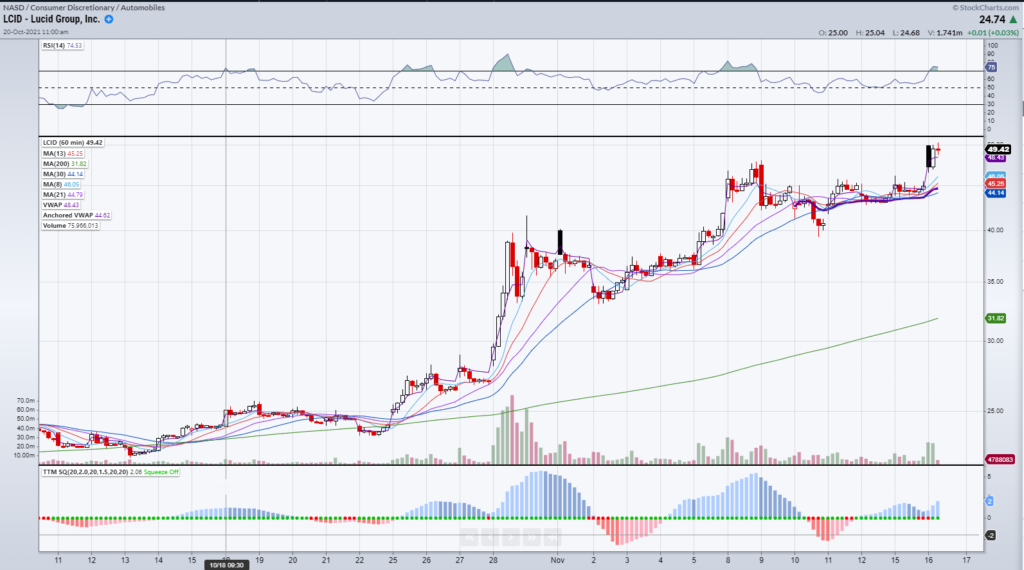 I would not be surprised with a breakout above $50 in the coming days. However, once again, I will be stalking for a short setup closely, whether that is above $60 or below $50 once LCID shows some weakness and I have a good Risk/Reward setup.
Other EV names that I'm closely watching for a possible short are GGPI and FSR.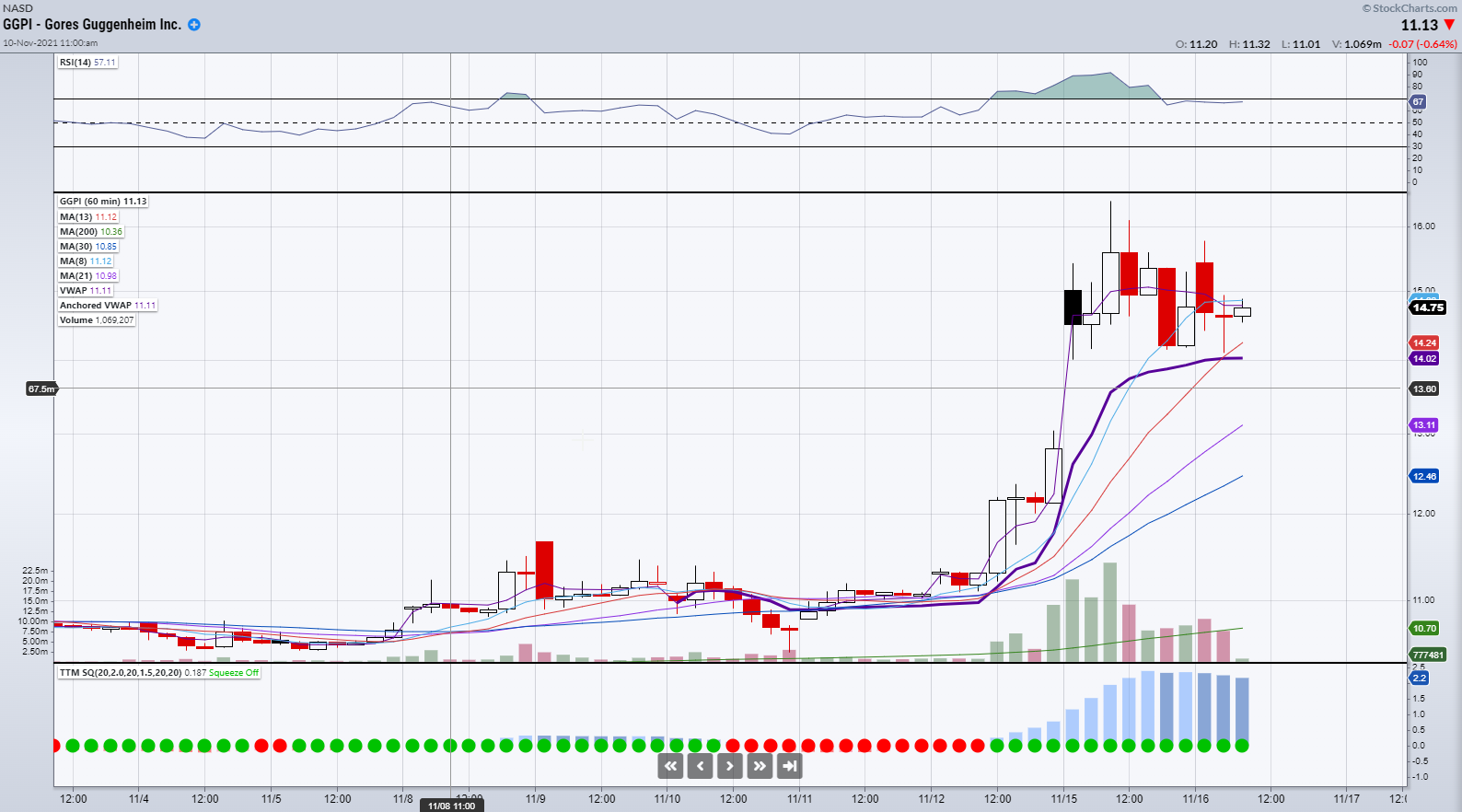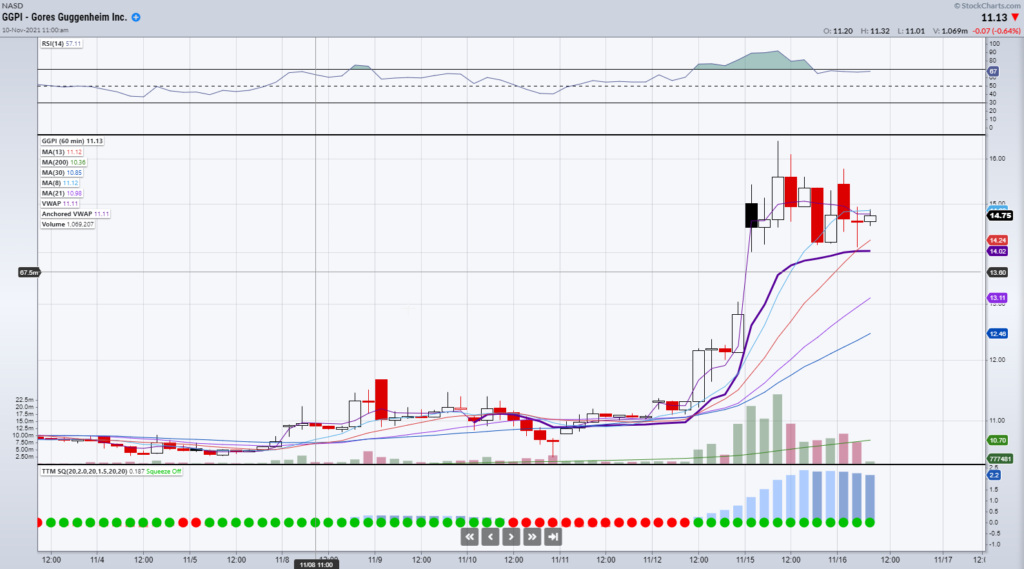 1 hour GGPI chart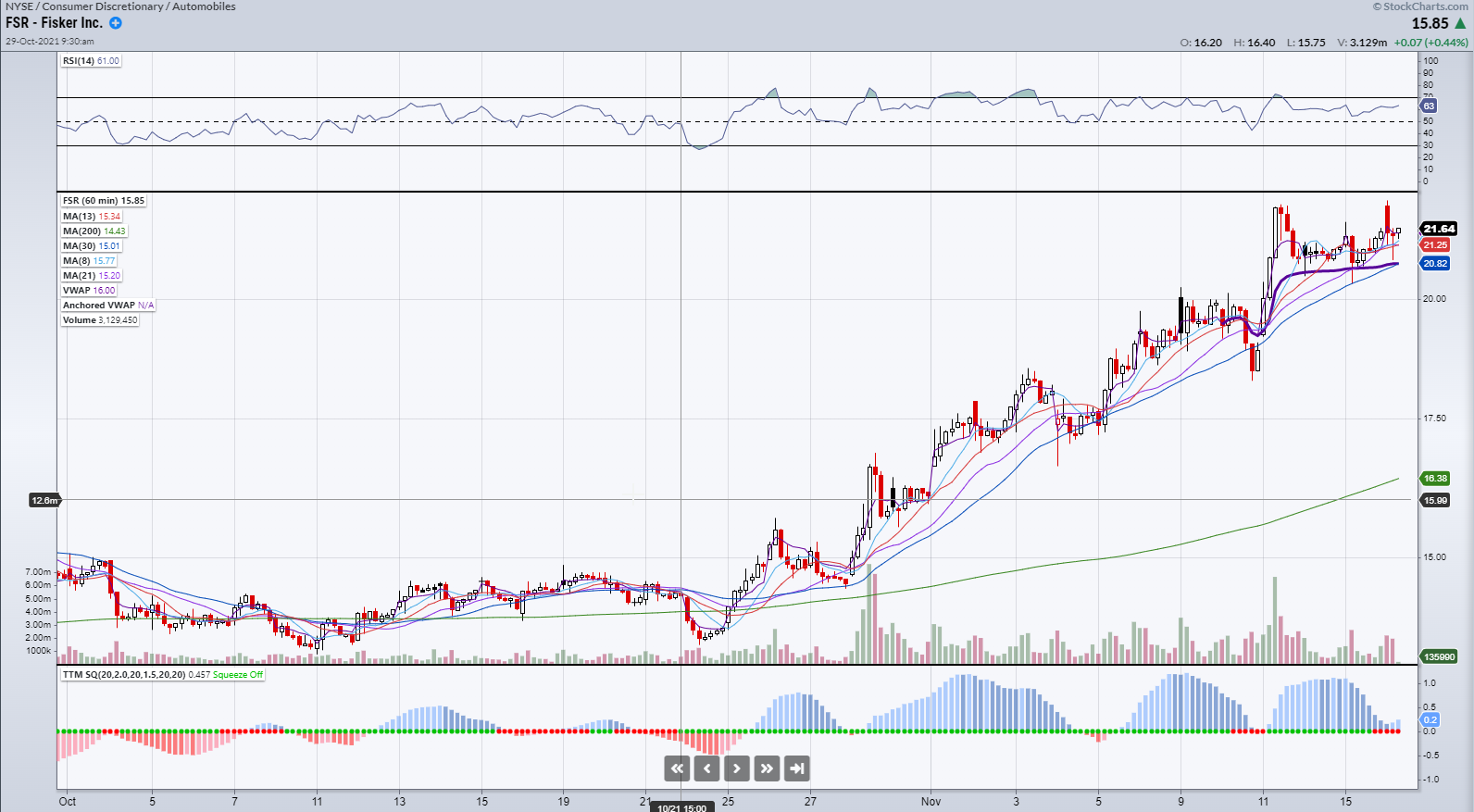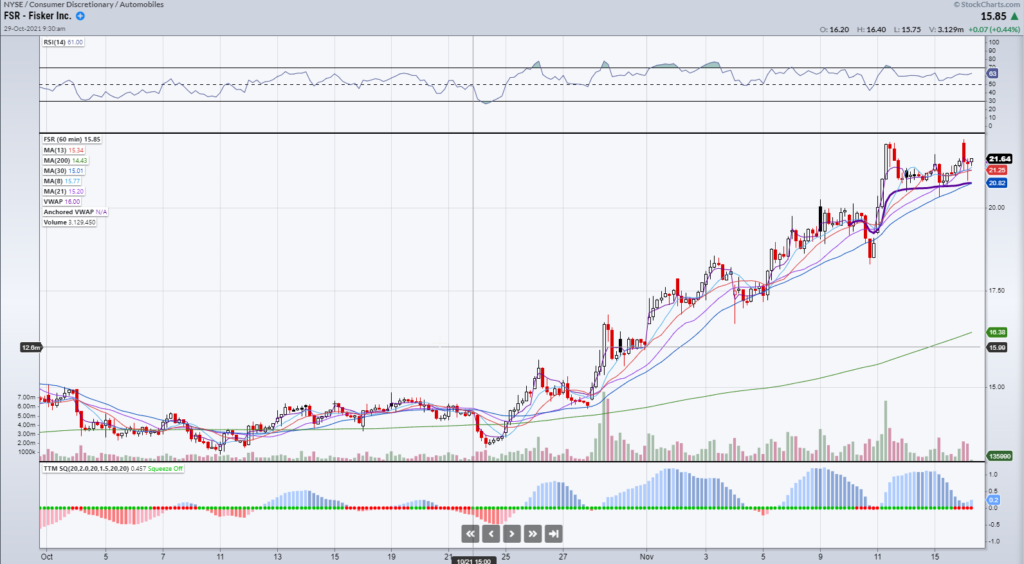 1 hour FSR chart
Bottom Line
The EV sector is hot right now! 
Although TSLA has pulled back almost 20% from its highs, RIVN is up over 100% from its IPO pricing, gaining $65 billion in market cap in a few days. Money rotates through sectors from best in class downwards. 
Just like the pullback in TSLA, I am expecting a pullback in these other EV stocks shortly. I am watching them very closely. These stocks include RIVN, LCID, FSR, and GGPI. 
Once a catalyst appears or the intense buying starts to fade, I will be looking to take a short position for a short-term trade in these EV stocks.