Today, we will analyze one of last year's hottest stocks—TESLA, INC (TSLA). TSLA. It made an incredible run in 2020 pre and post-pandemic leading the market to all-time highs.
It has been one of the most prominent short ideas over the past couple of years. This year so far, that story is starting to change. Sellers have begun to take control, and TSLA is relatively weak compared to the rest of the market.
Some of the greatest names in Investing are getting burned, including Jim Chanos, the man who uncovered ENRON, and numerous other unscrupulous companies.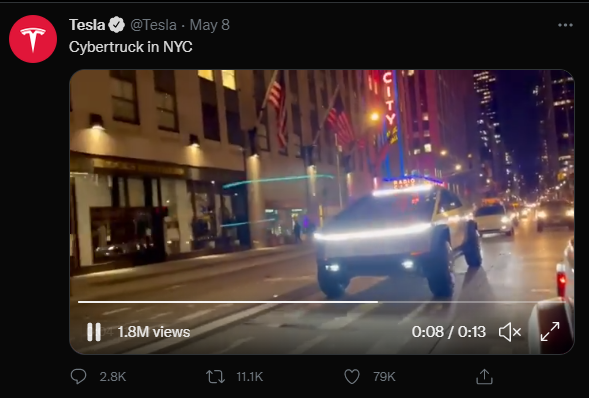 The Big Short's Michael Burry also announced he was shorting the stock a few months ago. The market might finally be recognizing short sellers' concerns.
Bigger Picture
While the SPY is making all-time highs month after month so far this year, we have seen many sector rotations. After a huge run-up, money started to flow out of tech and into the reopening trade into stocks like UAL, CCL, and HD.
We then saw the inflation trade, with money flowing into banks like JPM and BAC and commodities stocks like CLF and X.
Since the last FED meeting, we have seen a rotation back into tech stocks and out of the inflation trade. Past leaders such as FB and NVDA have broken out of consolidation ranges to new highs.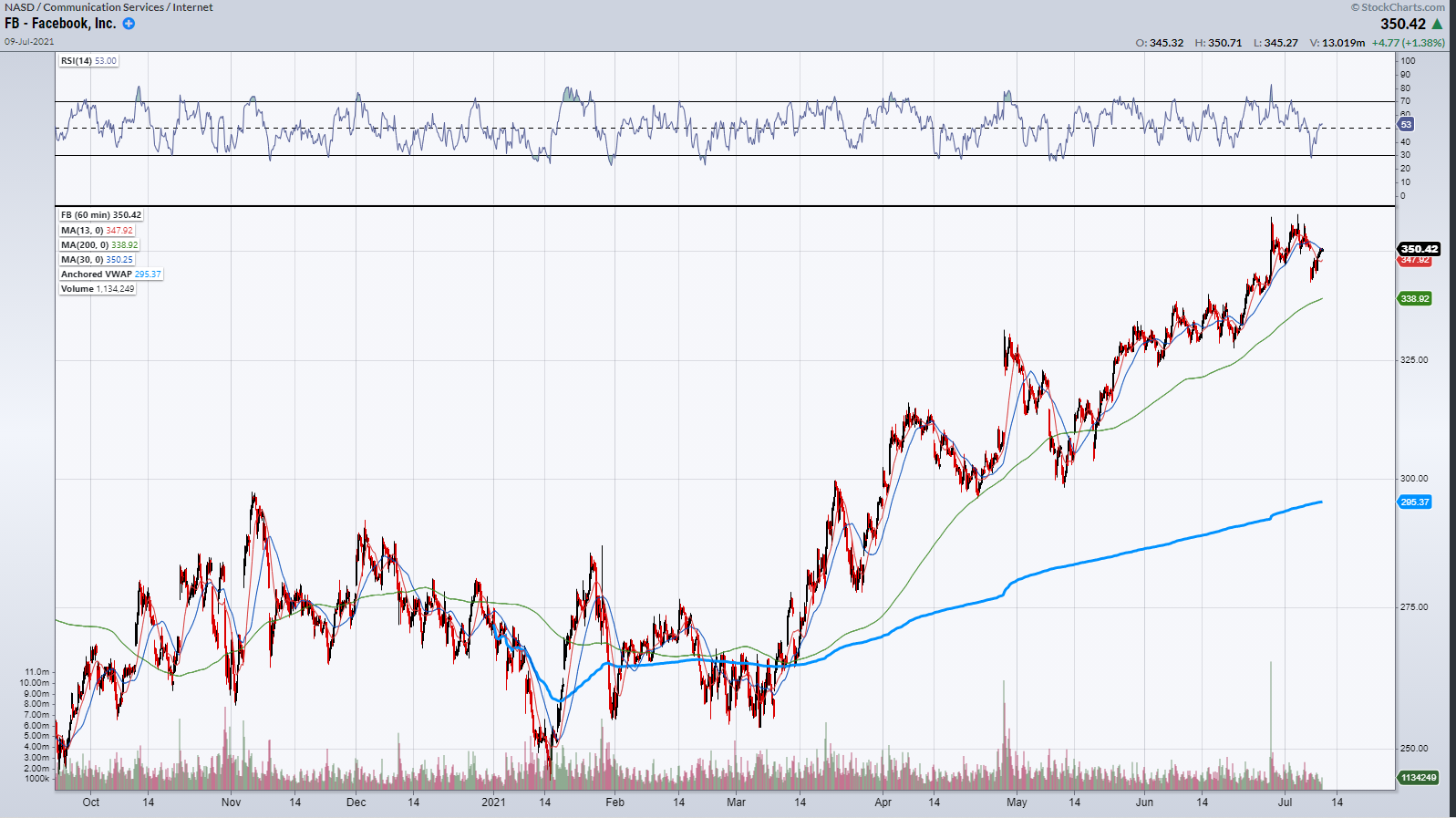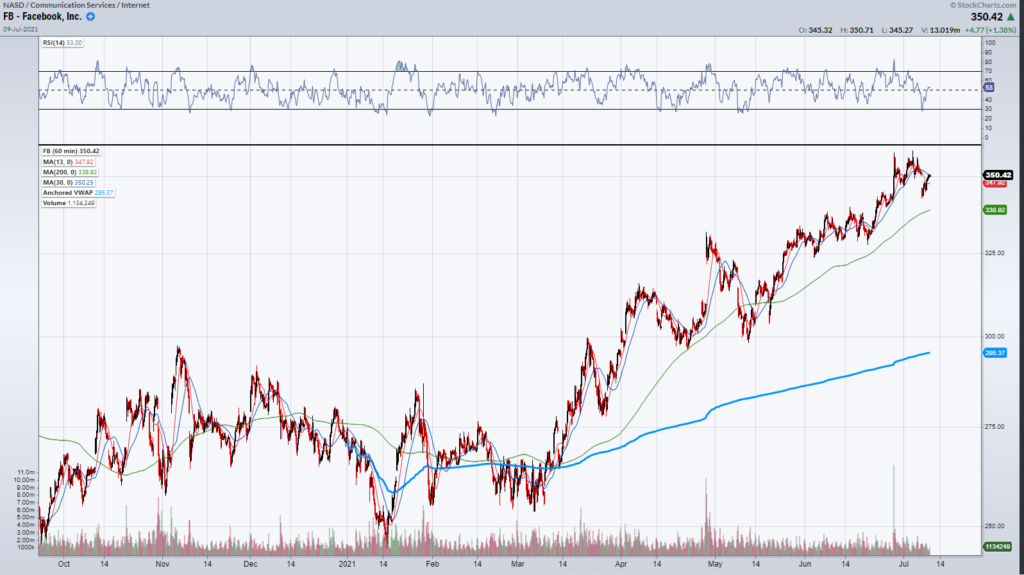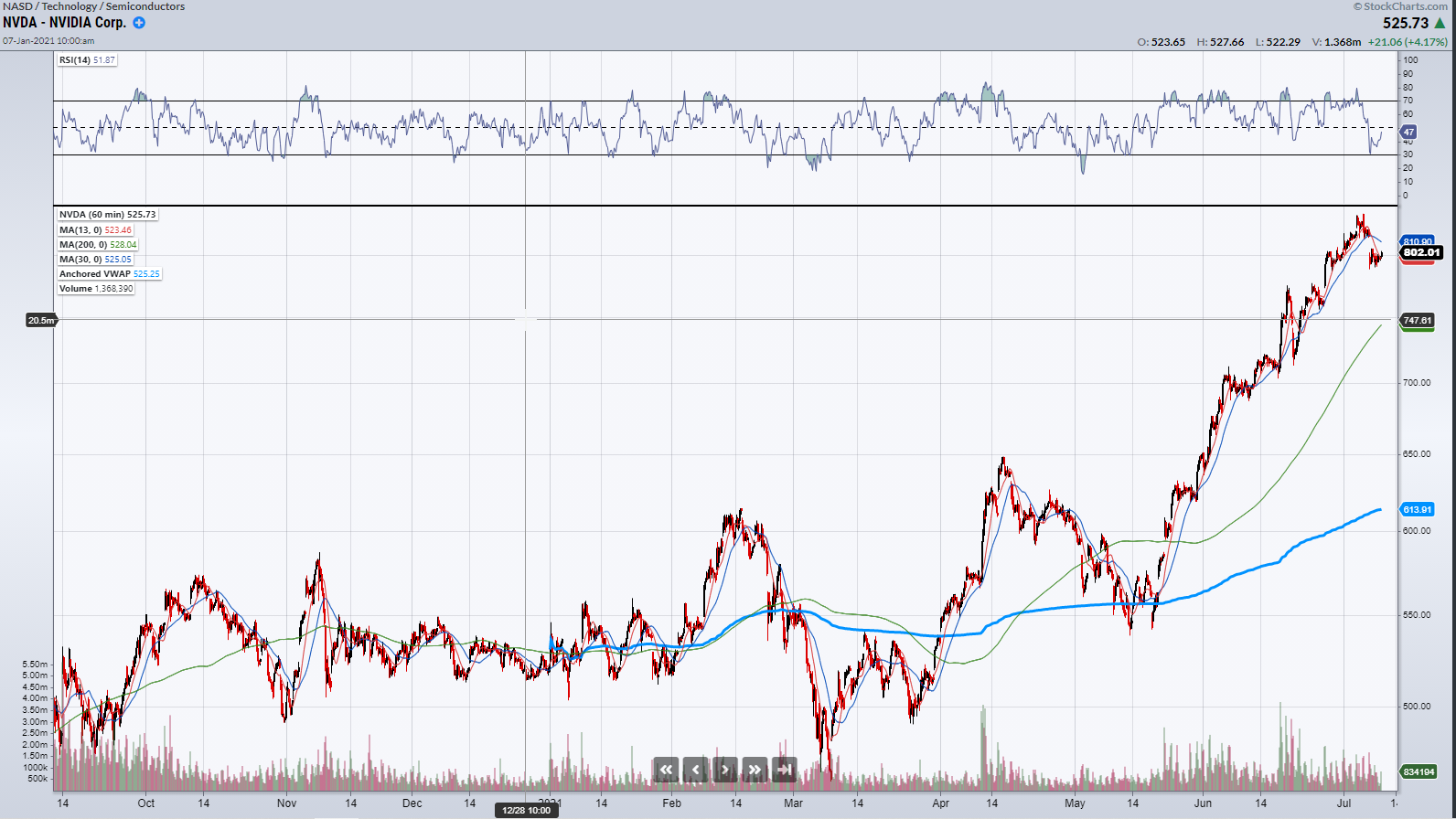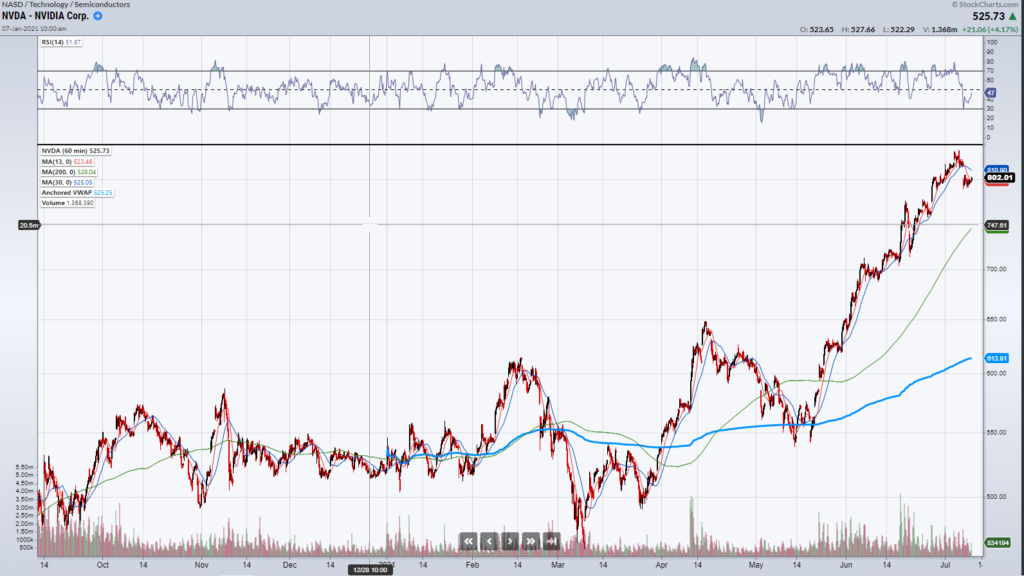 FB and NVDA have taken the lead as the strongest large-cap stocks in the market.
AAPL is beginning to test its all-time high after a long period of consolidation in 2021 after being a market leader and TSLA in 2020.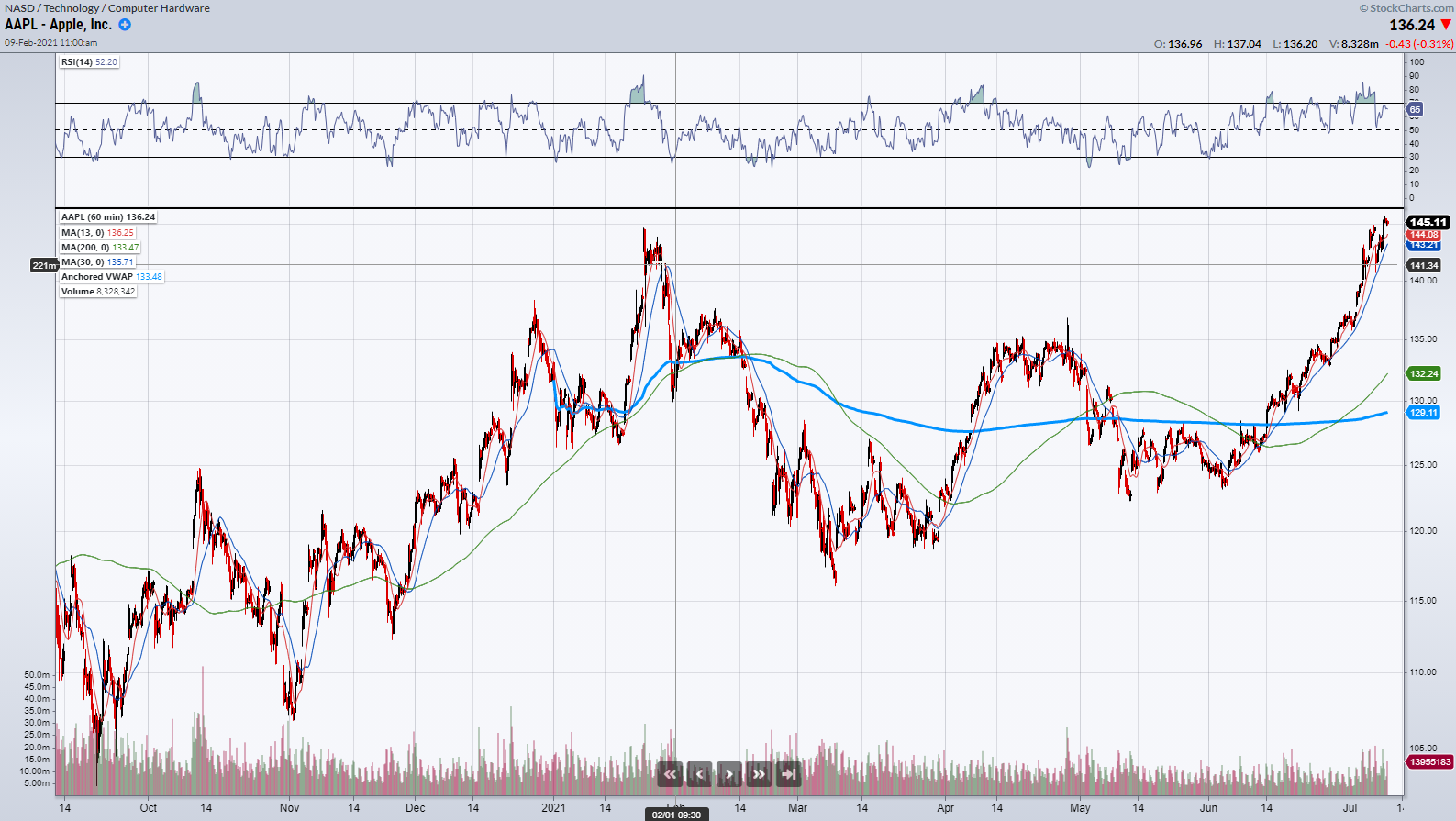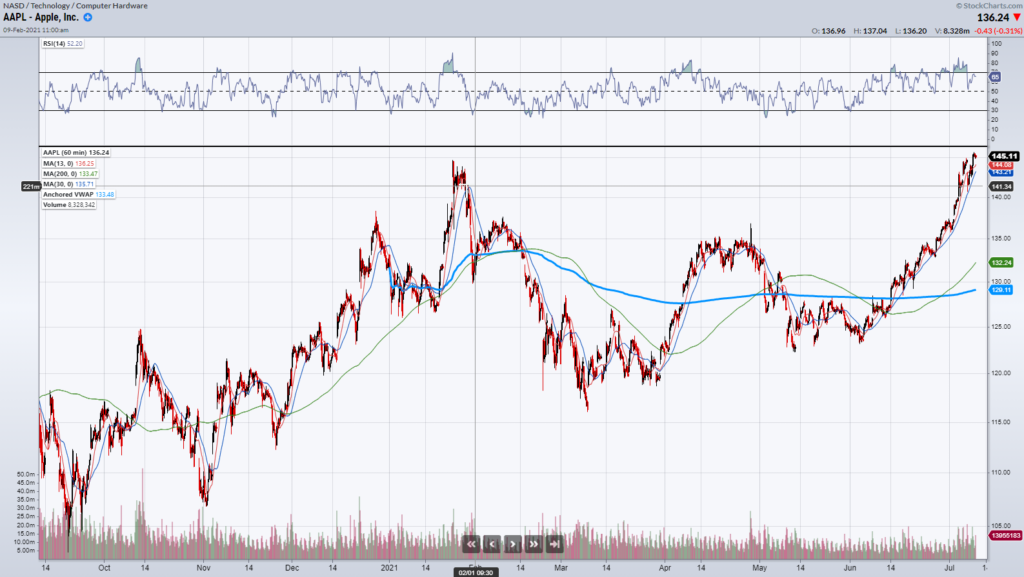 Relative Weakness In TSLA
While other tech stocks are testing highs or breaking out, last year's strongest large-cap stock TSLA lags behind its large-cap peers and has shown relative weakness all year.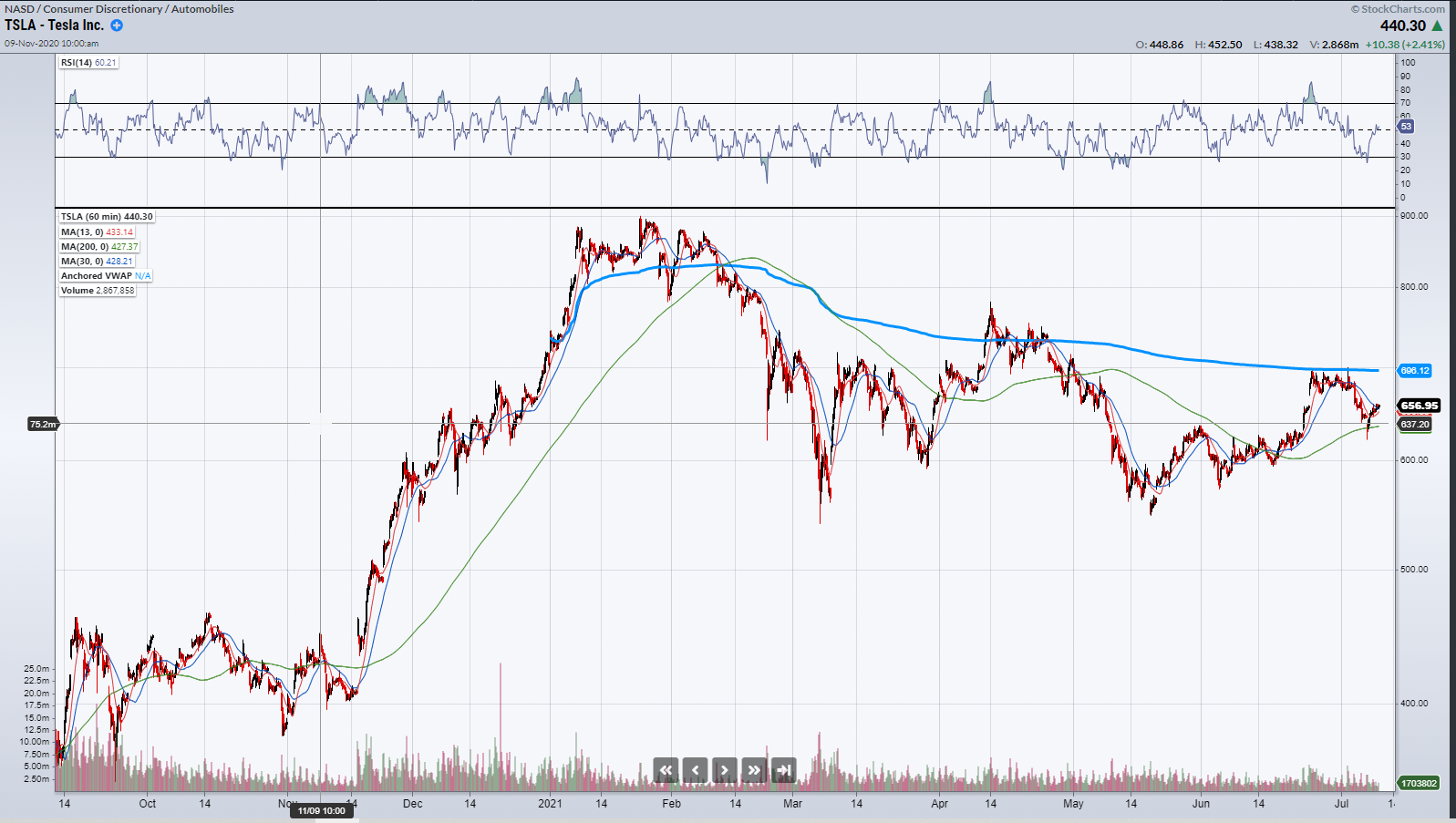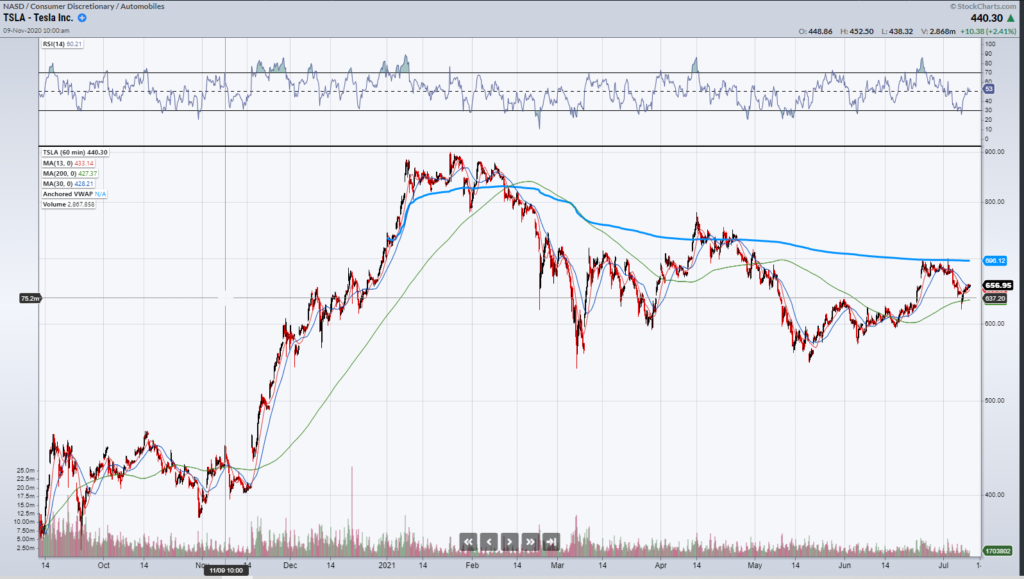 VWAP for 2021 has become resistance for TSLA
Interestingly, while other tech stocks are significantly above the Volume Weighted Average Price (VWAP) for the year, for TSLA, it has become resistance. Twice this year, TSLA has tested VWAP at 730 in April and at 695 more recently in June.
What this tells us is that for now, as they have been all year, sellers are in complete control. For this to change TSLA would have to reclaim VWAP for the year currently at 696.12 hold above then it would have a chance to make new all time highs at 900.
If it cannot do this, we would be looking at a test of $550, a significant support level that has held twice now for substantial moves higher.
A break below this level would put $420 and $350 in play. TSLA has earnings on July 21, which could be the catalyst for a more significant move.
Market Leaders
The great Jesse Livermore once said "as the leaders go, so goes the entire market". Given TSLA's inclusion in the SP 500 and its status as the strongest stock in 2020, what happens moving forward is not only important for TSLA but the stock market as a whole.
If this rally to all time highs in the SPY is to continue longer term TSLA really should participate. If it cannot and there is a market correction TSLA and the market as a whole could head much lower.
It has been consolidating and the range is getting tighter and tighter. The longer this goes the bigger the move in either direction may be. A break of 550 puts 350 into play.
I will be watching for signs of weakness in the general market to take a short position in TSLA using advanced options strategies for the reasons above.
Bottom Line
After being the strongest stock in the market in 2020 TSLA has shown relative weakness to other market leaders in 2021. Sellers have been in control this year as evidenced by the resistance seen at Year To Date VWAP. If it continues to hold below this level, a move much lower is possible and I will be stalking opportunities to the downside in the weeks to come.