What a crazy market it's been the past few sessions.
This week we witnessed a collapse of the world oil market, and it dragged stocks lower… and today, oil prices caught a bounce after its record plunge.
There's still so much uncertainty coming from so many places… from earnings, the coronavirus, and the global economy, you would probably think traders would be rushing into safe-haven assets to protect themselves.
Sure, some are… but others are not, and they're attacking the market and placing some pretty wild bets from what I can tell.
In this environment, I've noticed unusual buying in options on specific stocks… and I want to provide some insight as to why I'm following the flow of money.
Yesterday, I noticed someone came in and purchased Beyond Meat (BYND) calls — the trade was so unusual, and it's a signal to me someone is looking for a massive run in the stock.
So how did I spot this trade and what am I going to do with this information?
Is BYND Set To Run Higher?
If you don't already know, Beyond Meat (BYND) is a company that makes plant-based food products, also known as fake meat. It was one of the hottest IPOs last year after it made a massive run… and the stock may have the potential to make another run.
Why do I think that?
Well, while stocks were selling off yesterday, I actually noticed someone bought a large number of call options in BYND. Do I know who bought or why they bought those options? Absolutely not.
All I know is that someone placed a large bet in BYND.
You see, on an average day, approximately 30.7K call options on the symbol trade. However, yesterday, I saw over 97,000 calls trade. That's 3.3 times the usual options volume.
So what specifically caught my attention?
Well, around 10 AM, I noticed a specific options trade go off — someone bought 435 BYND Jul 20 150 calls for $2.16 per contract.
It cost them a cool $112K to place that trade. I don't know about you, but that is a pretty sizable trade to me.
Now at the time of the trade, BYND was trading at $91.41, and the stock closed at $84.96.
That means for this trader to make money, the stock would need to rise by more than 66% before the expiration date, at the time.
Now, whenever I see these longshot bets, my first instinct is to think the trader might know something… and I do my due diligence.
The thing is, BYND is expected to report earnings on June 4, and those options don't expire until July.
Not only that but, when I looked at the daily chart… BYND is right near a key level (the blue horizontal line) in the chart below.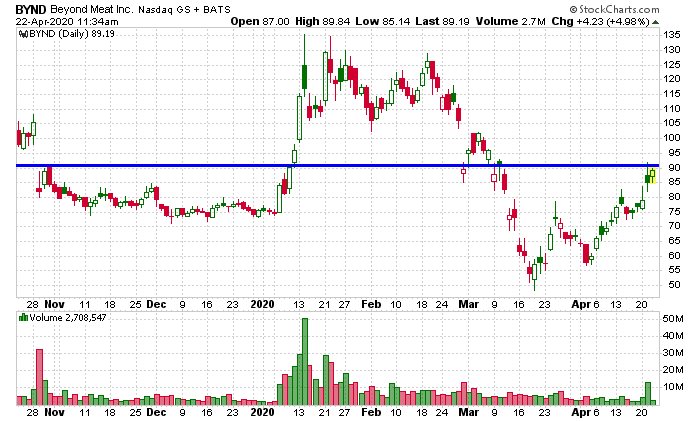 This is a key area that many traders are watching… and it just so happens to be at $90, a key psychological level. I think if BYND breaks above this, momentum buyers could pile in.
Now, the 2020 high for BYND is about $135 per share. That means the trader believes BYND will continue its rally from March lows, but potentially reclaim highs and then some.