You may not realize it, but when I talk about trading ideas based on my favorite trading patterns, they are swing trading strategies.
While there is no hard rule for how long a swing trade can last, you can be sure that a swing trade is a trade that always lasts longer than one day.
Swing trading is a viral strategy among both retail and institutional traders that, when performed correctly, has tremendous benefits over day trading.
In essence, what a swing trader strives to accomplish is to capture an entire cycle, from trough to peak or peak to trough, before the start of a meaningful correction.
For example, if a stock were to break above a "bull flag" pattern, a swing trader's plan would be to capture the rally that comes out of the consolidation phase (the "flag")— with a goal of staying with the rally until it reaches its textbook potential, which would be to equal the height of the "flagpole" that preceded the "flag" consolidation phase.
As a swing trader, it's important to understand both the pros and cons of using this strategy, and that's what I'm going to discuss with you today.
In addition, I'm going to share a couple of stocks that look to have favorable swing trade setups heading into the new week.
Pros:
First and foremost, a trader who is in the process of trying to figure out which strategy fits his or her lifestyle and personality best is likely to choose swing trading over day trading because of the time required to be sitting in front of the computer screen as a day trader.
In other words, because a swing trade is structured to last for days as opposed to the minute-to-minute structure of a day trade, many traders choose the relative freedom of swing trading over day trading.
You may not think of it this way, but the strain of constantly needing to find new ideas to trade, as well as the work vs. income imbalance this creates, is both inefficient and stressful for day traders.
Next, there are the commissions.
While the move toward low or no-commission trading has lessened the impact that commissions can have on day trading profits through trading stocks, there are still commissions for traders that focus on certain options strategies.
Finally, if a swing trader is spending less time in front of the computer after setting a trade and letting it play out while following some sort of trailing stop system, they are far less likely to fall into the trap of wanting to over trade the market.
Cons:
When swing trading can become risky is during periods of market unrest.
Specifically, holding positions overnight presents overnight risk, and in the event of some unforeseen crisis that occurs after market hours a swing trader is often left to manage their position after a sizable market move has already caused their position to go against them.
In contrast, a true day trader ends each day holding no positions, leaving them unexposed to an adverse overnight market event.
Here's a stock I'm watching as a possible swing trade heading into the new week
When the broad market is witnessing welcome digestion after a sharp rally as is currently the case, there are certain considerations that I make when developing a bullish trading thesis on a stock.
First, I make sure I am trading with the trend.
Next, I look for favorable momentum characteristics.
Then, I look for signs of share accumulation.
Finally, I try to build the position as close to a big support area as possible.
With many stocks rolling over in recent days, I had to work a little harder to find some ideas that match these criteria.
After some digging, though, I found Vinco Ventures , Inc. (BBIG).
Now, let's examine the setup.
Most of the important highlights have been annotated on Figure 1 directly below, so you can have a clear glimpse into what's going on.
Figure 1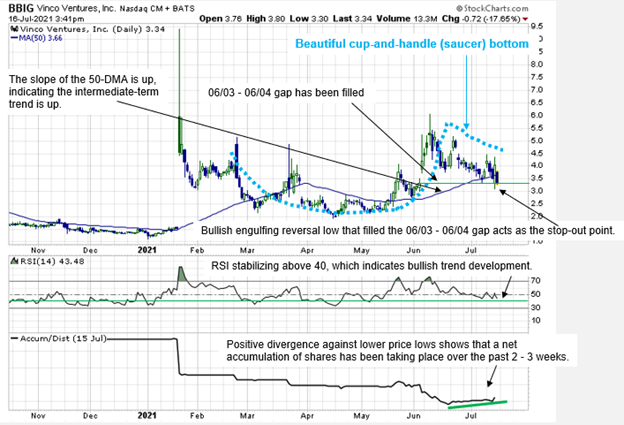 Essentially, the reason I like this setup is because now that a "bullish engulfing" reversal session has developed (on Thursday), theoretically a sentiment shift from bearish to bullish has occurred.
Since this reversal occurred after the 06/03 – 06/04 gap was filled on Thursday, and after RSI has been holding above the low-end of its bullish range (40) and the Accumulation/Distribution line has been showing net buying of shares during the price decline of the past 3 weeks, there is no reason price should fall materially below Thursday's low if a bullish trend is going to develop from here.
Bottom Line
It's these types of setups, where price is close to a major support area (the 06/03 – 06/04 gap) that has been stamped-out by signs of a psychological shift (the bullish engulfing candle) with favorable momentum and volume characteristics that provide traders with a trade that has decent odds of developing quickly, as well as a well-defined stop-out area (the bullish engulfing session low) that will dictate when it's time to take a quick loss.
Trust me, when the broader market is rolling over as it is now, having well-defined stop-out areas nearby, and the discipline to respect these stops, is what keeps a trader alive to trade another day.