One of the hardest things to do after a long weekend is coming to your desk on Monday morning and finding something to trade.
You can reduce that anxiety and stress by using tools like filters and scanners.
One of Kyle's favorite scanners is Dollar Ace.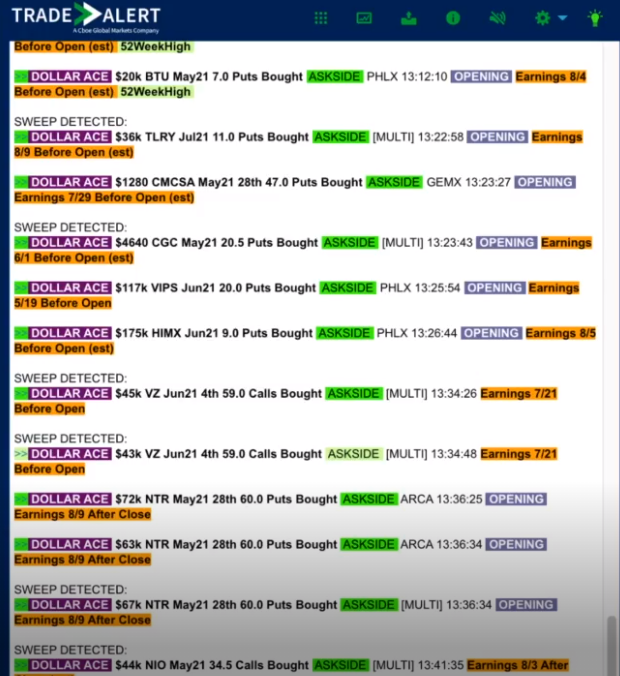 The Dollar Ace Scanner tracks large and unusual options trades from the options market. It shows us what the "big boys" on Wall Street are doing.
For example, the other day, an options player came in and bought 2155 HOG May $49 calls for $0.95. Altogether, the trade cost them $205K. At the time of the trade, HOG was trading at $48.44.
In other words, someone just bought $205K worth of OTM options set to expire on Friday. That means they would need to see a fast move for this to be a profitable trade. And if it went the other way, they would lose the entire premium by the Friday expiration.
Less than 20 minutes after, a press release hit the wires:
MILWAUKEE, May 17, 2021 /PRNewswire/ — Responding to today's announcement by E.U. Executive Vice-President, Valdis Dombrovskis, Harley-Davidson, Inc. ("Harley-Davidson") (NYSE: HOG) reaffirms its commitment to defend its position in Europe. The company will continue to pursue its legal challenge to the Binding Origin Information (BOI) revocation, and its application for extended reliance.
Harley-Davidson remains committed to free and fair trade and is focused on remaining globally competitive in the interests of all its stakeholders, and is committed to ensuring its customers around the world have access to its products.
Jochen Zeitz, chairman, president and CEO of Harley-Davidson:
"We are encouraged by today's announcement that tariffs affecting our products will not escalate from 31% to 56%. This is the first step in the right direction in a dispute not of our making. Harley-Davidson employees, dealers, stakeholders and motorcycles have no place in this trade war. These tariffs provide other motorcycle manufacturers with an unfair competitive advantage in the E.U. European motorcycles only pay up to 2.4% to be imported into the U.S. We want free and fair trade. UNITED WE RIDE."
The stock began to take off. And those call contracts more than doubled.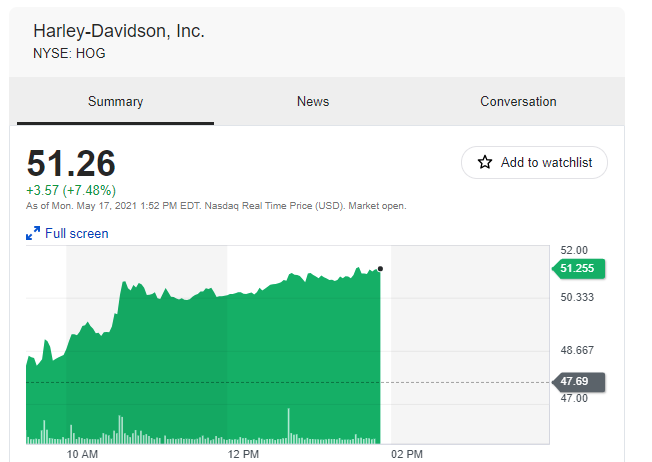 Did someone know the news was coming?
We sure didn't. However, sometimes an unusual trade can act as a tell that something's up.
Of course, that is not always the case. But we believe that there is a lot of valuable information which can be gained by following this type of options flow.
It is helpful to be on the lookout for short-dated and aggressive option trades.