I hope you all had a wonderful Thanksgiving and holiday.
As you know, I was mainly out last week due to the holiday; however, I am back this morning!
As we begin a new week, I think many biotech bulls will quickly want to forget last week!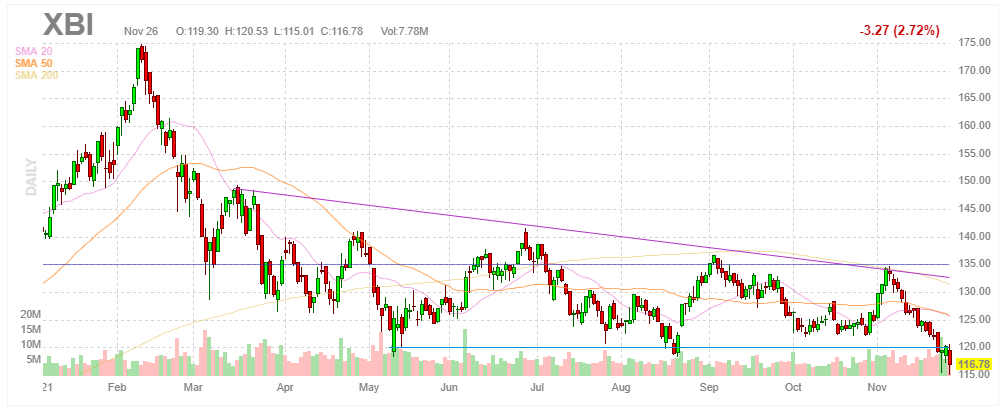 I say this, of course, because the XBI was down 4.45% on the week after suffering two significant red days, on Monday and Friday.
The ETF, which tracks small-cap biotech stocks, is now trading below critical support at $120.
Bulls might not want to see the ETF continue to base below $120, thereby turning that support into newfound resistance. 
If the ETF continues to base below and build on this downtrend, it might negatively affect small-cap biotech stocks.
Hopefully, the XBI will find support in the $115 – $120 area and bounce towards the 50d MA, $125.
With the overall weakness and pressure experienced in the biotech sector and general market, I am looking to remain patient, disciplined, and stock selective this week.
The breakdown in the sector last week adds an extra layer of difficulty. Therefore, I need to be highly prepared and focused on the correct stocks and opportunities to experience momentum to the upside in a seemingly weak market.
One such stock, which I recently added and shared with my members is MNOV.
According to Yahoo, MNOV is a biopharmaceutical company that focuses on developing novel and small molecule therapeutics to treat serious diseases with unmet medical needs in the United States.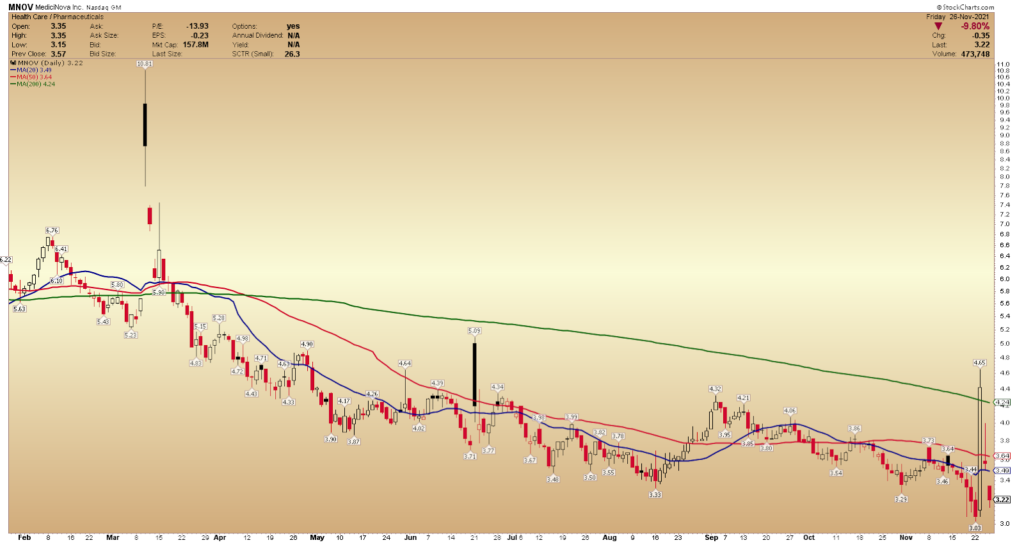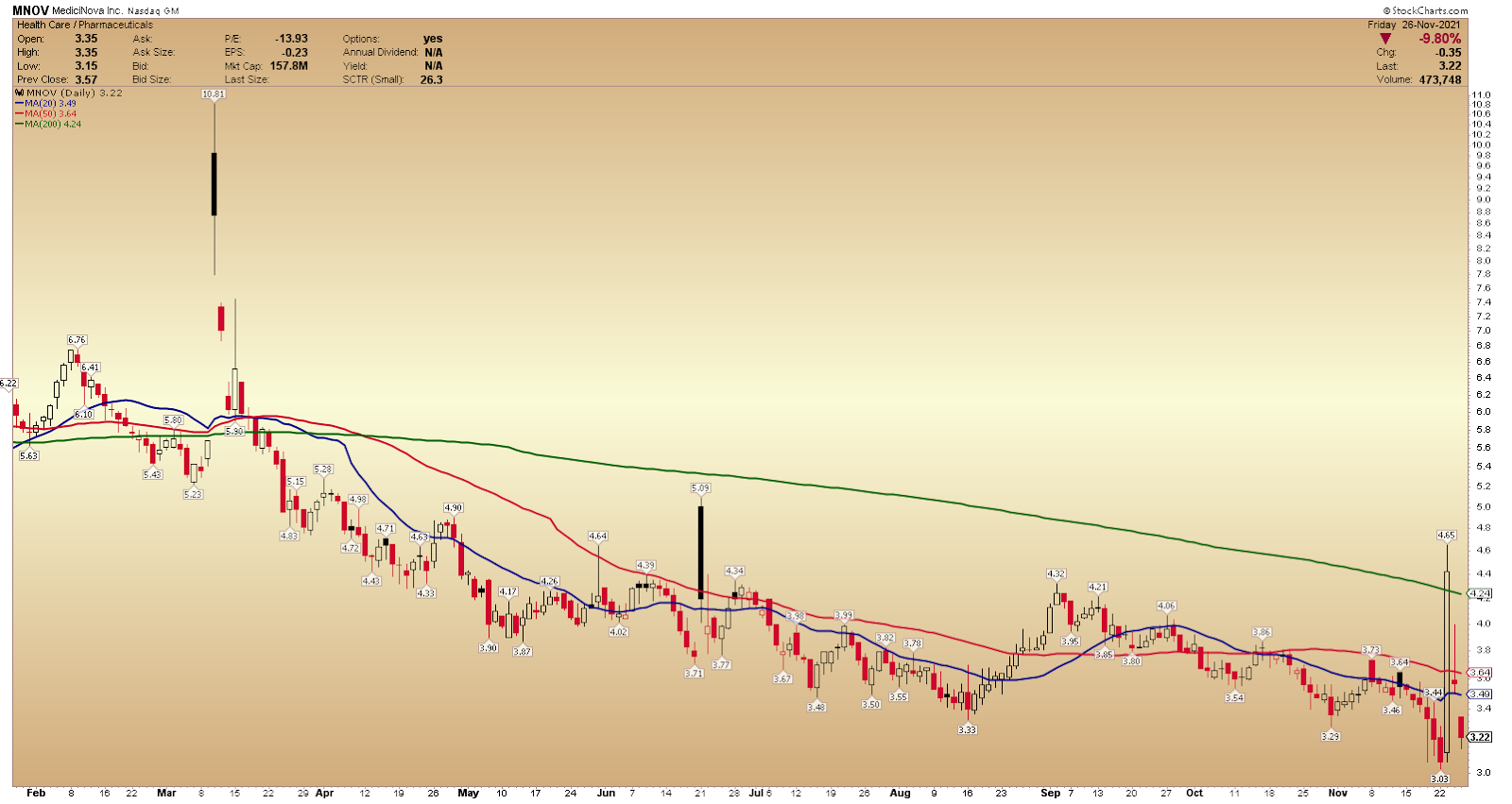 Year to date, the stock hasn't performed well or grabbed any headlines, as it is down 38.78%. 
According to Finviz, however, the stock has an average target price set by analysts of $16.50, which is significantly higher than where the stock closed on Friday ($3.22).
Market Cap: 164.32M
Float: 47.61M
Short Interest: 3.59%
Recent News:
22 November 2021
MediciNova Announces New Data regarding MN-166 (ibudilast) in Glioblastoma Presented at the 26th Annual Meeting of the Society for Neuro-Oncology.
Upcoming Catalyst:
Phase 3 abstract to be presented at the International Symposium on ALS/MND December 7-10, 2021.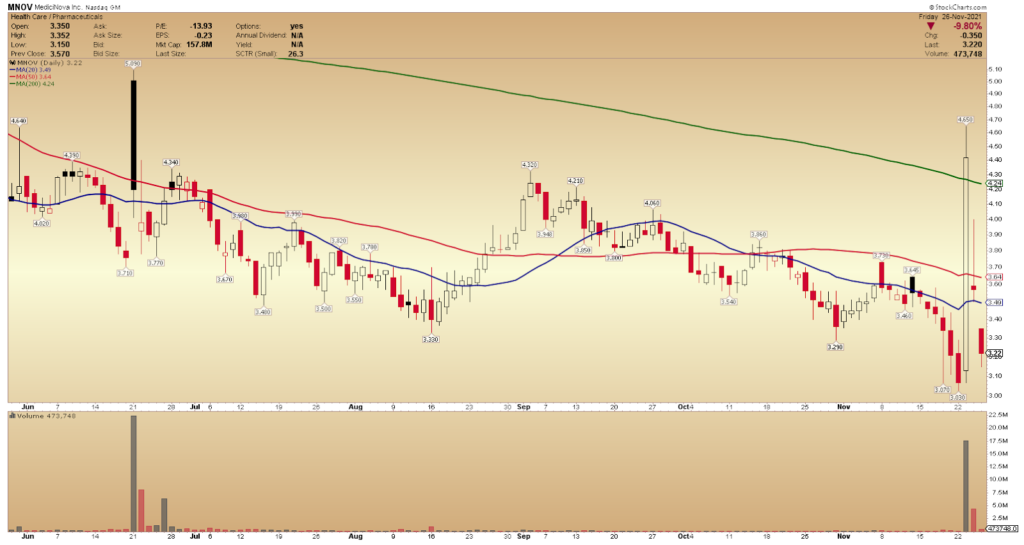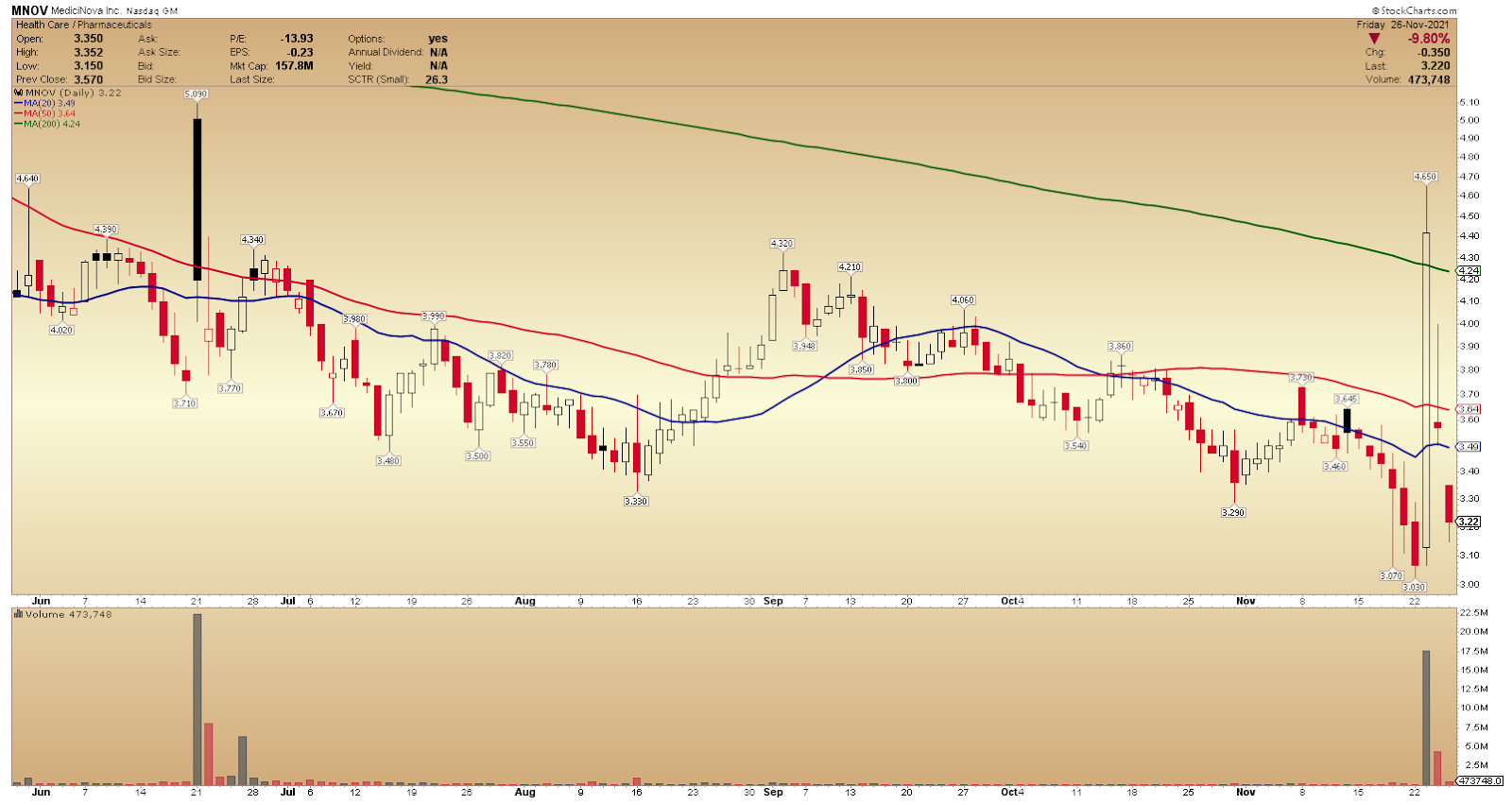 I am looking for the stock to continue to hold above $3, support, going forward. I want to see price action firm up above low $3s.
With a recent and upcoming catalyst, I am looking for a reversal breakout pattern in anticipation of the upcoming catalyst in December.
I have often seen biotech stocks suddenly experience increased volume and attention as a catalyst gets closer. It simply boils down to traders and investors anticipating positive news, or perhaps traders who are positioned short might need to cover their position before a news release. 
This price action that may occur, if prepared, might lead to a good trading opportunity.
So, If the volume increases and price action firms up over $3, I might look to get long with a stop just below $3.
My profit target area would be $3.64 to $4, depending on price action, as that is a significant area of resistance.