I start each day prepared and armed with a detailed watchlist and an overall idea of what type of environment and market we are in.
After a significant selloff from the highs, the IBB found support in the $155 area and bounced near the short-term consolidation resistance, leading to some exciting setups in individual biotech stocks.


The IWM, which is composed of small-cap US stocks, has remained firm this week and yesterday showed possible signs of a breakout forming as the ETF traded near resistance and closed up 0.26% on the day. Strength in the IWM might bode well for small capitalization and penny stocks.


With support found and established in the biotech space and signs of the recent strength in small caps, I have identified promising setups in two biotech stocks.


ENDP, according to MarketWatch, focuses on developing, manufacturing, and distributing branded and generic pharmaceutical products. The firm operates through the following segments: Branded Pharmaceuticals, Sterile Injectables, Generic Pharmaceuticals, and International Pharmaceuticals. 
Market Cap: 1.05B
Float: 229.90M
Short Interest: 9.07%
Average Volume: 11.11M
ATR: 0.27
I talked about this stock to my members just over a week ago. ENDP is up 9.66% on the week and 50.83% on the month. 
The stock has an average target price of $6.57 by analysts covering the name, which is considerably higher than where the stock closed yesterday.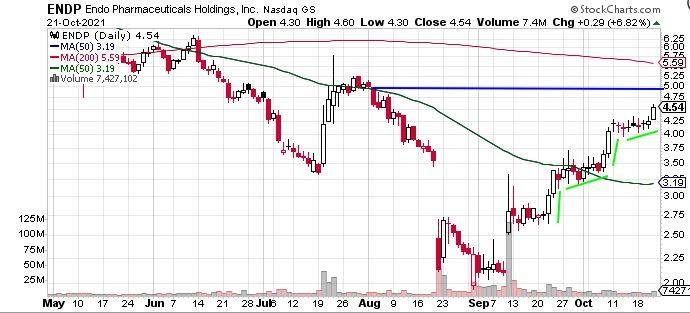 Before the breakout yesterday, the stock spent a considerable amount of time consolidating in a tight range.
From now on, I am looking for history to repeat itself. By this, I am referring to how the stock has consistently traded since September. On multiple occasions, the stock has run up for two days, consolidated, and then run up for two days again.
This action might present me with an opportunity for a short-term trade. If the stock is looking strong again today, I might be looking to enter on a pullback, with $4.80 to $5 as my profit zone.
Eargo (EAR)


EAR, according to Yahoo, is a medical device company that develops and sells hearing aids to assist people with hearing loss in the United States. It sells its products through online stores. The company was formerly known as Aria Innovations, Inc. and changed its name to Eargo, Inc. in November 2014. 
Market Cap: 405.85M
Float: 33.91M
Short Interest: 5.09%
Average Volume: 2.15M
ATR: 1.16
EAR impressed me yesterday! The stock closed up 34.87% and traded over 12M shares. This stock, from a technical standpoint, has a lot of potential, in my opinion.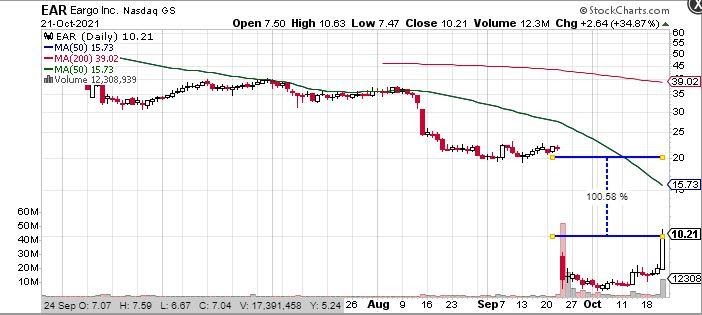 By potential, I mean that the possibility for a gap fill exists and that fill, which is around the $20 mark, is roughly 100% away from yesterday's close. 
Now, by no means am I saying that the stock will fill the gap. However, the potential for that to happen excites me, so I am taking a closer look at this stock.
I am also keeping an eye on the 50d MA, which of course, is also an aggressive target. I am not expecting the stock to soar to the 50d MA or the gap-fill immediately. In the near term, however, if the stock continues to hold up and trade higher, both of these areas could be target zones.