This past week, I began looking for momentum opportunities in the biotech space again, after a long period where many of these stocks have been under pressure.
Momentum trades come in many forms.
Most of the time, I like to highlight trade ideas with the potential to move a lot in a short period and continue to push higher or lower, depending on the trend, for quite a while.
Sometimes, however, good momentum trades start out slowly, gradually developing the credentials that ultimately lead them to generating FOMO (fear of missing out).
Today, I am going to share with you a few names that have been building a good head of steam of late, but still need to accomplish a couple of items, technically, for bullish momentum to reach escape velocity.
I often talk about great momentum trades being stocks with a story that people get excited about.
You know, like some of the COVID stocks, cannabis stocks, EVs, meme stocks that we've watched with amazement over the past couple of years.
Also, at the core of creating a monster momentum trade that can deliver returns measured in hundreds of percent is greed.
When markets witness rapid selloffs, it's a phenomena known as a negative feedback loop, where selling simply begets more selling.
Well, the same thing happens with a bullish momentum trade, when FOMO generates a positive feedback loop.
Sometimes feedback loops are big, and sometimes they are small.
Don't always look for home runs
I don't know about you, but I'll participate in any momentum trade, no matter it's size, as long as the setup offers a high probability of success.
As a trader, your goal should not be to hit home runs on every trade.
Sure, those big winners are out there, and we've certainly hit some of them recently, but the odds of them occurring with great frequency are pretty low.
Instead, your goal should be to identify trade setups that offer greater potential reward than risk, with a high probability of success.
I'm about to show you a very basic way to find technically sound setups, with well-defined protection, and the potential to generate FOMO.
Here's a basic Finviz momentum screen to start with
At its core, a momentum stock is simply a stock that is trending with momentum supporting the move.
One very basic momentum screen that has been used by professional traders for years is to look for stocks that are making new 20-day highs.
Given that 20 days measures a month of trading, a stock that is making new 20-day highs is believed to have favorable odds of continuing to move higher, especially if conditions have yet to become overbought.
Using this very trusted method of finding stocks with favorable odds of continuing higher as our inspiration, we can use the free version of Finviz to create a screen.
Figure 1 below shows the simple screen I put together on Finviz, which is set to find stocks within the Biotech sector that are simply making new 20-day highs with an RSI momentum indicator that is < 60.
Why use an RSI that is < 60 and not < 70?
Because RSI 60 is the level above which a stock is said to have reached bullish momentum escape velocity, greatly increasing the odds that RSI will at least move to the 70-level next.
Figure 1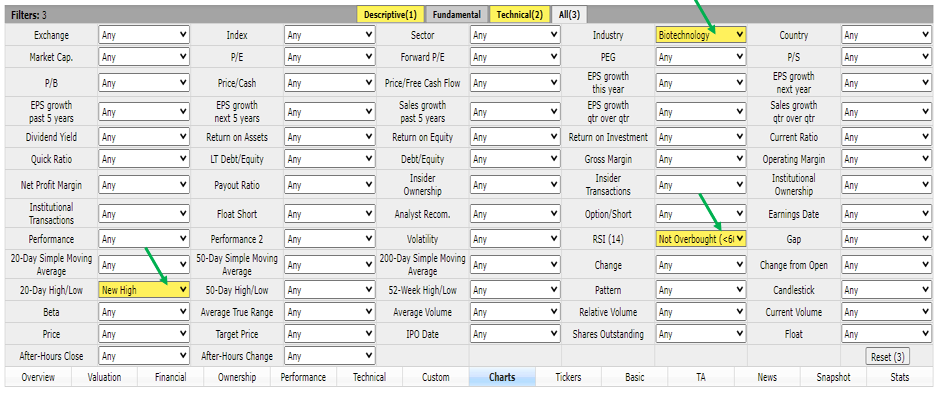 From the list of results that this screen delivered, there were a few stocks that looked interesting.
However, the one stock I chose for today's discussion, Nuvation Bio Inc. (NUVB), not only offers very clear-cut risk/reward parameters and has both price and momentum sitting right at key trigger points, but is also just starting to rise above one of my favorite patterns, a "bull flag."
As figure 2 reveals, if NUVB can push above $10 resistance, along with an RSI close > 60, it could unleash bullish momentum escape velocity, with initial measured "Flag" potential to $11.50.
Figure 2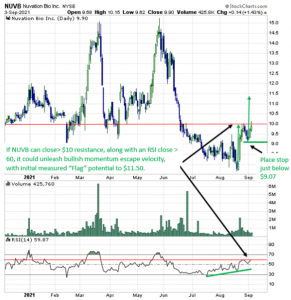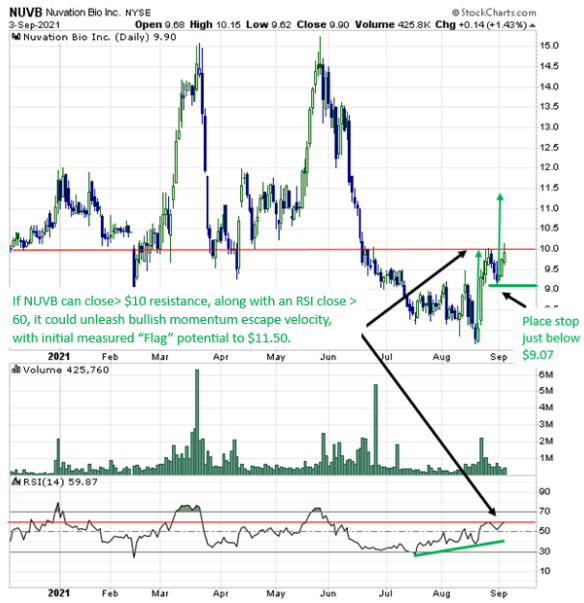 Couple this "cocked and loaded" technical setup with the fact that my risk is very well defined at the most recent pivot low of $9.07, and we've got ourselves a high probability trade idea to start the holiday-shortened week ahead.