While the stock markets were rebounding, and I was gearing up to take flight…into space…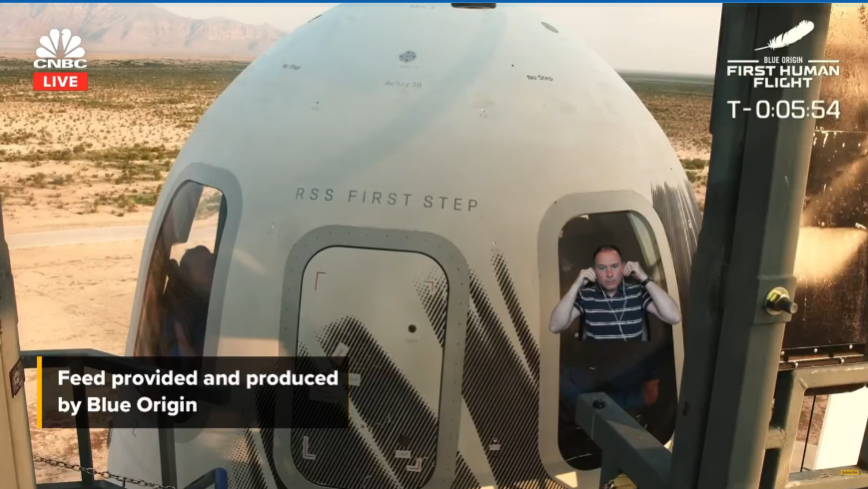 On the other hand, the cryptocurrency markets were getting hit with Bitcoin falling below $30k last night, an important psychological level for the cryptocurrency.
According to some analysts, if Bitcoin can't regain the $30k level, it could slip further into the mid-20k range.
Momentum has clearly stalled, but not without reason. Major governments around the world have begun to stage a war against cryptocurrencies with regulations, bans, and talks of digital currencies of their own.
With these news headlines, it's not surprising to see a correction in the price of cryptocurrencies, but is this really a crash or just a blip on the chart?
Simply put, governments aren't happy with the way cryptocurrencies have been able to take off without regulation.
Governments pretty much just turned a cold shoulder in the early days when it would have been much easier to take action…brushing off the idea that crypto will ever amount to anything…
Well, that didn't go well, and now they want control back.
From China shutting down many mining operations in the country due to power consumption and reminding financial institutions not to deal in crypto….
…to the US beginning to discuss regulatory actions, along with the IRS moving to track and tax the crypto investments.
To me it just shows how slow the governments have been in adoption/ belief/ regulation/ acceptance or whatever you want to call it.
And all it tells me now is that they are recognizing the significance and need to get a piece before it gets away from them.
Is it good or bad?
Time will tell, but to some extent a certain level of regulation can help with the "shady/ shadow" side of things, and to another…too much regulation can stifle the unprecedented growth.
It's really an interesting thing to watch because while the regulation and clamp down news is all over the place…so is the adoption news.
We've seen Cathie Wood of ARK Investment Management file to create a Bitcoin ETF, along with Jack Dorsey and Square announcing the creation of a new business around DeFi…focused on Bitcoin.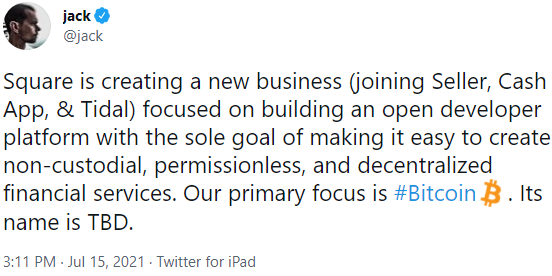 In the end this is a battleground that will lay the framework for the future of crypto…laws, regulation, and adoption.
And yesterday, I found a bright light amid the storm with Net Savings Link Inc. (NSAV).
Net Savings Link Inc. (NSAV)
I grabbed shares of NSAV yesterday, even with the current crypto scare upon us…
Net Savings Link, Inc. (NSAV) is a cryptocurrency, blockchain and digital asset technology company and last week announced it is on schedule for the August 9, 2021 launch of its Cryptocurrency Exchange.
This will make NSAV only the second U.S. publicly traded Cryptocurrency Exchange, following the Coinbase (COIN) IPO in April.
Last Thursday the stock was just over $0.02. However the news caused the stock to more than double since then.
Take a look at the chart…
NSAV made a move up on higher than average volume and formed a bit of a flag pattern on a pullback.
Volume came back into the stock yesterday as the price broke above the flag, and this is when I jumped in.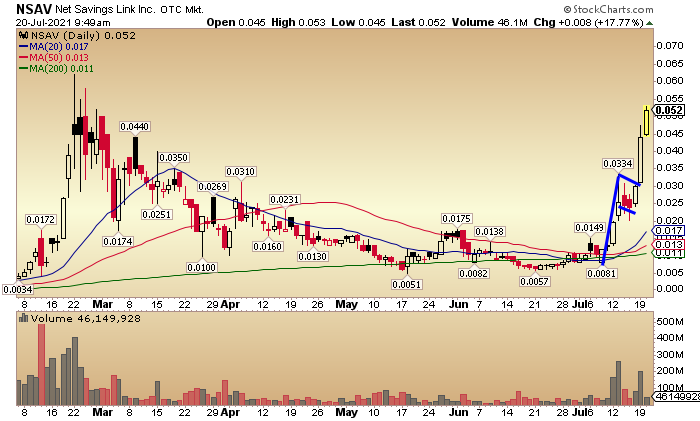 This morning NSAV resumed it's momentum to the upside hitting a high of .053, even as the bitcoin traded below $30k…
I wasn't personally looking for a long term play on crypto, especially with the current news cycle of regulatory crackdowns and question marks…
This was all about the chart pattern. A stock that broke out of a flag pattern consolidation on higher than average volume, carrying that momentum into the next morning.
As a short term trader, that is the type of play I am looking for each day.
It doesn't mean the long term move is over. It might be, it might not be…but for my trade setup, that was the move.
Cryptocurrencies are in regulators' eyesight, at the same time as powerful proponents pushing for further adoption, and it's going to be an interesting push and pull going forward.
Regardless of what happens, I prefer to trade my short term chart setups so I don't have to be an expert on government regulations and global economics in order to make decisions on what's next.
When it comes to trading and markets, there's not a lot that I can control…
This is why it's so important to stick to my setups and trading plan. These are the few things I do have control over…price targets, stop losses, entries, pattern recognition and the like.
In fact, you can check out some of my favorite chart patterns to trade with the stair step pattern here…and the consolidation pattern here.