I begin today's note with this, my favorite quote from this past week…
"Great Call Jeff…I keep thinking buy your picks at the Monday open and usually it will go well……..today was no exception"
---
EDITOR'S NOTE: Jeff is about to show you how this is opening the door to a two-for opportunity next week.
---
Believe it or not, this excitement all started when my 20+ years of trading experience told my gut (yes, they speak to each other) that the market is ready to DUMP earlier this week.
And that's why I've been warning about action like this past week's pullback, staying FAR away from big tech stocks, and looking toward trades in other sectors.
Now, I think one of the biggest problems in this industry is that retail traders simply don't have the proper guidance to understand the MASSIVE implications that movements in the bond market have on stocks.
And when it comes to big tech stocks, this lack of guidance can have devastating results.
Interest rates exploded higher this past week, and that is having a negative effect on the future earning's power of the large growth stocks that make up the hugely popular QQQ and SPY ETFs.
Because Uncle Jeff wants you to fully grasp this important macro force (and because I love to draw lots of arrows), I've put together this chart that clearly shows the inverse relationship between the benchmark 10-Yr US Treasury yield (green line) and QQQ (blue line).

What I want you to pay particular attention to is the RIGHT side of the screen, where you can see that the 10-Yr yield witnessed a momentum breakout this week, while QQQ suffered a breakdown.
So, instead of panicking because our favorite tech stocks with super liquid and volatile call options are now in a short-term downtrend, what are we going to do this week?
Actually, we'll do the following two things:
First, we will look for opportunities to buy these awesome Wall Street darling tech stocks like AAPL and NVDA on the cheap.
Second, we'll look to where this bond market rotation is causing opportunities in other sectors of the market.
Since I saw this past week's market pullback coming, my one best trade idea this past week was to look away from tech and toward a recent IPO that has been on fire recently.
Remember that quote from the start of the article?
Well, it came from a Bullseye Trades member that was referring to this stock, which has gained 153% vs. SPY's gain of just 4% since its IPO date: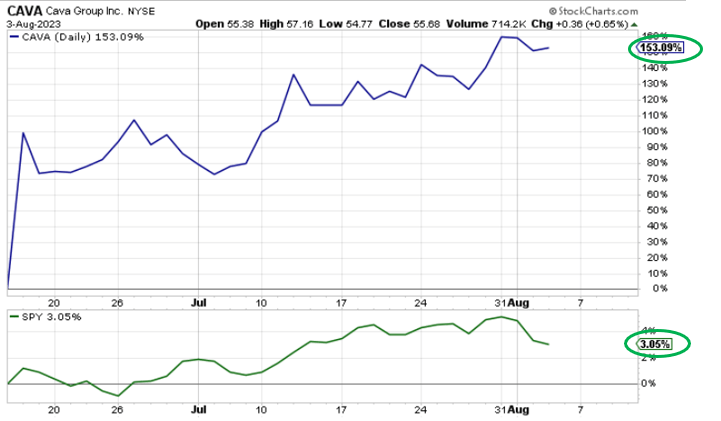 I chose CAVA as my Bullseye Trade of the Week this week not just because of this leadership but because it is not as interest rate sensitive as large tech stocks.
And the beauty of it all?
While CAVA already showed everyone a good time this week (even with the markets in turmoil)…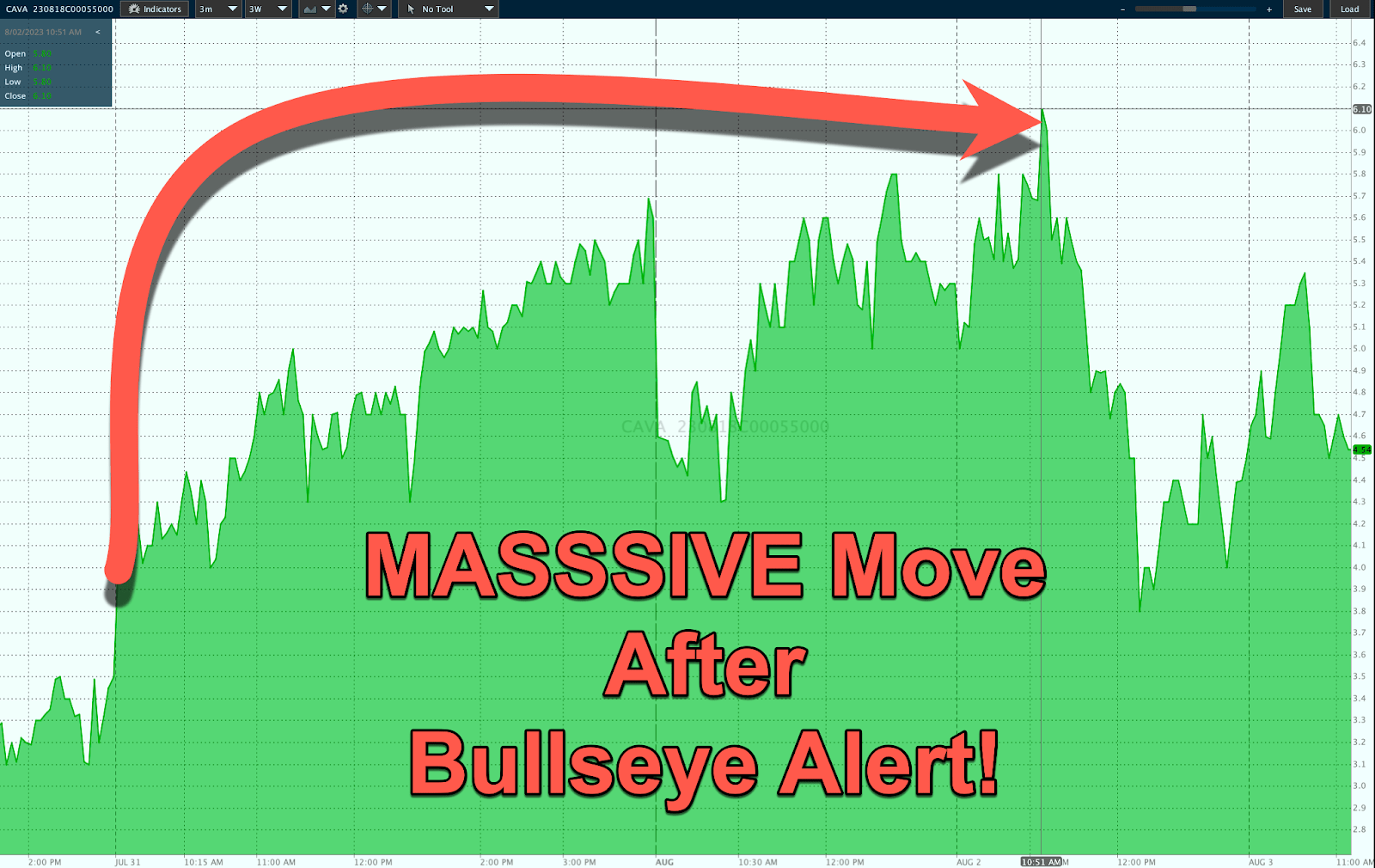 (Yay! Another great week for the "good guys"!)
I think CAVA is giving us another chance to get on board as it consolidates in a bullish flag after breaking higher following my Bullseye Trades alert: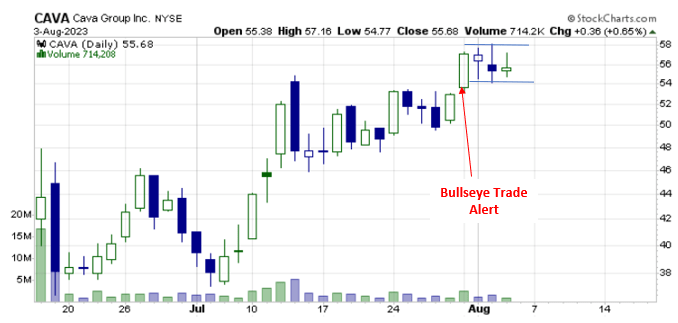 There's part one of your "TWO-FOR" for this week, folks.
Now, part two is a trade idea I am SUPER excited about because, again, I used the market's recent rotation to find what I think is going to be an awesome trade set up.
While it wouldn't be fair for me to share this idea with non Bullseye Trades members, I can do this for you…
Right now, for a LIMITED TIME, I am slashing the introductory price to join my Bullseye Trades service from $147 to a ridiculous $9.
If you have been on the fence about joining Bullseye Trades, or a little nervous about the price, well, this is the best chance you'll ever get.
To repeat…I am dropping the entry fee to 
just $9
.
If that doesn't interest you, then you must hate me, or hate money.
Sorry for being a little blunt here, but honestly, what is stopping you at this point?
If you don't like the service, I'll even give you your nine bucks back.
What is there really to lose here?
I just want you to have the opportunity to experience being a part of my largest trading service, so I am extending this incredible opportunity to you for just a few more days.
Be sure to come see what the excitement is all about before the open on Monday, though, because that's when this next BEST idea drops.
Lock in your $9 spot, right now.