Today I'd discuss a great setup that occurred in Bullseye Trades in Doordash (DASH). This was a great technical setup that checked all the boxes.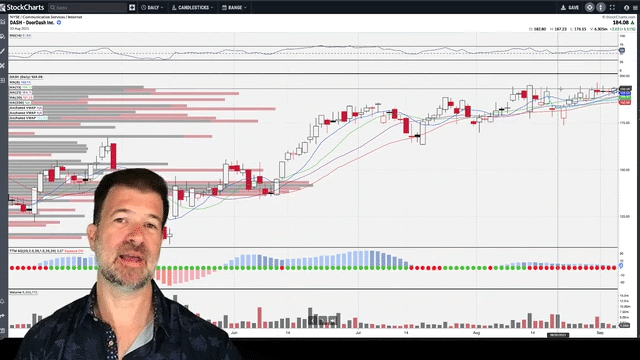 Personally, I thought from a fundamental standpoint DASH is overvalued. But then I asked myself, what in this market is actually undervalued? Thus I don't let my biases get in the way of a great trading setup. I trade price action, not emotions or what I think the market should do.
DoorDash, Inc. operates a logistics platform that connects merchants, consumers, and dashers. I personally had never used the service before Covid. But when I found out I could get Chipotle delivered to my door using Dash, I began to use it. Now after running through my weekend scans, I saw that Dash was setting up perfectly on the chart. To me, this was a great way to play Delta variant fears.
Hedging
You see, despite all sorts of fears, the market is climbing a wall of worry. Due to Fed policy, every dip gets bough, and the market keeps grinding higher. However, the Delta variant could be a real problem, and rather than hedging by shorting the market or buying volatility (VXX) against the trend, a great way to hedge is to buy DASH.
If Delta becomes, a problem food delivery will benefit. If not, the market should keep grinding higher as it has been, and DASH may just follow the SPY or QQQ's. Large funds and institutions who fear the possibility of Delta causing reopening problems would look to stocks like DASH to hedge against the possibility of a downturn in other assets in their portfolio. Even post-Covid lockdown, as people have become accustomed to ordering food in, and have changed their habits, this is all positive for DASH.
Now let's look at the chart setup: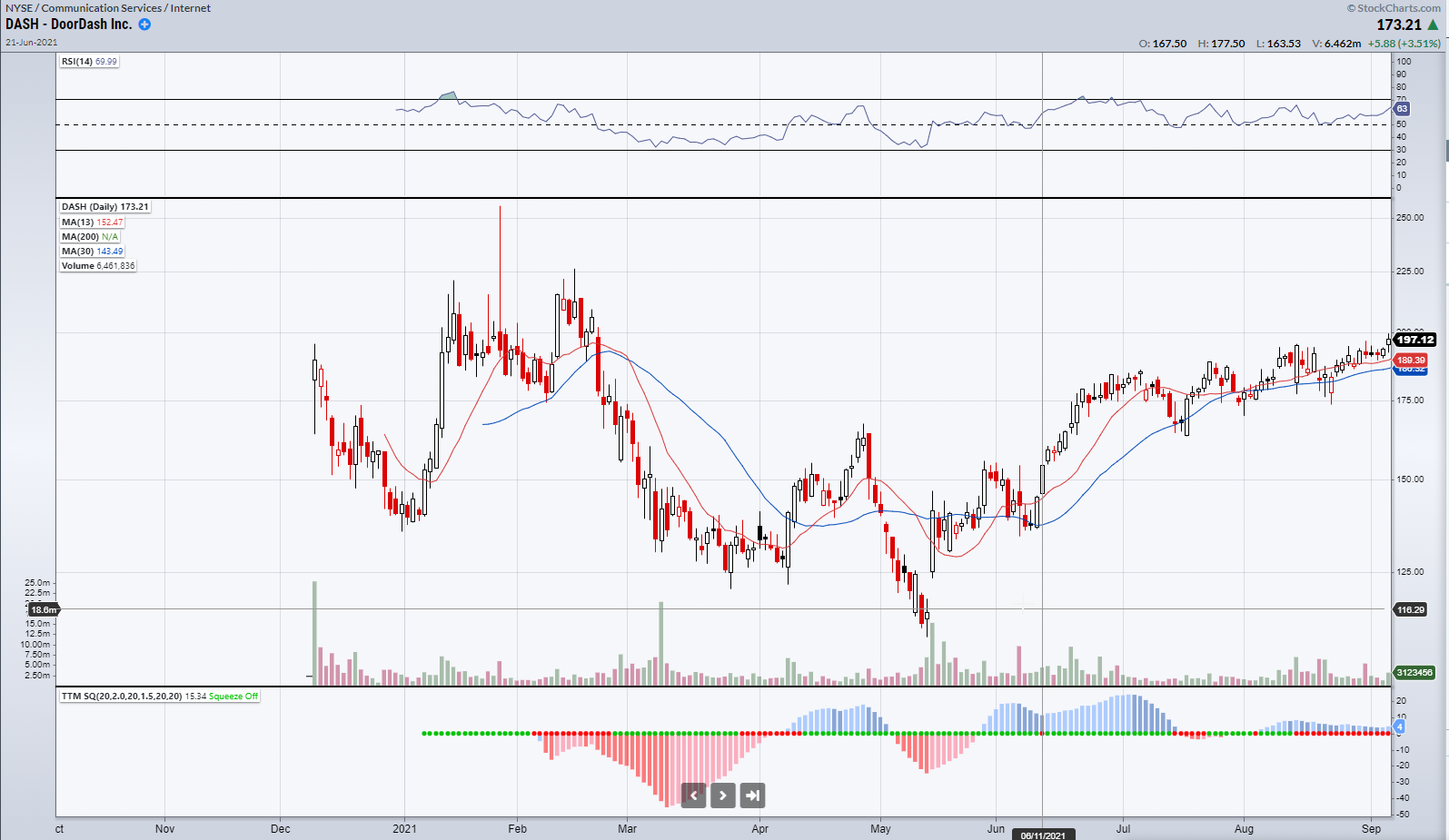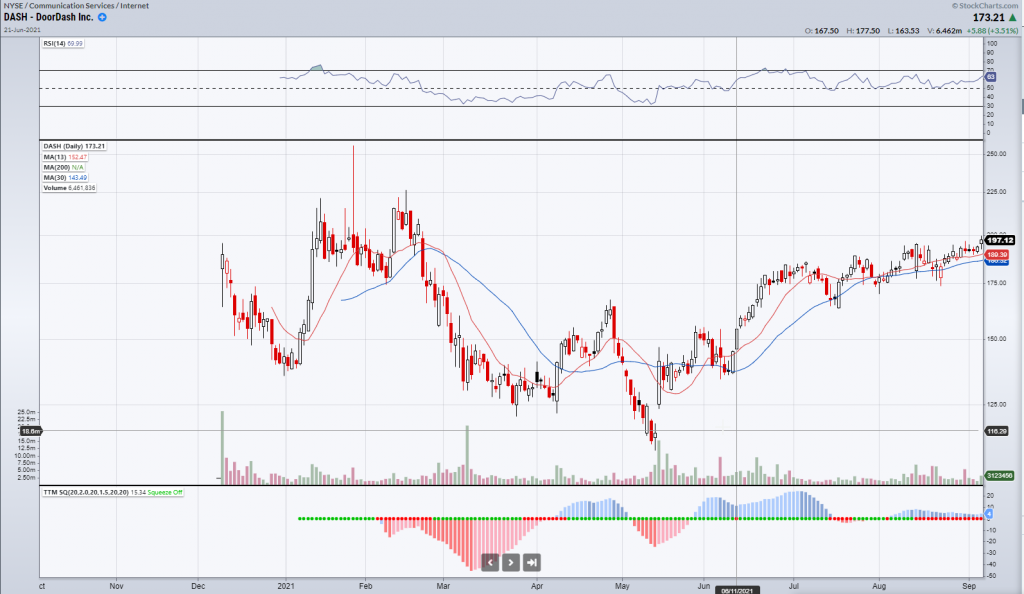 Daily chart of DASH
From the bigger picture chart, we can see that it looked like the stock has been under accumulation since low's in mid-May. After their earnings on May 13, the stock gapped up and trended the whole day on much larger than average volume, making what I like to call a hand of God bottom. Since then, it has grinded higher, making higher lows in July and August, pressing up against the $195 level.
When a stock gets close to a large round number, in this case, $200, if it fails to break through, at some point, later on, the stock will often come back and break through this psychological level. I have seen this happen time and time again throughout my career. Thus I was looking for an entry around $192 for the stock to break through $195 resistance and then run through $200 to $205 plus.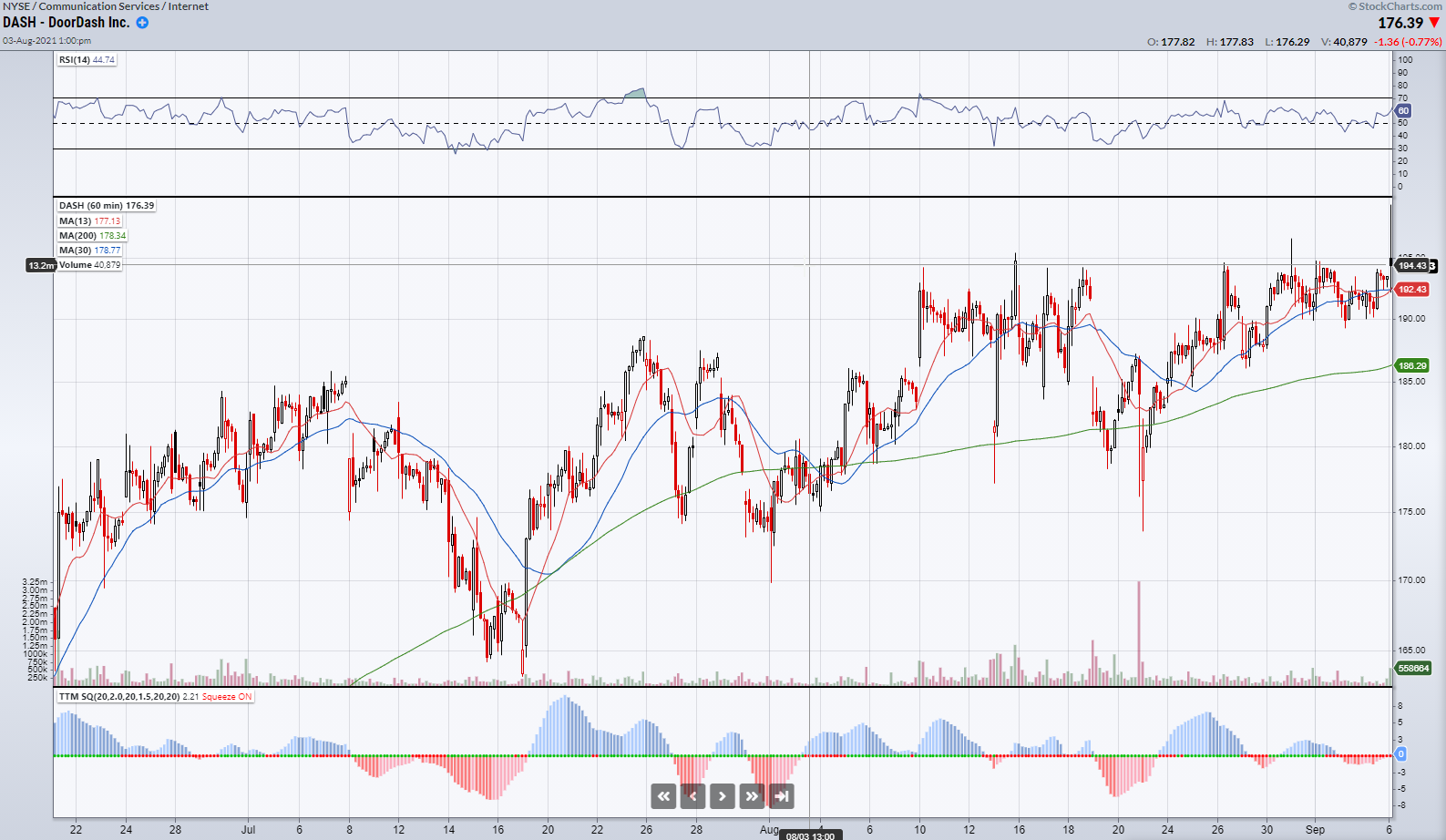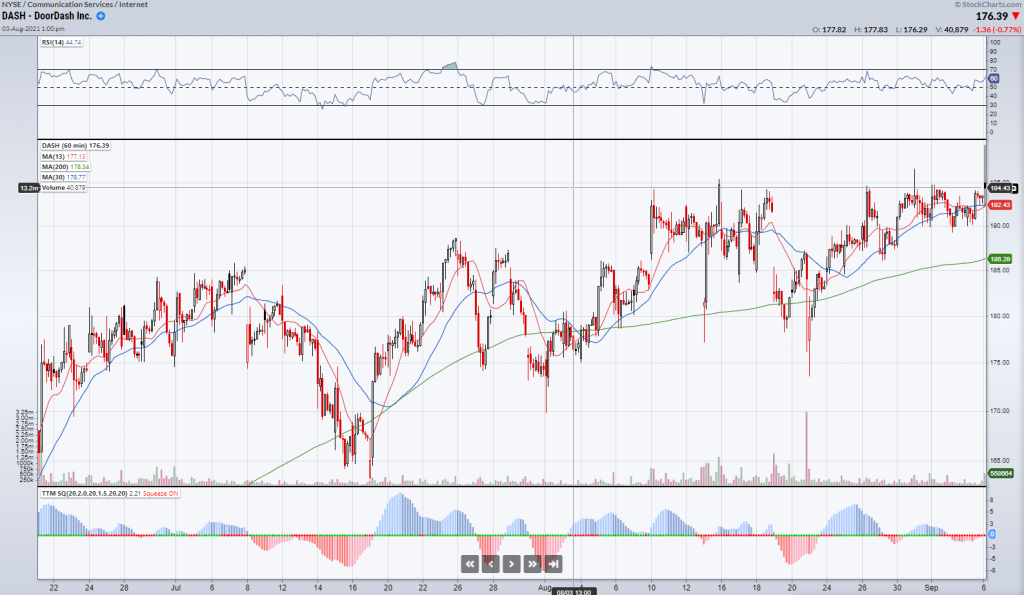 60 min chart of DASH
On the lower 60min timeframe, we can see more clearly how DASH was making higher lows and getting tighter and tighter against the $195 level. Since July, it had tested this level on 8 occasions. In my experience, the more times a stock test a resistance level, the more likely it is to breakthrough. In addition, the 13, 30, and 200 moving averages were all pointing up, so the trend was up. Given how tight we were getting against 195, DASH looked poised for a breakout.
Here is the note sent to Bullseye Trades Subscribers for the Bullseye Trade in Dash:
DASH – Bullseye Trade Of The Week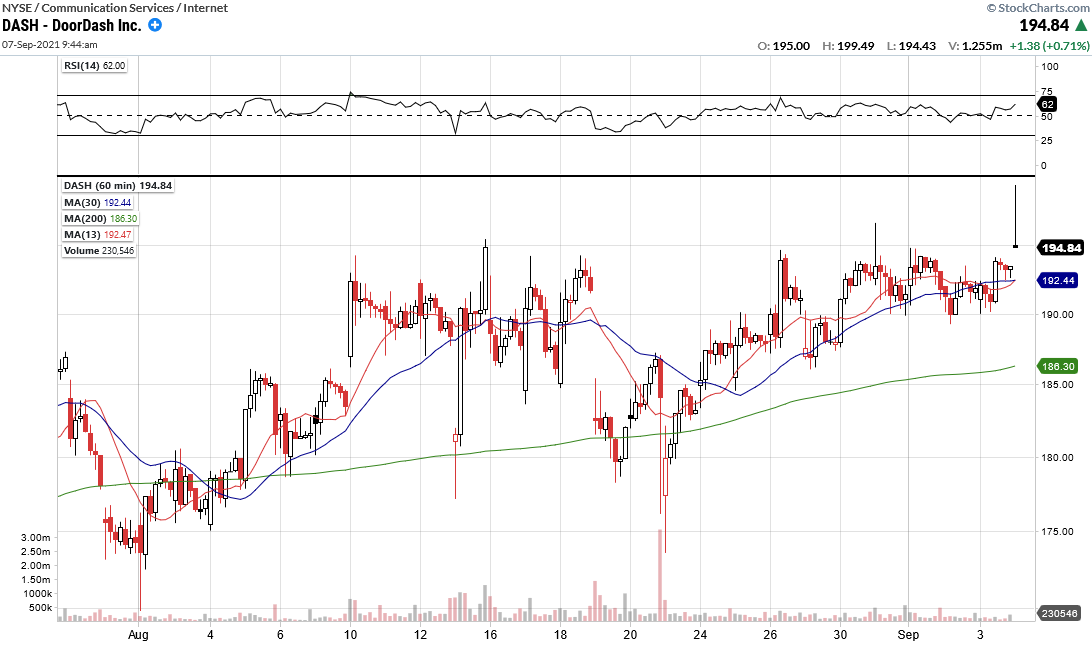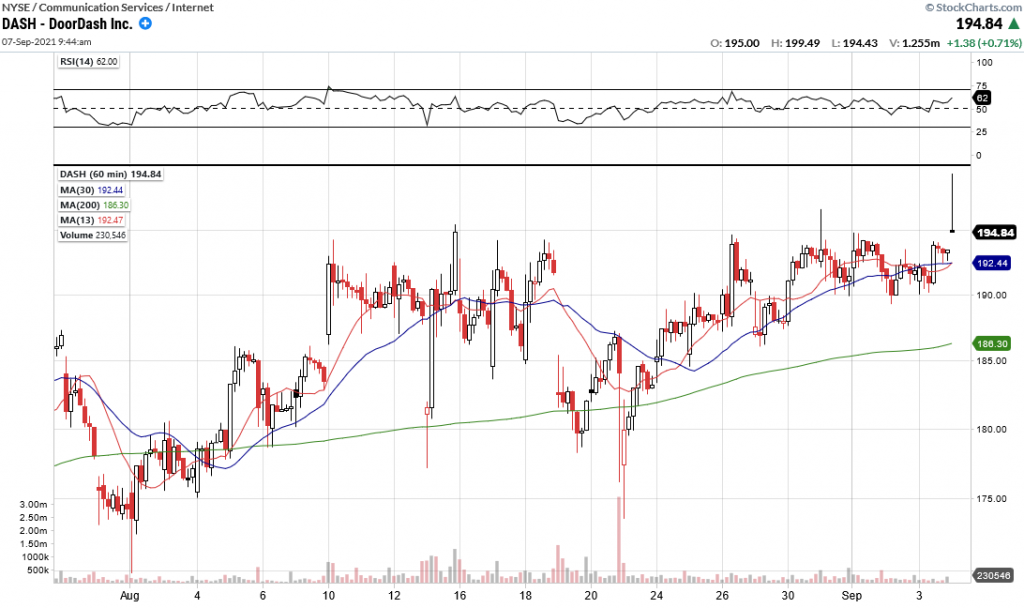 This is a pure technical play and I think DASH is overvalued here.
But what in this market would you say is actually "undervalued" right now?
There has been an undeniable accumulation since the May lows and it has been steadily climbing higher since.
I think it is due to break past $200 soon, though that could be short-lived as I expect a lot of sellers at that point. It could make for a nice run in the coming week however if it happens.
How I'm going to trade this…
My stop will be if DASH closes under $184, which is the lower range of the daily moving averages.
I would also take half of this off if DASH breaks $200 and the rest around $205 if that happens.
I will also save room to add to this trade if DASH comes into the $187 range which is the recent 3-week VWAP support level.
Trade Ideas:
Higher-risk "spicy" idea:

DASH Sep 24 2021 200 Call near $4.60
More conservative idea:

DASH Sep 24 2021 185 Call near $12
For lower risk, I would also look to

SELL DASH Sep 17 2021 $185 / 180 put spread for around $1.40 of net credit.

I plan to make this put spread trade in Total Alpha this week and discuss it in Master's Club tomorrow @ 11am.
To YOUR Success!
Now here is how the trade played out.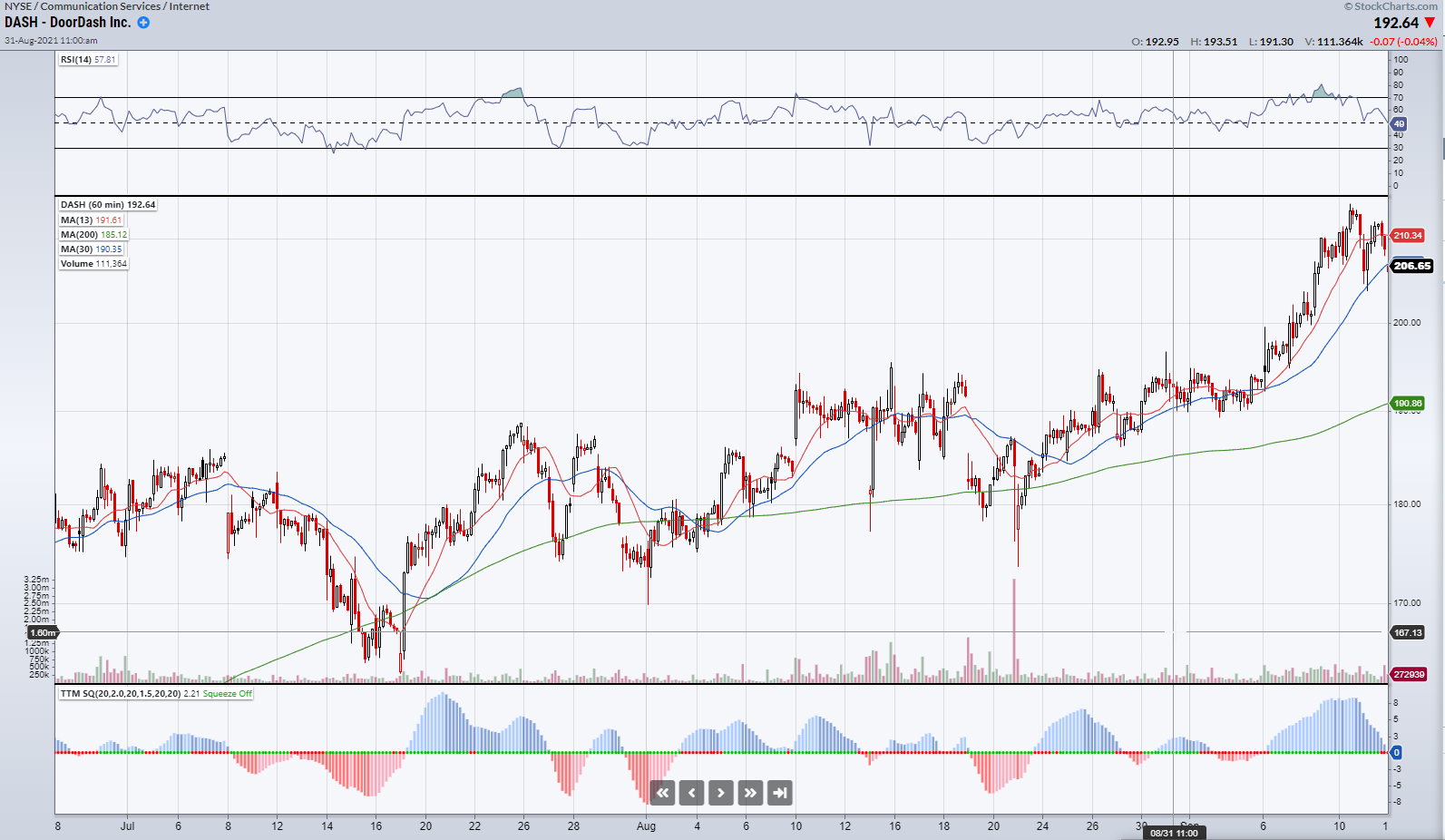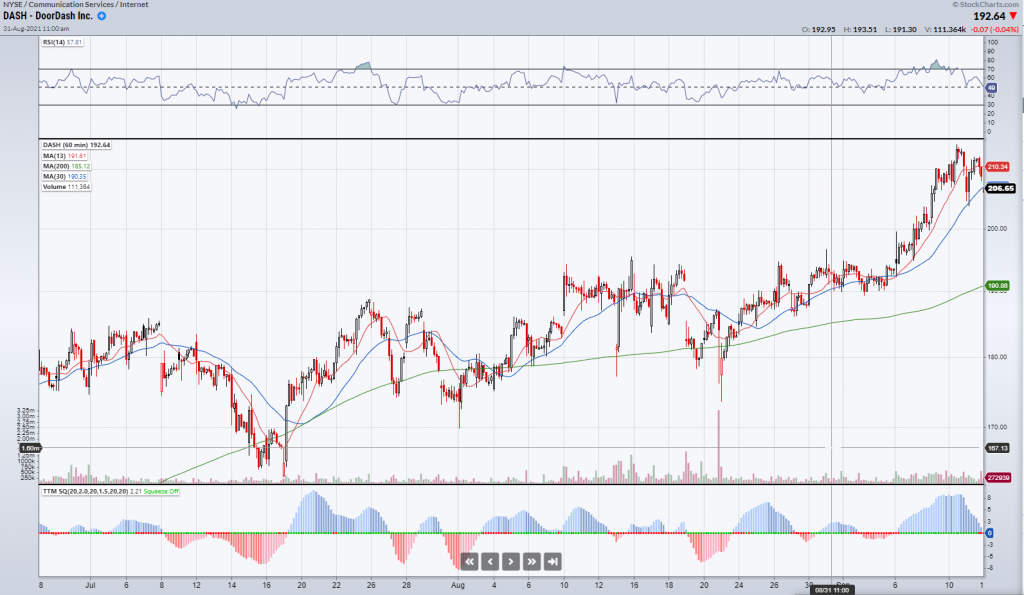 The stock gapped to open at 195 on Monday's open, filled the gap, and made a low at $192.16, then made an explosive breakout trending for 4 days straight to make a high of $214.25. All my targets to the upside were hit, and DASH went even further! This was even more exceptional in that the market was weak over those 4 days. It seems like the Delta variant hedge idea was right at on point.
Unfortunately for me, the orders I had placed on Monday's open did not get filled. The trade thesis and targets were correct, but I was bidding on options waiting for a slight retracement to get in at good prices. On this occasion, it would have been better to be a little bit more aggressive. However, over the long term, I understand it is better to stay disciplined and wait for good prices.
I do not chase stocks for the most part, and whilst it can be painful to see a stock go without me, I do not worry about this; I worry about losing my trading discipline and stay ready for the next trading opportunity. The main thing is that the trade Idea and thesis played out as expected and my read on the stock was almost perfect. On to the next trade!
Bottom Line
I like to trade with the trend, typically the market goes up, and it can be very difficult to time shorts. But there can be more creative ways to hedge than just shorting the market. In this case, I came up with the idea to trade Delta variant fears by trying to get long DASH, a food delivery stock that should benefit in the event of any more lockdowns or increased virus fears. Despite realizing that the company may be overvalued based on fundamentals when the chart sets up, I listen to what the price action is telling me. As it turned out, this trade idea worked better than expected, so well, in fact, I was not able to get filled on my buy orders. But I stayed disciplined and did not chase. The great lesson from this trade idea is to learn how to think like a professional trader.