The solar energy market is on the move.
Fueled by a sharp decline in costs and ongoing government support, solar is making strides towards being the lowest-cost source of bulk power in the coming years.
Given the trillions of dollars and numerous years still needed for this industry to join other renewable sectors in becoming the leading source of global energy, however, many of the investments within this industry are best suited for investors with long-term time horizons.
Short-term, though, there were some dramatic breakouts this past week that have the potential to produce profitable trading opportunities.
I'm about to share with you two of the stocks that might be able to build on this past week's breakouts over the coming days, and perhaps weeks.
JinkoSolar Holdings Company Limited (JKS) delivered 2 breakouts this week
JKS got off to a rough start to 2021, falling nearly 70% from its 2020 highs, due to a combination of a big earnings miss and overall sector weakness.
After an EPS surprise of 769% during its 06/25 report, however, the stock has been surging, with the bounce from the 2021 lows reaching +123% at this past week's highs.
Technically, another reason the stock has been on fire is its high short interest, with Finviz reporting a short interest of about 19%, which is down from roughly 30% in late June.
In other words, the squeeze is on!
Fundamentally, though, the main driver behind the recent covering of short positions could stem from the company's move to IPO (Initial Public Offering) in China's STAR market.
The primary reason companies perform Initial Public Offerings is to the raise funds needed to expand business enterprises and build reserve capital for any future projects.
During the process of the short base being squeezed in recent weeks, the stock price has exploded above the top of a nearly 10-month falling price channel.
In addition, the most recent portion of the rally process has taken the shape of a "bull flag," which was confirmed this past Wednesday.
Technically, this past week's rally cleared a lot of overhead supply, setting the stock up to benefit from two possible measured targets over the short and near-term time horizons.
The details of these potential pattern-based targets are shown on Figure 1 directly below.
Figure 1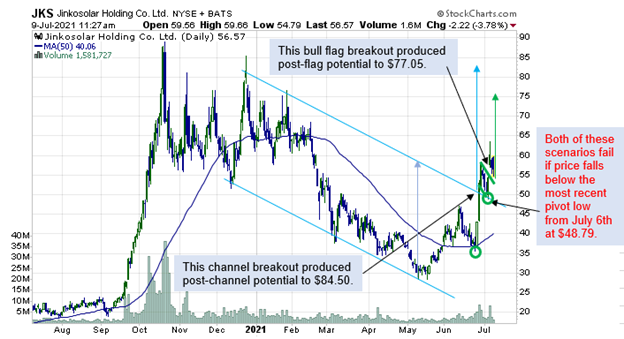 In addition to the measured potential that is now on the table based on the aforementioned pattern breakouts, I like this setup because of the well-defined risk point that now exists at the most recent pivot low of $48.79.
Remember, every trade you place must be based on a thesis.
In this case, at the core of the trade thesis lies the belief that the recent trend of higher swing lows (see green circles) is going to continue in short order.
Therefore, if JKS's stock price were to fall back below the $48.79 pivot, our thesis would be deemed incorrect, allowing us to cut our losses short and move on to the next trade.
Here's a US-based solar company showing strong technical credentials 
Now, it's important to understand that, due to trade-related tensions that still exist between the US and China, trading in Chinese ADRs (American Depository Receipt) carries an added layer of risk.
Although new sanctions have not been in the headlines as much since the Biden administration took office, new sanctions against Chinese companies are still being passed.
In fact, just last month the Biden Administration banned the import of solar panel raw materials from Hoshine Silicon Industry Co., Ltd., located in Xinjiang, China over allegations of forced labor in the company.
Though shares of JKS have recovered of late, they certainly did take a hit at the time this news was announced.
So, if you'd like to participate in this sector without the geopolitical risk associated with JKS, First Solar, Inc. (FSLR) is a US-based company that may benefit from the ban since the company itself does not use polysilicon, and as such it may receive an increased number of orders from utility-scale developers.
Not only that, but the company has also managed to build a solid balance sheet.
From a technical perspective, FSLR has also shown some very bullish price action in recent days.
As Figure 2 below reveals, FSLR confirmed a multi-month double bottom by breaking above the late-April pivot high on 06/28, and has since consolidated around that breakout area.
Figure 2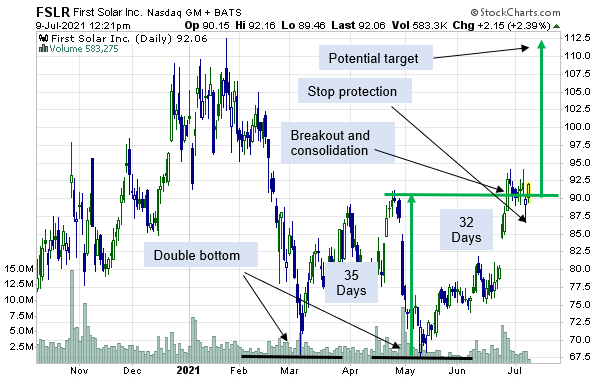 Again, this could be seen as a favorable setup for two main reasons.
First, it provides a trader with magnitude (i.e., a potential price target).
Why is this important?
Because it tells a trader there is the potential for a relatively large price move in a relatively short period of time.
And what can that information be used for?
You guessed it. Buying call options.
The second reason this could be seen as a favorable setup is because we now have a very well-defined area of risk at the most recent pivot low of $86.60.  
Now, the trader has a thesis on which to base his or her trade, and that thesis is as follows:
Based on the pattern breakout, I am going to place a long trade with expectations that a move in the direction of post-double bottom potential at $112.42 will occur.

As long as the most recent pivot low at $86.60 holds as support, I will stay in this trade.

Since it took an average of 33.5 days for each leg of the double bottom to form, I can

estimate

that it should take

roughly

33.5 days to reach the post-double bottom price target.
This itemized thesis provides invaluable information for a trader who wants to play this breakout via call options.
Specifically, the first item on the list identifies a price target which helps the trader choose a reasonable breakeven for the call option that is to be selected.
The second item tells the trader where he or she is wrong.
If there is a violation of this pivot, it will allow the trader to make a quick decision to stop out of the trade and prevent getting eaten alive by theta decay while waiting for the trade to work.
Lastly, the third item tells the trader roughly how far out in time he or she should look in terms of an expiration month.
In this case, we are speculating that the trade should take roughly 33.5 days to work.
While there is no set rule, it's usually good practice to add a time buffer of at least 50% to this, in case the trade takes longer than expected.