It was all Reddit-hands on deck for the move in Newegg Commerce, Inc. (NEGG) today.
With the stock up as much as 161% today…not including the prior move over the past few days…NEGG was the talk of the town.
Granted, when you aren't in the stock, it's hard to care, right?
Well, I'm going to show you why that shouldn't be the case. It can be precious to study the charts of big movers.
For instance…
Newegg Commerce, Inc. (NEGG)
If you're into tech, you probably already know Newegg.com.
If not, check it out, it's basically an online retail site for everything electronics…and more.
You can use the Newegg PC Builder to design your own custom computer, order the parts and have them show up at your door…then build it out.
And if that doesn't sound fun, the company just launched a new business venture, offering professional PC assembly to customers who design their own computers on the site, but don't want to assemble them.
Basically for those who want the best components but don't want the hassle of building it themselves…aka regular people that have money to spend on top quality.
Forget an off-the-shelf Dell; with Newegg, you can design a customized system AND have it built before it shows up at your door.
And that's not the only recent news out of Newegg… They also just announced that they will be holding a sale of hard-to-find NVIDIA GeForce RTX graphics cards… which had the stock popping before the massive move up today.
Now is this recent news to thank for the massive spike in price?
I'm not too sure of that…maybe, maybe not.
Honestly, it's really a lesson in supply and demand…and once again, enter the Reddit trading community.
NEGG Chart History
When it comes to trading history, there's not much of it…
NEGG just started trading as a public company on May 20.
The chart below shows that after its debut, the stock pretty much flatlined in the $10 – $11 range.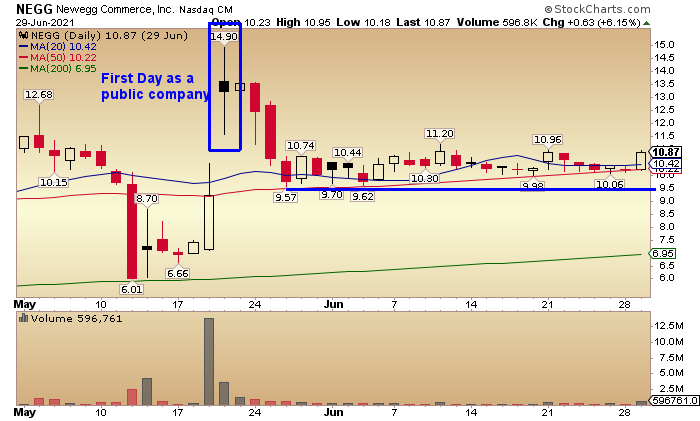 And what happened next is nothing short of insane…
After breaking above the $11 range, the NEGG broke out on heavy volume…hitting an intraday high above $71 today.
Adding up to a rise of over 500% in the past week.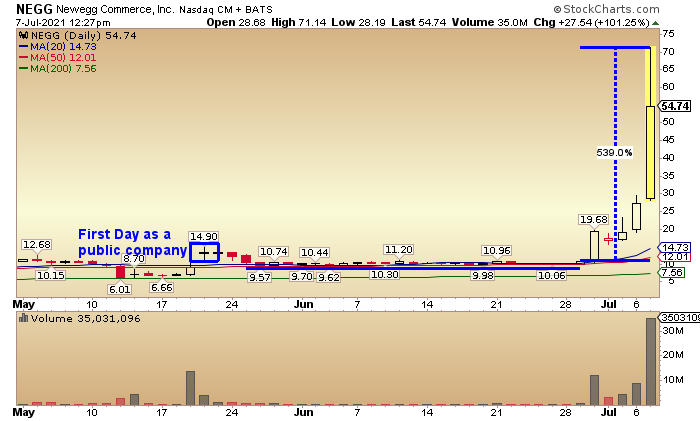 So how could a trader play a stock like this?
Well going back to the fact that NEGG just started trading as a public company, one pretty common practice on the street is to buy a stock that breaks above the IPO day.
NEGG wasn't the normal IPO stock of course…Newegg went public through a reverse merger acquisition, which we've been seeing more and more lately.
But no matter how it went public, the first day as a public company was May 20 and I would look at the trading range on that day the same way as an IPO day.
And on June 30, the stock price broke above the "IPO" high of $14.90 (as seen in the chart below).
Take note of the surge in volume on the breakout…this is something I always look for when trading a breakout like this.
At this point it's clear that the demand for the stock is taking over (no matter what the reason/ thanks Reddit).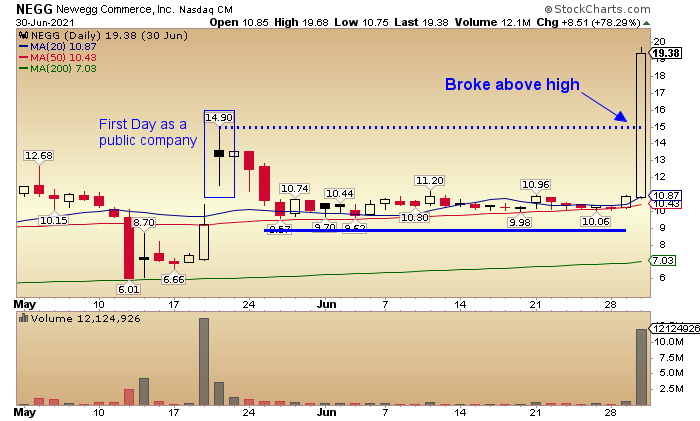 The next day the stock pulls back but stays above the breakout point, and after making a higher low, NEGG makes another move up.
This is what I call the Stair Step Pattern and it's one of my favorite patterns to trade.
Study the pattern here to see how a second entry could have been found on this move below… (spoiler: buying the break of the swing high after making a higher low).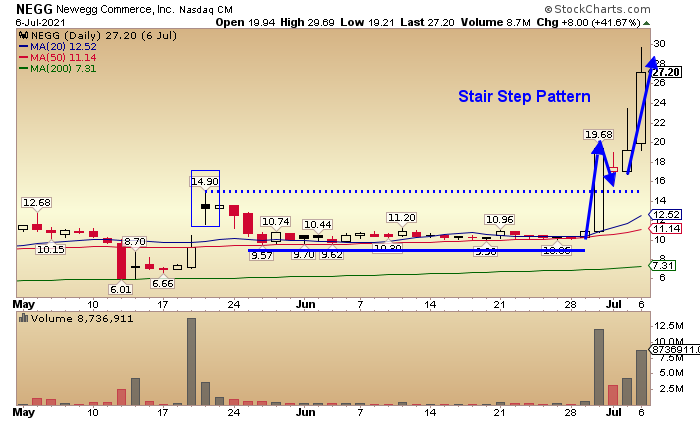 And that brings us to today…with NEGG hitting an intraday high of over $71 (chart below).
It would be hard to predict a move like this…except that recently we've been seeing more and more squeezes brought on by the Reddit community.
In which case, if I had been in this stock (which I wasn't) based on one of the 2 potential entries I talked about…simply taking note as to whether it's related to the Reddit community or not could be a signal to the potential for an outsized move.
And I want to stress the word potential. Not all Reddit stocks act the same way, but regardless…just based on sound chart patterns, there were a couple chances to get in on this trade.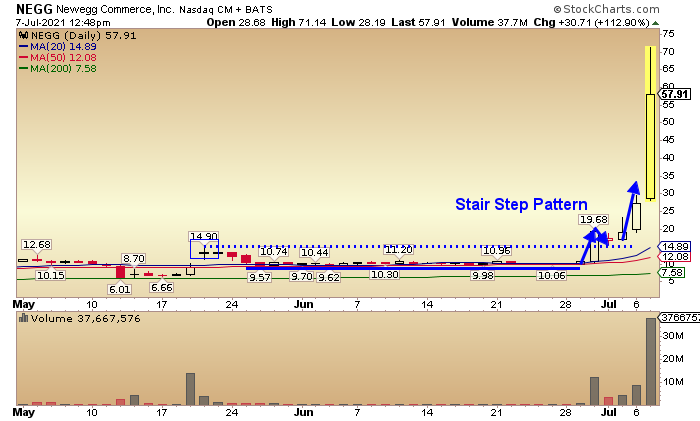 Take some time to study the chart for clues to use in future trades.
Note the chart patterns, the "IPO" day trading range and how NEGG moved around those key levels… and of course the volume levels on each breakout.
It's great practice to "go back" and look at big movers for patterns leading into the moves. See if you can find commonalities.
And as you learn more and more…it's excellent practice to trade in a "demo" or "fake money" account while trying to determine those patterns ahead of an actual move.