Dear Insider, Jeff Bishop here.
Markets had been relatively calm this week until the trade war ramped up on Friday.
But even with Friday's big selloff, SPY — an ETF that tracks the S&P 500 — is still trading between the Death Line, SPY $282, and resistance at $293.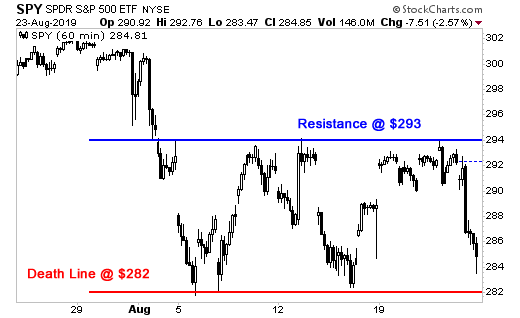 My longer-term view of the market remains bearish, but don't be surprised if we have a run to previous highs before heading lower.
Here's how I see it happening…
It'll start with SPY closing above $294 — a dollar above the current resistance level. If that happens, I expect the market to spike higher, fast. Why?
Because there's a lot of short positions open in the market right now… a move higher will force traders with open shorts to cover their positions or risk even bigger losses – causing SPY to potentially run higher.
That's when the panic buying kicks in and markets spike higher. It's like a short-squeeze, at the market level.
My plan is to stay nimble and hedge my bets when options trading. I'll continue to buy puts on stocks I think will underperform and buy calls on those that should outperform.
And if you need help figuring out which stocks are likely to skyrocket or plummet, you're in luck… Kyle has developed a proprietary scanner that lets you do just that.
How To Pinpoint Stocks About To Make Massive Moves
On any given day, a handful of stocks make massive, double-digit moves seemingly out of nowhere.
And if you own the right option on the stock, it could easily increase a few hundred or thousand percent overnight.
It happens daily. That's a fact. But there's just one problem…
There are thousands of stocks out there… and there are dozens of options that you can trade on them.
How can you pinpoint which specific stock option is about to astronomically increase in value?
That's where Kyle Dennis and his new Dollar Ace strategy come in.
You see, Kyle's latest breakthrough exposes Wall Street's buying and selling patterns so you can profit off their activity.
He's developed a proprietary scanner that uncovers unusual options activity.
Specifically, the scanner looks for large blocks of activity that signals "insider" or large institutional buying in the options market.
These huge positions aren't taken by mistake. Therefore they are telling him someone on Wall Street knows something we don't.
And often, those options go on to deliver triple- and even quadruple-digit gains… sometimes in a matter of days.
His scanner is able to reduce the universe of options from tens of thousands to just a handful with the highest likelihood of delivering a huge win.
That's why you're in luck… he's just released a video that shows you exactly how to find these options yourself.
Let me give you an example of a trade Kyle's Dollar Ace scanner recently spotted in EXEL…
Exelixis (EXEL) is a mid-cap biotech firm that focuses on cancer treatments. But what the company does isn't really important.
What is important is that Kyle spotted some seriously unusual call option activity.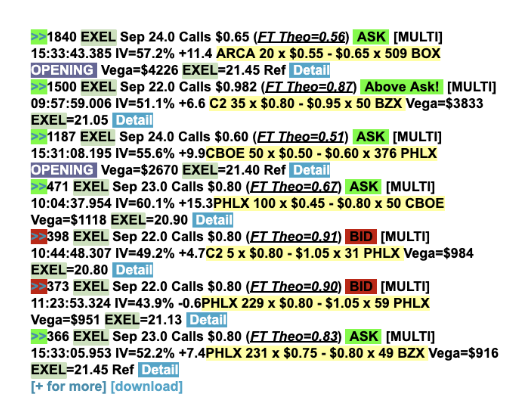 The way his scanner was lighting up, someone must have known something.
In particular, Kyle saw 2,306 EXEL September 20th 22 Calls traded for $0.35.
Well, the next day, the company backed out of a conference and buyout rumors began to fly.
That day, those calls that had been trading for $0.35 hit a high of $1.73.That's a nearly 400% move!
The best part is that it's not only the "insiders" that could have profited from those options. Anyone who rode their coattails could have made out just as well.
And here's the thing, these kinds of news-driven moves will continue to happen no matter what the market it is doing. If a company might be bought out or about to have an earnings surprise to the upside, it should skyrocket higher, whether the market is up or down 1% that day.
Obviously, there's a lot more to learn about the scanner and how to implement it in your own trading. But I'm going to leave it there for now since you can get the details in this brand-new video.

Related Articles: